Bismillahir Rahmanir Rahim
There are some matches in the world of cricket that are tense, such as winning by one run, or not being able to take one run at the end, there is a lot more, such was the thrilling match in the 20th match of Indian Premier League (IPL) 2022. Rajasthan Royals won the match by 3 runs.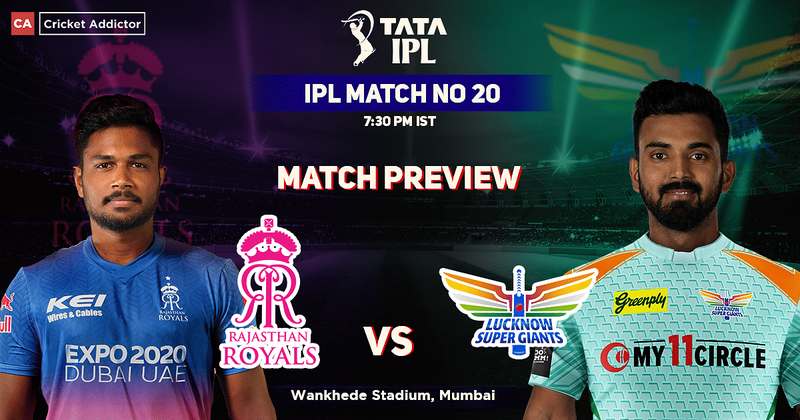 In the 20th match of IPL, Lucknow Super Giants and Rajasthan Royals faced each other. After winning the toss, Lucknow Super Giants captain KL Rahul decided to bowl first. Rajasthan Royals lost 6 wickets in 20 overs and scored 165 runs.

Hetmar top-scored with 59 off 36 balls, Padikkal made 29 off 29 balls, Ravichandran Ashwin made 28 off 23 balls, Jos Butler made 13 off 11 balls, Sanju Samson made 13 off 12 balls and no other batsman to complete the double-digit quota. Can't, 9 runs come from extra.

Among the bowlers of Lucknow Super Giants, Jason Holder took 2 for 50 off 4 overs, Krishnappa Gautam took 2 for 30 off 4 overs, and Aves Khan took 1 for 31 off 4 overs.

The Lucknow Super Giants were able to score 162 runs for the loss of 8 wickets in 20 overs at the target of 166 runs. As a result, they lost by 3 runs.

Quinton de Kok top-scored with 39 off 32 balls, followed by Marcus Stoyanis (38 off 17 balls), Deepak Huda (25 off 24 balls), Krunal Pandey (22 off 15 balls), Dusmanthu Chamira (13 off 7 balls) and no other batsman. Could not fulfill the quota of numbers, 5 runs came from extra.

Among the bowlers of Rajasthan Royals, Yujvendru Chahal took 4 wickets for 41 runs off 4 overs, Trend Bolt took 4 wickets for 30 runs for 4 overs, Procid Krishna took 1 wicket for 35 runs for 4 overs and Kuldeep Sen took 1 wicket for 35 runs with 4 overs. .

Rajasthan Royals won by 3 runs, Yujvendru Chahal got the Man of the Match award.

Thanks everyone for reading my post today.