Bismillahir Rahmanir Rahim
Today is the 13th match of the Indian Premier League (IPL) 2022, in which Rajasthan Royals and Royal Challengers Bangalore face each other, in this match Royal Challengers Bangalore won by 4 wickets.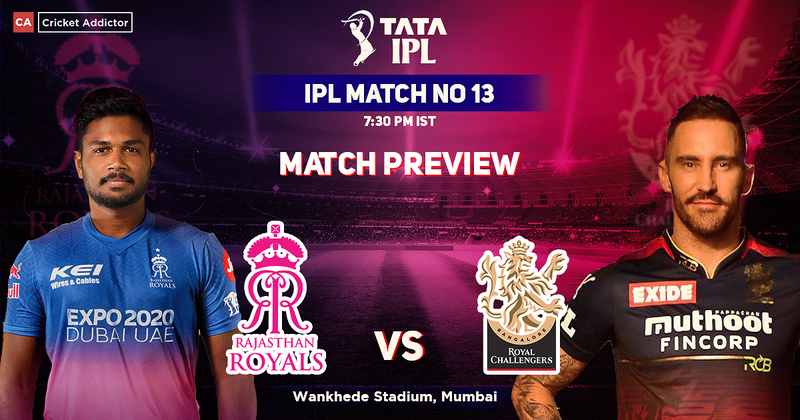 Faf du Plessis, the captain of Royal Challengers Bangalore, decided to bowl first after winning the toss. Rajasthan Royals lost 3 wickets in 20 overs and scored 169 runs.

Among the Rajasthan Royals batsmen, Jos Butler top-scored with 70 off 47 balls, followed by Hetmar (42 off 31 balls), David Pedikkal (37 off 29 balls), Jayaswal (4 off 6 balls) and Sanju Samson (8 off 8 balls).

Among the bowlers of Royal Challenge Bangalore, Herschel Patel took 1 for 18 off 4 overs, Hasaranga took 1 for 32 off 4 overs and David Wiley took 1 for 29 off 4 overs.

Bangalore reached the target of 170 runs by losing 6 wickets in 19.1 overs.

Among the Royal Challengers Bangalore batsmen, Shahbaz Ahmed top-scored with 45 off 26 balls, followed by Dennis Karthik (44 off 23 balls), Faf du Plessis (29 off 20 balls) and Anuj Rawat (26 off 25 balls). Could not meet quota.

Among the bowlers of Rajasthan Royals, Uujvendro Chahal took 2 wickets for 15 runs off 4 overs, Trend Bolt took 2 wickets for 34 runs for 4 overs and Navdeep Saini took 1 wicket for 36 runs with 3 overs.

Royal Challenge Bangalore won by 4 wickets and Dennis Karthik was named Man of the Match.

Thanks everyone for reading my post today.