Bismillahir Rahmanir Rahim
Sunrise Hyderabad and Gujarat Titans faced off in the 21st match of the Indian Premier League yesterday. Sunrise Hyderabad captain Kane Williamson decided to bowl first after winning the toss.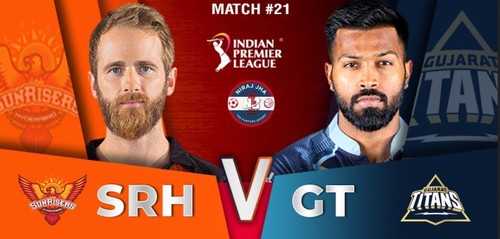 Kane Williamson is my favorite player, I like kane Williamson so much, a decent player, he always has a smile on his face, one of the hopes of New Zealand's batting line-up is why Ken Williamson is serving as the captain of current IPL's Sunrise Hyderabad Receive Man of the Match award.

Gujarat Titans lost 7 wickets in 20 overs and scored 162 runs. Gujarat Titans captain Hardik Pandey scored 50 off 42 balls, Abhiman Manohar scored 35 off 21 balls and Matthew Wade scored 19 off 19 balls. Sai Sudarshan made 11 off 9 balls, and David Miller made 12 off 15 balls, and no other batsman could meet the double-digit quota, with 22 runs coming from extras.

Among the bowlers of Sunrise Hyderabad, T Natranjan took 2 wickets for 34 runs off 4 overs, Bhubaneswar Kumar took 2 wickets for 37 runs for 4 overs, Marco Jansen took 1 wicket for 27 runs 1 over 4 overs and Imran Malik took 1 wicket for 39 runs with 4 overs. .

Sunrise Hyderabad reached the target after losing just 2 wickets in 19.1 overs at the target of 163 runs. Ken Williamson scored 57 off 46 balls, Abhishek Sharma scored 42 off 32 balls, Nicholas Poran scored 34 off 18 balls and Rahul Tripathi scored 11 off 34 balls. 17 off the ball, and Aidan Markram made 12 off 8 balls, 6 runs from extra.

Among the bowlers of Gujarat Titans, Hardik Pandey took 1 wicket with 27 runs off 4 overs and Rashid Khan took 1 wicket with 28 runs off 4 overs, no other bowler got wicket.

Sunrise Hyderabad won by a huge margin of 8 wickets.

Thanks everyone for reading my post today.