Bismillahir Rahmani Rahim
Hello friends, how are you all? Hope you all are very well, I am also very well with your prayers and God's grace.

Currently India cricket team is on tour of West Indies, yesterday third ODI match between West Indies and India was held, in this match India cricket team won by 119 runs.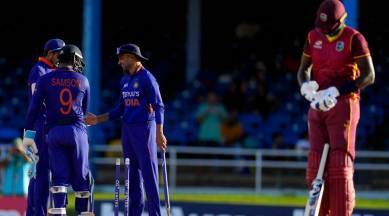 The 50-over match was shortened to 36 overs due to rain, with Indian cricket team captain Shikhar Dhawan winning the toss and electing to bat first. Batting first, the Indian cricket team collected 225 runs for the loss of 3 wickets in 36 overs.

He scored 98 runs off 98 balls, the highest among Indian cricket team batsmen, with seven 4s and two 6s. In addition, Shikhar Dhawan scored 58 runs off 74 balls, and Shreyas Lyar scored 44 runs off 34 balls, 11 runs coming from extras.

Among the West Indies bowlers, Hayden Walls took 2 wickets with 57 runs from 8 overs, and Aqeel Hussain took 1 wicket with 43 runs from 8 overs.

Chasing a target of 226 runs, the West Indies cricket team scored 137 runs in just 26 overs, resulting in their defeat by 119 runs.

West Indies batsmen top-scored with 42 off 32 balls from Nicholas Pran, with Brandon King scoring 42 off 37 balls, Shai Hope on 22 off 33 balls, and Hayden Walls on 10 off 8 balls, with no other batsman reaching double figures. 6 runs come from the extra.

Among the Indian bowlers, Yuzbendru Chahal took 4 wickets with 17 runs in 4 overs, Mohammad Siraj 14 runs 2 wickets in 3 overs, Sardul Thakur 17 runs 2 wickets in 5 overs, Axar Patel 38 runs 1 wicket in 6 overs, and Prashid Krishna 4 overs. He got 1 wicket with 30 runs.

Subman Gill was awarded Man of the Match and Man of the Series.