Are the ICC rules the same for all or is it one for the other countries and another for the other teams? Know these questions after the end of the Bangladesh India match. Virat Kohli controlled the umpire, the umpire did not follow the rules, Bangladesh could have been penalized for 5 runs in Virat's fielding. After some complaints, now Virat and the umpires are raising questions about cricket. Orjitsingh took the ball straight from the line and bowled the wicketkeeper Dinesh Karthik while pointing Virat sat down in the fielding picture. It is clear how the ball milked him a lot but Virat acted big. He is Bengali for Virat Kohli's performance in no ICC rules for building the country
Could have got 5. Let's have a chat. Now let's have a chat. One of the rules of the making is clause 41.5 filter battery. This rule mentions what can happen if there is deliberate confusion or cheating. 41.5 decimal 6 says that if the fielder cheats, the batting team will get 50. However, despite Virat's fielding clearly in front of the bumper, the umpire Erasmus walked out. The slogan of the score board of Bangladesh is different. The media around the world is now showing this act of Virat and the umpire's deception of Australia is promoting it.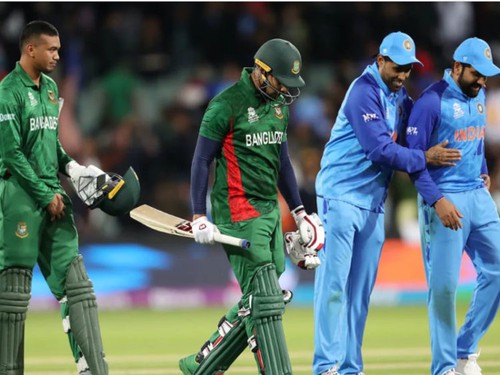 Another scene that affected the umpires in the Virat match took place in the last ball of the 16th over in the Indian innings when Virat Kohli took a run from the market given by Hasan Mahmud and immediately started asking the umpires for fakes. Talking to captain Shakib Khan, a Virat Kohli also rushed into the match. It was clear that we had a big big bash in front of us. Shakib's voice and frustration after the rain. Reluctantly when asked about Bangladesh in the match. Change the purpose of asking the question. Shakib's question. Do you have the power to convince the umpires? Bad luck. Video real player what is the discussion katoa junction
End of course Rohit Sharma and Telecom claim to make Pakistan's popular World Cup Lyon's Pakistan's Wasim Akram Waqar Yunus pulls out Virat Virat against Pakistan Their opponent Bangladesh has disappointed Bangladesh before with a controversial decision at a crucial time Not too long ago in March April this year Proteas played Bangladesh there 312 Tests Test series 1-1 After making a mistake, Shakib-al-Hasan asked the ICC for a neutral government, this time again against Bangladesh.