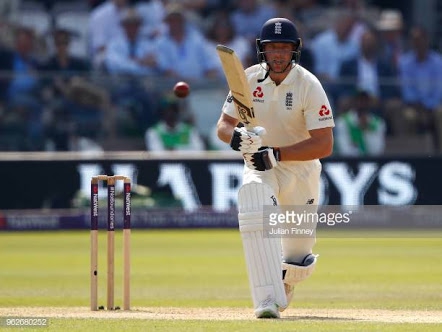 England are on the verge of a huge defeat by India in the third Test despite the defiance of Jos Buttler and Ben Stokes on day four at Trent Bridge.
Buttler made his maiden Test century and Stokes 62 in a fifth-wicket partnership of 169 that hauled England from 62-4.
But when Buttler was lbw for 106, playing no shot to Jasprit Bumrah, it began a slide that saw England lose four wickets for 10 runs to the second new ball.
The swiping of Adil Rashid and Stuart Broad took play into an extra half hour and, even though Broad became paceman Bumrah's fifth victim, last man James Anderson helped Rashid survive for another 5.4 overs.
England eventually closed on 311-9, leaving India needing one wicket on the final day to complete victory and cut their series deficit to 2-1.
How day four unfolded - catch up on the best clips & TMS analysis
England shown the way
That England are staring at defeat is thanks mainly to an awful collapse on the second day, when they lost all 10 wickets between lunch and tea to be dismissed for 161 in their first innings.
Another capitulation looked on the cards on Tuesday when their top order again succumbed to poor technique and reckless shots.
Keaton Jennings and Alastair Cook both edged Ishant Sharma in familiar fashion inside the first three overs of the day, while Joe Root and Ollie Pope inexplicably flashed at Bumrah and Mohammed Shami respectively.
'Outstanding!' - Kohli removes Pope with 'beautiful' catch
Once again, England found themselves four wickets down with less than 100 on the board, the 31st occasion in 62 innings since the beginning of 2016.
Still, the straight-batted, dogged and patient resistance shown by Buttler and Stokes proved that at least two of England's batsmen have the ability to rein in their attacking instincts and play proper Test innings.
Even when England do go down to defeat, the rest of their batsmen would do well to follow their example for the rest of this series and beyond.
Buttler and Stokes were not only battling for their team, but also for their own individual causes - Buttler to show that his two half-centuries against Pakistan were not merely on the wave of stellar white-ball form, Stokes to justify his recall after being cleared of affray.
Buttler reaches maiden Test century
They were magnificent in a compelling afternoon and early evening, leaving with good judgement, defending stoutly and scoring with sweet timing when the opportunity arose.
Buttler needed some fortune. He was dropped by diving wicketkeeper Rishabh Pant when on only one and edged through the slips on a number of occasions.
However, he also played glorious cover drives and raced through the 90s with three leg-side boundaries in one Shami over, the third of which took the Lancashire man to three figures and earned him a huge hug from Stokes.
Stokes was more solid, but also more circumspect. His 147-ball half-century is his slowest in Test cricket and only occasionally featured sweeps or clips off the pads.
As stoic as they were, the second new ball was always likely to present a huge challenge and when Buttler shouldered arms to Bumrah's inswinger a review could not save him.
India made to wait
What made the efforts of Buttler and Stokes all the more impressive was the incisiveness shown by India's four-man pace attack throughout the day.
The hosts were also helped by an injury to off-spinner Ravichandran Ashwin that restricted his effectiveness.
Just as the tourists were beginning to tire, they were able to take the second new ball and Bumrah launched their surge for victory.
The delivery after Buttler's misjudgement, Jonny Bairstow, batting with a broken finger, had his off stump removed with a beauty that held its line.
Then, in Bumrah's following over, Chris Woakes could only glove a vicious bouncer.
'Great' Bumrah bouncer sees off Woakes
When Stokes edged Pandya to second slip the game seemed certain to end on Tuesday evening, but the hitting of Rashid and Broad added 50 for the ninth wicket, even if Rashid was caught off a Bumrah no-ball and dropped at third slip by Virat Kohli.
When eight extra overs were added to the end of the day, Broad finally edged Bumrah to second slip, yet Anderson bravely stood firm in the evening sunshine to massive cheers from the home fans.
In all, England's last two wickets have eaten up an hour and 17 minutes.
'Buttler's innings was incredible' - what they said
Ex-England captain Michael Vaughan: "Buttler and Stokes played the Test match way with great patience and skill when the ball was doing plenty.
"As they batted more and more time I thought it was a partnership which I hope the team was studying.
"I hope Pope, in particular, was watching Buttler. The England team all like to play their strokes but when they play at their best they give themselves a chance.
"It's not being negative, you just don't have to go to high-risk shots in Test cricket.
"I'm pleased they have got into tomorrow."