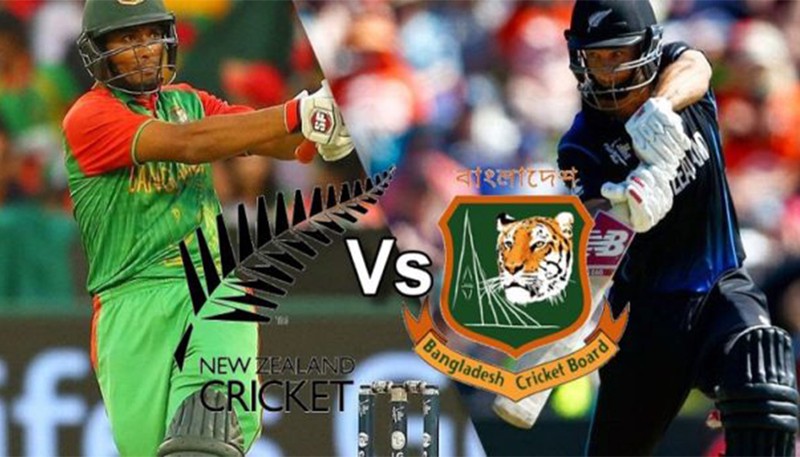 Newzealand were having one win in the first match of the series. In the second match, the first two days of the match was a washout due to Heavy Rain. so, the most probable of chances for the match was draw as in only three days the result was unavailable and both teams were hoping that the result of the third match will have a drawn. The second match of series was played at Wellington which is home ground for Newzealand players. They are deserving to win the series as their top order is in full form and also bowlers are taking wickets when the team needed.

when Bangladesh team comes to Bat in the second match of the series after the two-day washout at that time they want a good start from openers and the things go in Bangladesh side. moreover, Tamim Iqbal and shaman Iqbal had a 75 runs partnership which helps them to have a good start. After scoring 75 runs no partnership made a 50 and one by one wicket start calling due to wet pitch and grass on the field. Tamim Iqbal only scores 74 runs which are highest individual score done by Bangladesh in their first inning.
In the first inning, Bangladesh team were all out for, under 211 runs, the support from Wagner and Boult took 7 wickets to combine. Now it was having a good chance to take lead for Newzealand. so Newzealand wants a good start from their opener jeet Rawal and Tom Latham who fails to score good runs on the board in the 20 runs Newzealand loss their top two wickets. Later on, Williamson and Ross Taylor take a team ahead and together made a 172 runs partnership. williamson got out by scoring 74 runs and so Newzealand loss their 3rd wicket at the score of 180 runs.
Ross Taylor played a brilliant with good strike rate as he was knowing that they have to play as a T20, to win the match. The support from Henry Nicholls scoring 110 runs with Ross Taylor 200 helped Newzealand to reach a decent total. after scoring 432 runs skipper Kane Williamson declare their inning and have a 221 runs lead against Bangladesh. Abu Zayed was the highest wicket-taker and he took 3 wickets in the first inning of Newzealand.
Bangladesh was trail by 221 runs when they start their second inning. Once again they were all out for 209 and so Newzealand win the match by innings and 12 runs. In the second innings, 9 wickets taken by Wagner and Trent Boult. Total, 16 wickets both together take wickets of Bangladesh batsman. with the help of 200 knocks from Ross Taylor help him to become a man of the match. Moreover, in three-match series Newzealand are 2-0 ahead. Newzealand is ready for the world cup and they deserve this performance ahead of the world cup.
If you have to say something about this post, please write in the comment box. Please support me to keep having more of my good works and you can follow me, so that see my future posts and you're always welcome to my blog.
Quote of the day- "Failure will never overtake me if my determination to succeed is strong enough".
Author- Og Mandino
With Regards @muchukunda
NOTE: Please click the link below for witness vote to @stimp1024 @sahkan @scorum-fans @waveyourflags @scorum-italia and @truevote to make the platform good and strong. CLICK HERE