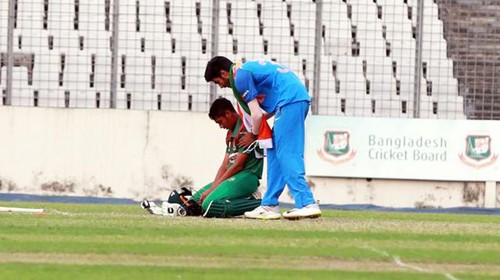 What did it do Minhajur Rahman and Rakibul Hasan? However, the two of them ended up feeling frustrated at the end of the match, the question seems to be inhuman. But how much longer will write a story of sadness? Needing 3 off 22 balls, the match often came in handy, then Minhaj's crazy run from the non strikers side! Consequence? Bangladesh runs two runs
Gangapuram ball rakibul hassan pushed the short third manager. Since there is enough force in hand, this rush was not needed. Minhaj did not answer. Gave up riding breath When Rakibul did not, Minhaz left half of the pitch. Indian fielder Baduni did not allow him to return Romance, excitement, and tension between small children. But the result is that one. Like the big Tiger has eaten the Bangladesh Under-19 team! India could not take the game even after breaking strong batting lineup of 172 runs. At the Mirpur Sher-e-Bangla stadium, the last two batsmen of Bangladesh have been disappointed with the wickets when the Indian youths wore wildly after this wonderful win. The sight of this suffering is not seen in Bangladesh, if the start was good.
It was not necessary to start with the goal of 173 runs to play as well. Rather the Indian bowlers have been given the opportunity to top-order Bangladesh Under-19 team. Opener Sajid Hossain (2) started with 7 runs. The picture of batting disaster was seen in over 20 overs. When Bangladesh score 65 on 5 wickets After that, the vital effort of bringing the game into the hands of Shamim Hossain and Akbar Ali added 74 runs for the sixth wicket. This couple has dreamed, it seems that at least it will not burn in Bangladesh. But where? Akbar Ali, who scored 45 runs in the match against Hersh, was again out of the shuffle Bangladesh. From 139 for 5 wickets, the score was 161 for 9 wickets, 4 wickets in 22 runs! Bangladesh has more danger, among which, Shamim is the highest 59!
Only then, extreme tension, Bangladesh need 39 runs in the 12 runs. India 1st wicket The old story of the nervous moment when the last wicket of Bangladesh is progressing slowly, the old story is going on. Once more, come to the banks of the dubble Bangladesh. It's been said, sorry, where is the end of this sorrow? What kind of senior party, what the youth team-everywhere will be the story of sadness? Bangladesh is going to be the new 'eye' of cricket?