Hi guys today I will tell you about a first final between pakistan and India of T20 world cup. In my feature posts I will tell you about all the T20 world cup finals. I hope you all like my post. First T20 world cup was played in 2007. In the first world cup 16 teams participate. But 14 teams gets out of the tournament in quarters and only four teams qualify in the semi finals. The four teams are new Zealand, pakistan, Australia and India. First semi final was played between Pakistan and New Zealand in which pakistan beat New Zealand by 6 wickets and qualify the final of first T20 world cup. In second semi final which was played between India and Australia, India beat Australia 15 runs and qualify in the final. Now two teams pakistan and India were face in final. When pakistan and India played with each other it is not only the but all the people say it is just like a battle and more interesting was that this match was final of first T20 world cup.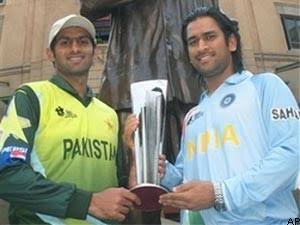 The final was played in Johannesburg on 24 SEP. 2007. In this match India won the toss and elected to bat first. Indian openers come into the crease in the shape of YK Pathan and Gambhir they start playing fast and make 20 runs in 2 overs but in the third over Asif gives the first break through to pakistan and takes the wicket of YK Pathan who score 15 runs in 8 balls with 1 four and 1 six. Now the score of team India was 25-1. Then RV Uthappa comes into the crease he was not able to play a big inning and lost his wicket at the score of 40 runs, he scores only 8 runs.his wicket was taken by Tanveer. Then Yuvraj Singh comes into the crease. On the other side G Gambhir was playing vary nicely.G Gambhir and Yuvraj Singh plays a brilliant partnership of 63 runs and pushes the team India to the score of 103 runs in 13.3 overs. Then Umar Full comes back into attack and takes the two wickets in his two overs. One at the score of 103 runs of Yuvraj Singh who scores 14 runs with 1 four and other at the score of 111 runs of captain Dhoni who scores 6 runs in 10 balls. Now RG Sharma and Gambhir are in the crease they play a partnership of 19 runs .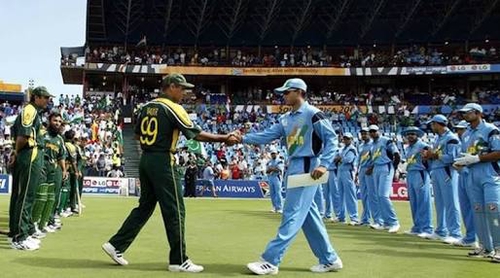 Gambhir plays a brilliant half century and beacme the first to score half century in T20 world cup final. At the score of 130 runs Umar Gul again takes one more wicket of Gambhir who scores a brilliant inning of 75 runs in 54 balls with 8 fours and 2 sixes. At the end of first inning with the help of RG Sharma who scores 30 in 16 balls crosses the 157 total. Now pakistan need 158 runs to win the match. In the bowling side of Pakistan Umar Gul bowls vary well and takes the three wickets in his four over spell and Asif and Tanveer takes both 1 wicket.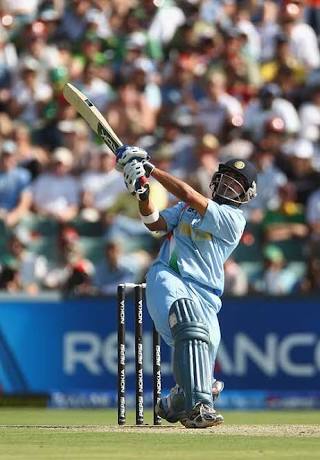 After the break, pakistani openers come into the crease in the shape of Mohammad Hafeez and Imran nazir, all were expecting from him to form a big partnership, they were not able to form a big partnership due to pressure and in the first over of the second innings and lost their first wicket of Mohammad Hafeez who just score 3 runs in 3 balls . His wicket was taken by RP Singh.the Kamran Akmal comes into the crease he not not able to score one and gets out at the score of 26 he scores a golden duck his wicket was also taken by Singh. Now more pressure comes into the pakistan team.imran nazir was playing well but at the score of 53 due to dad connection between batasmans he gets run out, he scores a nice inning of 33 in just 14 balls with 4 fours and two sixes. Now the score of team pakistan was 53-3 in 5.4 overs.pakistan lost his wickets quickly. At the score of 65 runs pakistan lost one more wicket of Younis Khan who score 24 runs in 24 balls with 4 balls.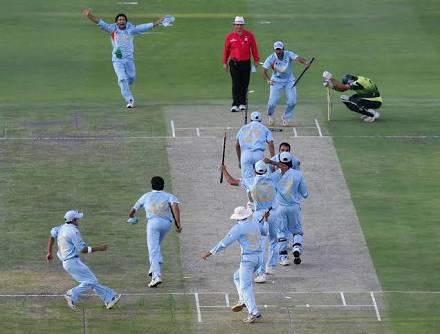 Again pakistan lost two big wickets in two balls in 12th over. One wicket of captain Shoaib Malik who scores 8 runs in 17 balls and another was the match turning wicket of boom boom afridi who scores most runs in this series gets out at the golden duck both the wickeets were taken by Pathan. Now the score of team pakistan was 77-6.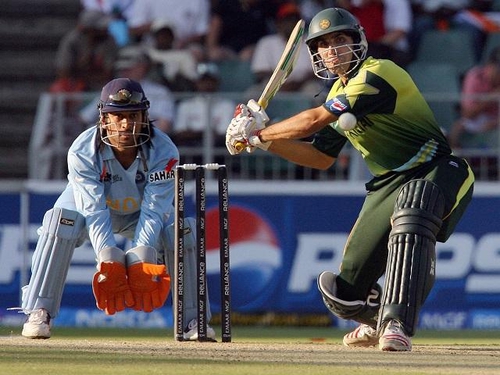 On the other side Misbah-ul-Haq playing brilliantly.Misbah-ul-Haq and Arfat plays a small partnership of 27 runs . Again Pathan comes into attack and gives on empire break through to india he takes the wicket of Arfat who scores 15 runs in 11 balls with 2 pakistan now need 53 runs in 24 balls but they have only 3 wickets in hand. Tanveer and Misbah makes a partnership of 34 runs in just 12 balls in which Tanveer scores 12 runs in just four balls with two big sixes. In the last ball of 18 over Sreesanth takes the wicket of Tanveer . Now the score of Pakistan was 138-8. Pakistan need just 20 runs in two overs.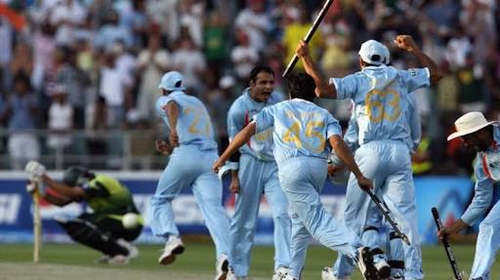 In 19th over Pakistan makes 7 runs and lost one more wicket of Umar Gul who scores duck. In the final over Pakistan needs 13 runs but they have only one wicket in hand. Misbah was playing brilliantly and was on strike in last over. First ball was thrown to wide now they need 12 runs. Then Misbah misses one ball now pakistan need 12 in 5 balls. In 2nd ballisbah hit a big six now pakistan need just 6 runs in 4 balls. In third ball Misbah tries to throw the ball fine leg but the he was taken and pakistan lost their 10th wicket as well as the big final. Misbah score 43 runs.
In bowling side of India Singh and IK Pathan takes 3 wickets both , Joginder Sharma takes two wickets and S Sreesanth takes one wicket.indai wo the first T20 world cup final and became the champions of 2007.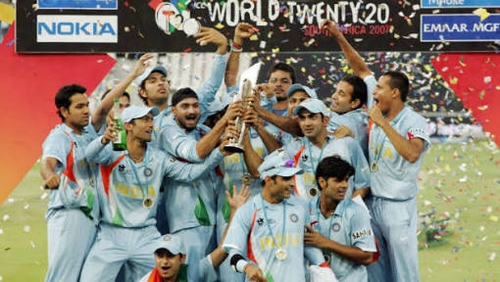 Irfan Pathan was given man of the match for his best performance.he bowl four overs and get the three crucial wickets and gives less than 20 runs in 4 overs.
man of the series was given to Boom boom afridi who scores most runs in this world cup but fails to score any run in this match.
I hope you all like my post. If you like then upvote.