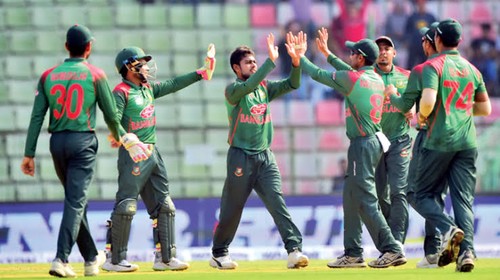 Incredible one goes to the place where Bangladesh stood after 6 wickets fell. Shakib Khan or Mahmudullah Mushfiqur failed then younger brother and the innings they played brought incredible and victory.
Bangladesh will be remembered for a long time and the reason is that the biggest thing about this Afghanistan is a scary thing as the first big size batsmen have lost to the Bangladesh team. But even then those who do clever balls like Rashid Khan and Nabi, i.e. Rashid Khan or Mojibar and Nabi were the biggest fear, but that place was found to be the opposite picture of Bangladesh in this game.
The pacers actually gave the wicket to the spectators. You can see that the hosts were in a frenzy of victory for the spectators after a long time. Bangladesh has set a record. The pair of 177 runs for the seventh wicket topped that record and Mirage. Their batting must have filled the minds of the spectators and those who really love cricket will never give up on Bangladesh.
When seniors fail, juniors can take responsibility. It's important for every player on the team to play an important role in becoming a big team. And the players of Bangladesh have played exactly that role. One more piece of evidence has been found worldwide that defeated Afghanistan.
Cash is mixed when it comes to batteries in Bangladesh and the image that scared Bangladesh a lot in the beginning. But on this day of failure the seniors have played mirage and state matches and everyone is married watching their game.