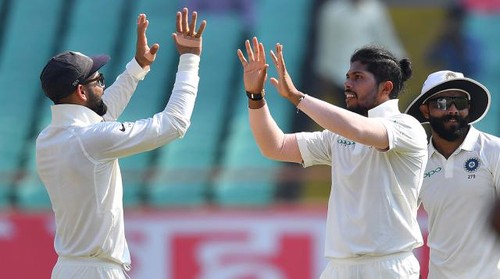 After the second day's game, the calculations started. How many runs in the first innings India? West Indies finished the second day with 4 wickets for 555 runs. In this, the statistics page was opened by many. In the first innings India took the highest score?
That's at Mirpur Sher-e-Bangla Stadium. India came to Bangladesh in 2007 Rahul Dravid's team announced the first innings of 610 for 3 wickets in the second Test of the series in Mirpur. In reply, Bangladesh's first innings collapsed only 118 runs. India got the lead of 492 runs, which is their highest lead record in the first innings of the Test. In the Rajkot Test, India could not get the opportunity to rewrite this record-the Bangladeshi supporters may regret that.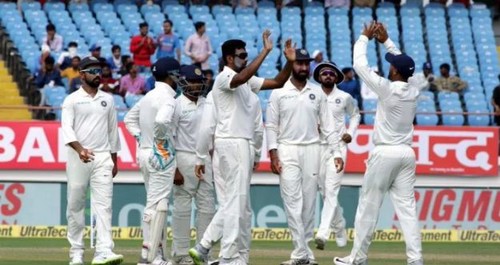 India scored 649 runs in 9 wickets in the first innings In reply, West Indies lost six wickets for just 94 runs in 29 overs. Today, on the third day only 19 overs have their first innings. West Indies were bowled out for 118 runs in the last four wickets. India has led the tourists with 468 runs lead In the second innings, West Indies scored 33 runs from 1 for a record.
This is India's third highest run lead in the first innings. Second highest run lead against West Indies (478 runs, 2011 Kolkata Test) In the first innings of the Test against Bangladesh, he got four centuries from the Indian top order. India's three batsmen got a century in the first innings of this match. But yesterday and today Shami-Ashwin had the chance to write the record of leading the highest run lead in the way the Caribbean had been pressurized.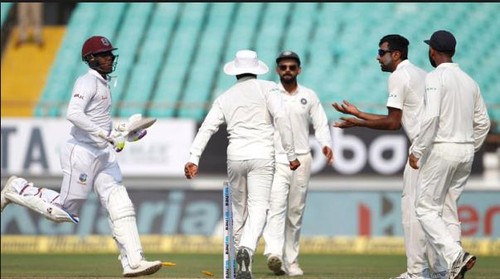 Roston Chase and Kemo Paul were at the wicket on the previous day. Today they could not survive long. Although Chase (53) lifted up to FIFA, Paul returned to the game with 3 runs. He got out for 47 runs. Then there was no problem for the Indian bowlers to put the West Indies tail. Ravichandran Ashwin took four wickets for 37 runs. Ashwin (42 times), Harbhajan Singh (41 times) topped India's highest total in the Test innings, taking 4 wickets in a innings. Only Anil Kumble (66 times) in front of him.