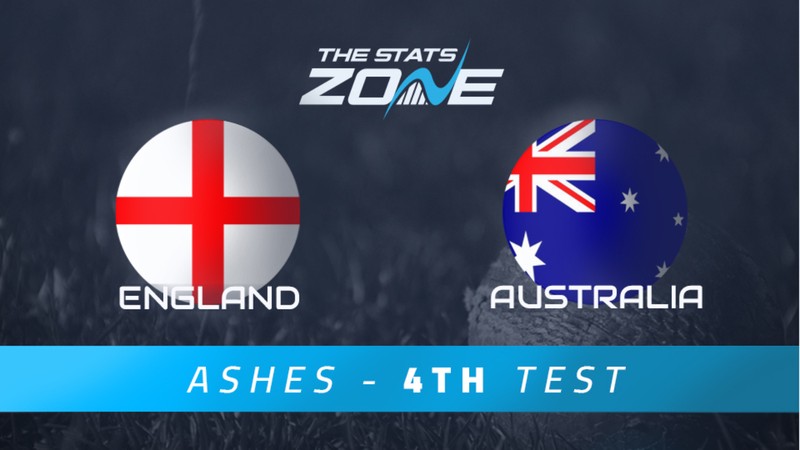 SCHEDULE
VENUE: Old Trafford, Manchester [England]
DATE & TIME: September 4th (Tomorrow) at 3:30 pm according to the Indian Standard Time (IST)
PITCH REPORT: This is a Test Match, a 5 days and 4 innings long Test Match. So Pitch does matter a lot on this match. So reading and remember the Pitch report for your own good.
There isn't any grass on the surface, so the pitch will be dry and very good for the batsmen. But in the Last innings Pitch becomes slow and Spinners will get into play. As an English pitch, the track dominates to the Pacers as well, so this fact in mind too.
The pitch is batting friendly, so you can see a 400+ total in the first innings for sure. The 4th innings will be dominated by the spinners, because of the overcast condition.
WEATHER REPORT: The weather will be Typical English Weather. The overcast condition with the wind.
THE ASHES SO FAR
1ST TEST
England: 374 & 146
Australia: 284 & 487/7
Australia won by 251 Runs
The Man of the Match was Steve Smith from Australia
2ND TEST
England: 258 & 258/5
Australia: 250 & 154/6
Match Drawn
Australia survived this Test Match
3RD TEST
Australia: 179 & 246
England: 67 & 362/9
England won by 1 Wicket
The Great Test Match of all time because of Ben Stokes unforgettable innings.
TOP PERFORMERS IN THE ASHES SO FAR
Steve Smith (Aus): 378 Runs in 3 Innings
Ben Stokes (Eng): 327 Runs in 6 Innings
Rory Burns (Eng): 272 Runs in 6 Innings
Marnus Labuschagne (Aus): 213 Runs in 3 Innings
Pat Cummins (Aus): 17 Wickets
Nathan Lyon (Aus): 14 Wickets
Stuart Broad (Eng): 14 Wickets
Jofra Archer (Eng): 13 Wickets
Josh Hazlewood (Aus): 12 Wickets
LAST MATCHES AT THIS GROUND
ENGLAND vs SOUTH AFRICA on AUGUST 4th, 2017
England: 362 & 243
South Africa: 226 & 202
Joe Root- 52
Ben Stokes- 54
Johnny Bairstow- 99
Pacers: 30 Wickets & Spinners: 10 Wickets
ENGLAND vs PAKISTAN on JULY 22nd, 2016
England: 589/8 & 173/1
Pakistan: 198 & 234
Joe Root- 254 & 71
Johnny Bairstow- 58
Pacers: 22 Wickets & Spinners: 7 Wickets

POSSIBLE PLAYING XI
ENGLAND
WICKET-KEEPER: Johnny Bairstow, Jos Buttler
BATSMAN: Rory Burns, Joe Denly, Joe Root, Jason Roy
ALL-ROUNDERS: Ben Stokes, Craig Overton
BOWLERS: Stuart Broad, Jofra Archer, Jack Leach
AUSTRALIA
WICKET-KEEPER: Tim Paine, Matthew Wade
BATSMEN: David Warner, Marcus Harris, Steve Smith
ALL-ROUNDERS: Travis Head, Marnus Labuschagne
BOWLERS: Josh Hazlewood, Pat Cummins, Nathan Lyon, Mitchell Starc
MY TEAMS
Dream11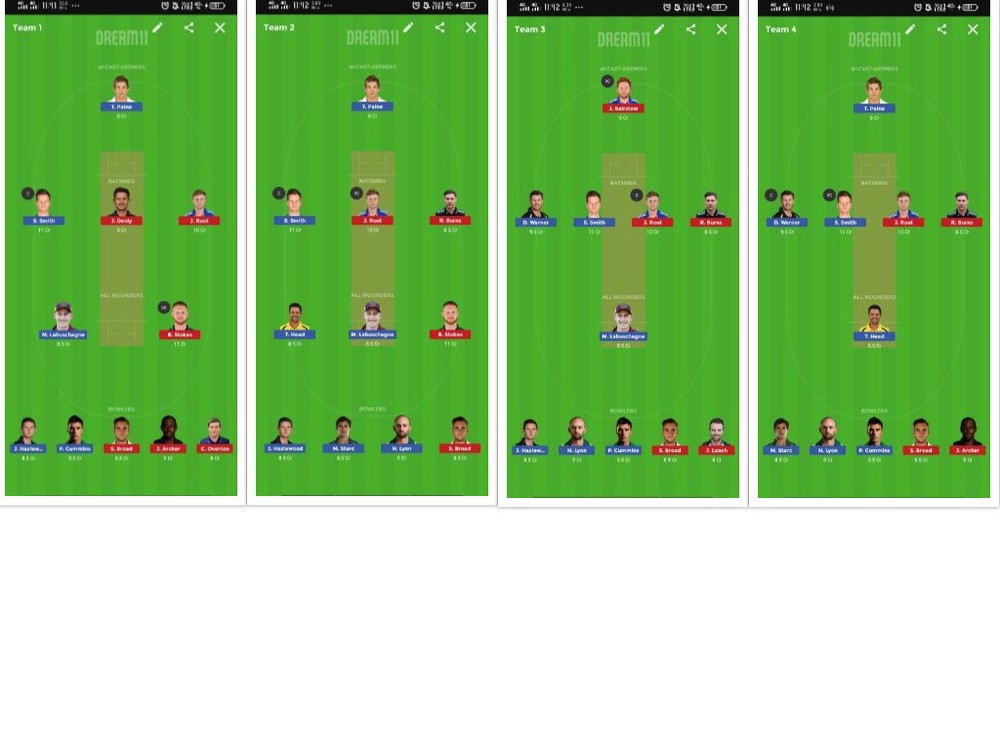 CAPTAIN OPTIONS FOR GRAND LEAGUE
Jos Buttler (Eng)
Craig Overton (Eng)
David Warner (Aus)
Marnus Labuschagne (Aus)
Mitchell Starc (Aus)
THANK YOU FOR READING! PLEASE DO SUPPORT IF YOU LIKE MY WORK!