HUW TURBERVILL RUNS HIS EYE OVER THE CRICKETER'S 100 SCHOOLS, ANO FINDS EXCELLENCE IN THE PRIVATE SECTOR, GREEN SHOOTS OF RECOVERY IN THE STATE, ANO A BLOSSOMING SCENE FOR THE GIRLS' GAME


Oh to be at school again. Reading some of the entries in this supplement, it is incredible what some offer. Youngsters in the first teams are playing about 20-30 fixtures a summer. They have the cl1oice of about 10 nets at their schools. They go on pre-season tours to South Africa, Dubai and India. They receive one-on-one coaching, and have their techniques analysed by computer and video.
There is no doubt our private schools are doing a fine job producing young cricketers who go on to enjoy good careers with counties, and even countries.
This is not just a private function, however. This year there are five state schools, seven grammar and one partially selective grammar - and some uplifting tales among them.
There are newcomers Burford School, where Gilbert Jessop taught, no less - a state boarding school that offers competitive cricket in six age groups for boys and girls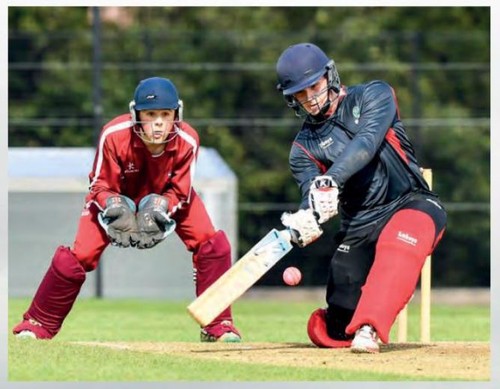 Then there is Myerscough College in Preston. They play about 35 fixtures per year, and have use of the indoor facilities at Lancashire CCC.

There is South Gloucestershire and Stroud College, who have four - yes, four - graduates in the Gloucestershire 1st XI: Chris Dent, Craig Miles, James Bracey and George Drissell.

And there is Shenfield High Sch ool , who have won more than 100 Essex indoor and outdoor boys and girls' competitions since 2003. They reacl1ed tl1e semi-final of the National Schools under-17 competition in 2016, losing narrowly to Millfield.
The charity Chance to Shine also do an excellent job in the state sector. They work with 39 county boards, and help 461,275 youngsters a year, in their schools a11d street programmes - 48 per cent of whom are girls. Youngsters from the most deprived areas of the United Kingdom account for 30 per cent of that total.
They want to do more, though. They are reaching one in five primary schools, one in three secondary, and one in five special.
For further reading, check out their case studies at Bethesda, North Wales (where lunchtime trials saw 178 pupils turn up for some bat and ball at Ysgol Dyffryn Ogwen School); and Brooke Voluntary Controlled Church of England Primary School in Norfolk, where their concrete playground becomes 'The Oval' (the school has no green sites).
The other noticeable thing after reading the top 100 and top 50 is the really big rise in girls' cricket now - like at Ormskirk School, who have a team in every year group.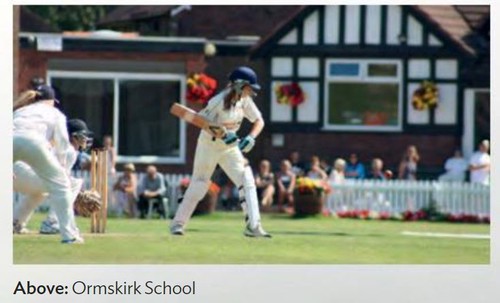 The Cricketer also reported this summer on how women professionals are playing against the schools as a way of ensuring they face seamers of comparable pace to their own game, and on good pitches.
England Women geared up for their summer series against South Africa and New Zealand by taking on Bede's School, from Sussex, in a T20 match at their terrific ground within sight of the English Channel.
It was even more informative for the school players. "It was a brilliant experience for our lads," said Alan Wells, the former Sussex captain who is director of cricket at Bede's. "It rammed it home to our guys when we needed 50-something off two overs - so we had no chance to win, really - and yet Tammy Beaumont was out on the boundary still diving full stretch to save runs. It was a great learning curve for us."
We also heard how Bethany School's under-13 girls' team celebrated an unbeaten first season. The school in Goudhurst, Kent, defeated Ashford School, Dover College, Buckswood and Gad 's Hill.
The Cricketer team also visited Haberdashers' Aske's Boys' School in Elstree, ertfordshire. They love cricket and thinks it complements academia, not hinders it.
When a school has cricket on the front cover of its prospectus, it is a clear clue that they take our beloved game seriously.
This is illustrated by the excellent practice facilities, with video-analysis equipment; to a coaching staff topped by former Middlesex and Kent seam bowler Jamie Hewitt; to the pretty ground in front of the stately home, Aldeoham House - part of the school's I DO-acre site. The school has speot£18m on sport in four years.
We also heard of the schoolboy exploits of Ben Charlesworth, now in Gloucestershire's I st XI, who put Marlborough College to the sword.
It was the kind of drubbing that could haunt a lad for life: St Edward's School, Oxford, defeated their hosts by a whopping 404 runs.
Teddies, as the school is known, were anything but cuddly as they racked up 467 for 3 in 50 overs. Charlesworth, a left-hander, made 201.
International players are also using the playing fields of England as part of their development.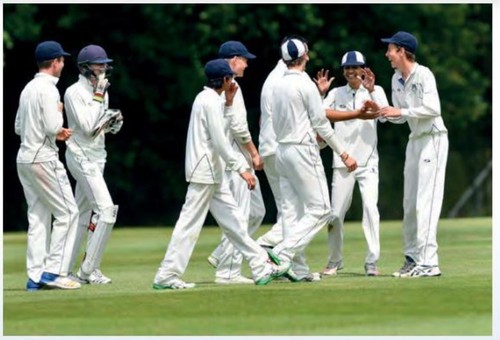 IPL star Prithvi Shaw was in the India tour party this summer - a considerable source of pride for a school in Stockport. Shaw, l 8, was captain of the India side that triumphed in the Uoder- !9World Cup in New Zealand in February.
He made 261 runs at 65 in the tournament, as India beat Australia by eight wickets with 11. I overs remaining at Mount Mauoganui. On Test debut against West Indies be made 134 at Rajkot this autumn.
Shaw is grateful to the ch ar ity Cricket Beyond Boundaries, founded in 2011 by former English Universities wicketkeeper and surgeon, Dr Samir Pathak. Initially established to bring promising young Indian cricketers from poor backgrounds to train and play in the UK, CBB brought Shaw over in 2012 following recommendations from journalist Makarand Waingankar and fo rmer Indian spinner Nilesh Kulkarni. Shaw attended the 160-year-old Cheadle Hulme School in Cheshire, where he stayed with the Milligan family.
Over the summer, be attended lessons in the mornings, while fitness sessions, technical drills and school matches in the afternoons boned his cricket. Despite the vastly different conditions to those he was accustomed to - his first game was played in 8·c1 -his prodigious talent shone through ; by the end of the season he had accumulated 1,446 runs at 85, while also taking 68 wickets with his off-spin.
British schools are a breeding ground for talent, of that there is no doubt.