The most successful team in the history of IPL, CSK has got a real strong team this session. Under Dhoni, the team has played its all session.
The core team is almost unchanged right from the beginning.
Dhoni, Jadeja, Raina and Bravo has been the pillar of the team, which seems invincible. Expect Bravo (Who was previously was with Mumbai), rest three are there from 2008.
#### CSK has won the title for 3 times and runners up 5 times in IPL.
The presence of Bravo has been a blessings for them in both bowling and batting. He is much more effective, specially in death over with slow bouncer.
The Australian Watson, even at the age of near 40, playing as a young boy. A fast bowler and a great opener with plenty of record to his name.
### Here is the player list :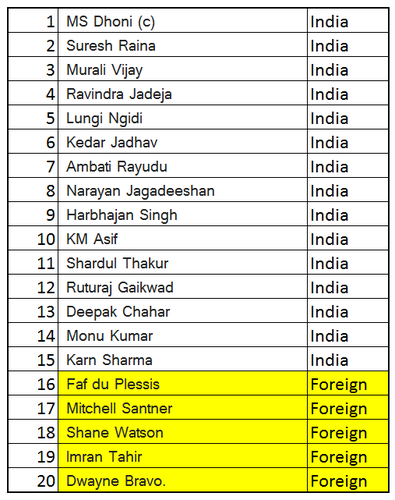 Dhoni has not played any intentional match recently, also his form has been deteriorated with flow of his age.
Though he is not the best finisher of cricket any more, still his captaincy skill is unquestionable. Most likely this is going to be his last IPL, so we may expect a greater show from him.
#### Key players
The second highest run scorer in IPL, Raina is expected to play a better knock this time. Rayudu, again a former Mumbai player also goign to play a key role in chennai squad this time.
In spin department they have, Harbhajan, Tahir and Jadeja. Again Raina can bowl too.
Watson is going to manage both batting and fast bowling department.
Though in papers they dont seems to be the best team, still under dhoni an average team can perform as a champion.