As we are all aware that the Bangladesh Premier League(BPL) is being played in the country and today the 17th match of the tournament will be played at Shylet.Today's contest is between Dhaka Dynamites and Rajshahi Kings.This match is going to be special for the Bangladeshi cricket a very different reason.That is because today the cricket fans will witness something that they have never witnessed before in Bangladesh either in the BPL or with the Bangladeshi national cricket team.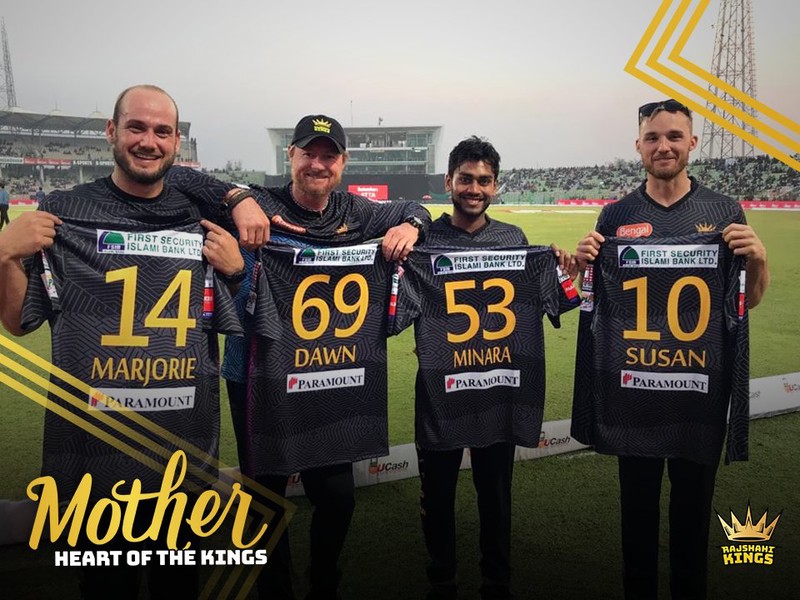 The innovation for this match has been promoted by the owner of the Rajshahi Kings team.The whole cricket team will be playing today's match with their mother's name on the back of their jerseys instead of their own.
This is of course not a new thing in sports.From what I have read I know that the Indian cricket team played an ODI match against the New Zealand team with their mothers' name on their jerseys.Also in soccer Barcelona once played pre-match again wearing jerseys with their mothers' names on them. The Barcelona team had done that as a tribute to their mothers on the Mother's Day.
Although it is not a new practice in sports, it will certainly be a novelty in Bangladesh.The Bangladeshi cricket fans will love it because they have simply haven't seen anything like this before in BPL.This means that the captain of Rajshahi kings will wear a jersey with 'Minara' printed on it instead of "Miraj".The team opener will wear a jersey reading as 'Nomita' instead of Soumaya Sarkar'.The coach of the team will also follow suit along with the players.
So, this match will be a very special one not only for the player and more so for their mothers.I wonder whether the supports will also attend the match wearing tee-shirts and jerseys with their own mother's name on it. If they do, it will be a great tribute to all the mothers.