Bangladesh has just made history. Historic events like Test wins have taken place on New Zealand soil, but the body language of captain Mumina Haque is not so thrilling.
The captain reminded that the victory at Mount Manganui should not let the Bangladesh team float in the air.
At the award ceremony at the end of the match, the Bangladesh captain said, 'Today I want to forget this victory. I want to watch the next Test match in Christchurch.
However, Mumina's determination to make history after losing to the Kiwis was evident in his words, "We were not doing well in Test cricket. I lost the last two matches. To move forward, the victory was needed to build a tradition of the Test team. That is why it is so important. "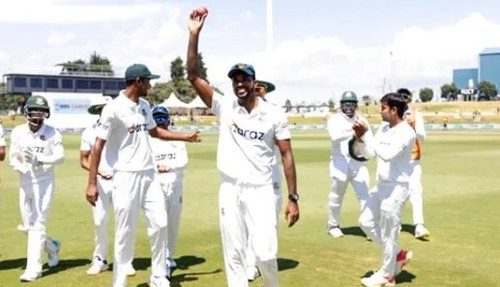 Bangladesh started the day at 146 for 5 in the first session on the fifth day and did not allow New Zealand's innings to last long. In the morning session, the hosts were bowled out for 169 after losing the remaining 5 wickets for just 22 runs in 10.4 overs. Sharing 5 wickets, Ibadat Hossain, Taskin Ahmed, and Mehedi Hasan Miraj did not allow Bangladesh to win by more than 40 runs.
Despite losing Sadman Islam and Nazmul Hossain to score that run, captain Mumina crossed over with the experienced Mushfiqur Rahim. Mushfiqur's winning cut shot by Kyle Jamieson must have been one of the best pictures in the history of Bangladesh cricket.
Mumina was saying, 'This is a team success. Everyone was aiming to win. Batting, bowling, fielding - everyone came forward. '
However, in the first and second innings, Bangladesh won the match due to the performance of the bowlers. 'We won mainly because of our bowlers. In the first and second innings, they were great in one word. They have worked hard. The ball is in the right place. New Zealand is under pressure.
Regarding the bowlers, the Test captain said Ibadat Hossain separately. Ibadat is the hero of Test victory with 6 wickets for the best 46 runs of his career.
At the end of the match, that is why Mumina praised Ibadat, 'Ibadat bowled incredibly. In a word, he bowled brilliantly.
The believers have also got the benefit of conditioning unexpectedly. Mount Manganui has been hot, especially since the first day of the Test. That is why the green grass has turned gray quite quickly. Bangladesh spinners have benefited from it. As Mumina said, 'As the sun started giving heat, the wicket also became dry.