Controversy has erupted over the survival of Dean Elgar's review in the Cape Town Test. India captain Virat Kohli went to Stump's microphone and spoke to the broadcast channel. Rabichandran Ashwin and Lokesh Rahul were also heard talking. The anger of Indian cricketers was directed at the broadcast channel Supersport. However, a separate organization called Hawk-I provides information on the ball-tracking controversy.
The incident started in the second innings of South Africa on the third day of the Test. Umpire Marai Erasmus gave Elgar a lbw off Ashwin's ball in the 21st over of the 212-run South African innings. The ball hits the 'ni-roll' or lower part of the knee pad of the Elgar pad, which is used to play with the legs slightly forward from the crease. Elgar, however, reviewed the umpire's decision.
Then Hawk-Eye shows, Ashwin's ball could have gone over the stumps. Elgar survived. While showing the replay on the big screen, Kohli was seen taking off his cap and expressing his frustration. Kohli then walked towards the stumps at the break of the over, bringing it to his face and telling the broadcasters, "Look at your team when the ball is shining. Just looking at the opponent will not work. The idea of ​​catching people all the time!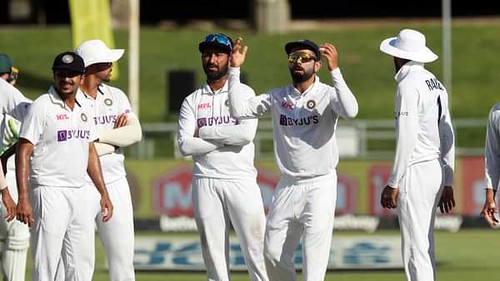 Kohli's remarks on the ball-tampering scandal in the 2016 Cape Town Test. Supersport 'caught' footage of Cameron Bancroft of Australia rubbing the ball with glue paper. Bancroft, along with then-Australia captain Steven Smith and co-captain David Warner, were banned for different terms in the case.
Kohli's words, however, did not stop the reaction of the Indians. Co-captain Rahul was heard to say, "The whole country is playing against 11 people". Ashwin directly said, "Find another way to win, supersport."
Elgar is supposed to look like a 'plumb' with open eyes, even though there is a difference in bounce in this wicket in Cape Town. Umpire Erasmus was also heard saying, "Impossible" after Hawk-Eye's ball-tracking show.
Elgar was partnering with Keegan Petersen at the time. However, the South African captain did not go very far in the end, even though he survived. Elgar was caught-behind by Yashpreet Boomer after adding 6 more runs after that incident, breaking the 6-run partnership with Petersen. India also got that wicket with reviews, this time the umpire was Adrian Holdstock.
At the end of the day, South African fast bowler Lungi Ngidi and India's bowling coach Parash Mohambre reacted differently. You may never want to show so much emotion, but we have seen that their emotion was very high. From this I understood that they were under pressure. '
And Mohambre said, 'We have seen, you have seen (what has happened). I leave it up to the match referee. Now I do not want to comment on it. Everyone has seen, now I just want to focus on the game. '