Babar Azam is now one of the most talked-about performers in world cricket. The Pakistan captain arrived in the capital Dhaka on Tuesday morning with his senior partner Shoaib Malik. Before his arrival in Dhaka, there was a rumor that Babar would play for Dhaka Mohammedan in the Dhaka Premier League.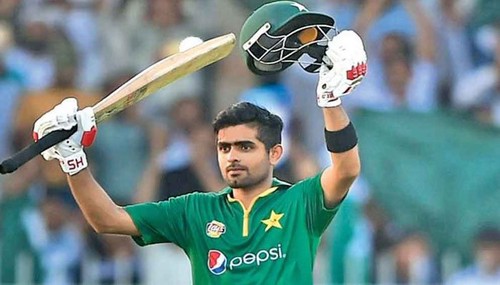 The current Pakistan captain, who is the highest run-getter in the T20 World Cup and has performed well, has a different vibe among the fans in the black and white jersey team playing in Mohammedan. Everyone's question, will Babur really play for Mohammedan?
Now those who are curious about the state may not know that Babar played two matches for Mohammedan in the Super League stage of the 2013 Premier League. At that time no star badge was worn on him. He was the captain of the Pakistan U-19 team. But after nine years, everyone is shocked to hear the rumors of his playing in Mohammedan again.
Meanwhile, no such statement or announcement has been made from Mohammedan Club. How come? Babar arrived in Bangladesh on Tuesday morning. However, Babar will play for Mohammedan in the Premier League from the night of November 14 (Sunday) through social media.
Mohammedan Cricket Committee chairman Masuduzzaman was repeatedly called to inquire into the incident but did not receive a call. However, it is learned that Masuduzzaman went to the United Arab Emirates to watch the World Cup and talked to Babar Azam.
Azam Siddique, Babar's father, said in an Instagram post that his son played all three games this week "in severe distress".
That too does not happen. He had no chance. The Mohammedan Cricket Committee chairman met Babar at a shopping mall after Pakistan lost to Australia in the semi-finals. He also posted a selfie with Babar Azam on his Facebook wall. There he offered Babar to play in Mohammedan.
Babar did not immediately say yes or no. Just said, let's see. We (Pakistan) have not seen the tour schedule before. Then it can be said. It is learned that Babar wants to know about the possible schedule of Dhaka League and BPL even after setting foot in the capital this morning. As well as and gave a glimpse of the game in Mohammedan. But it all depends on the schedule of the Pakistan national team.
The probable schedule of the Dhaka Premier League is March-April. At that time Bangladesh has a tour of South Africa. So Shakib, Mushfiqur, Mahmudullah, Soumya (if he returns to the team), Taskin, and Mehdi Miraj are less likely to play in the league for Mohammedan. Even if he plays, maybe he will play in the Super League.
In the absence of a bunch of reliable stars, Mohammedan wants to get Babur in a deficit pet. But it is difficult to get him for a long time.
Pakistan is also very busy to March-April. The Australians are scheduled to play in Pakistan from March 12 to April 5 next year. Pakistan is scheduled to play three Tests, one ODI, and one T20I match with Ajit in that tour. The day and venue of the match have also been finalized. This means that from the second week of March to the first half of April, why Dhaka League, Babar is not likely to play anywhere else outside Pakistan.
However, Babur Azam could come to Mohammedan to play a few matches at the end of the Pakistan-Australia series if Australia does not play in Pakistan. According to a reliable and responsible source, the talks between the two sides may be completed by the end of the current visit to Pakistan.