So India have ended a barren streak against Australia that has run since the 1950s. While storm clouds gathered literally and figuratively over Australian cricket, the Indian Team and their supporters were left dancing in the rain, soaking up every last drop of their long-awaited success down-under.
For India's captain and team management, this series win was an answer to their critics (including myself) who had questioned whether they really deserved to be ranked number 1 in the world. Yes, the Australian media have and will continue to bemoan the fact that their 2 best batsmen were unavailable for this contest but the reality of the situation is that India outplayed Australia in 3 of the 4 Test Matches and deserved their win. The ifs and buts over Warner and Smith's continuing bans only serve to paper over the cracks of much deeper problems within Australian cricket while for India the future looks far sunnier despite the incessant rain that brought about a drab ending to an otherwise entertaining series.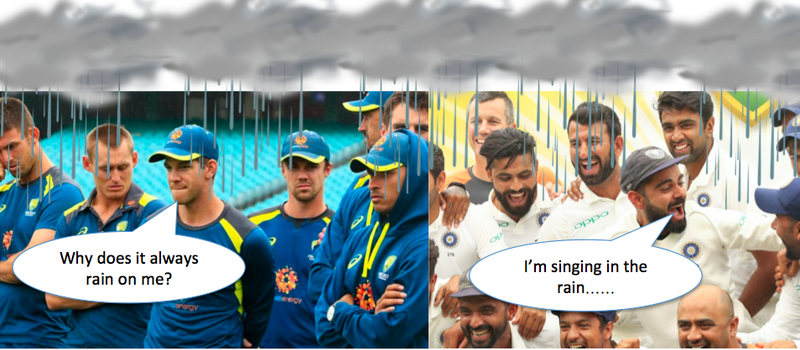 India's quicks outperform Australia's pace trio
India's fast bowling this year has been a revelation and in my mind at least this is the best pack of quicks that they have ever produced. Zaheer Khan was a brilliant bowler in his day and I always liked to watch Javagal Srinath who was not only a talented seamer but also a miserable SOB just like any good fast bowler should be! However, these 2 didn't really have the back-up to ever dominate a series in overseas conditions in the way that Bumrah, Shami and Ishant Sharma have in Australia. Even prior to this series and despite their defeats against South Africa and England in 2018, the Indian pace bowlers have been a match for any other side they have encountered.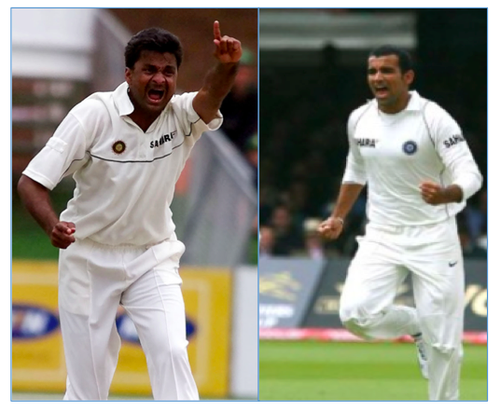 In fact, it wouldn't be too much of an exaggeration to state that in beating Australia, the Indian trio have outperformed the best pace attack in the world in Starc, Cummins and Hazelwood. The below figures show that from a very similar number of overs, the Indian quicks delivered a far better return than their antipodean counterparts

Dig a little deeper and we can see how they achieved this result. As the below graphic shows, India's bowlers were more accurate, swung the ball more through the air and seamed it further off the pitch than the opposition. Australia's batsmen had to sustain far greater periods of pressure for far longer in games than the visitors did. In fact, the only part of the innings where India didn't out bowl Australia seems to be with the new ball. The good news for India in that respect is that they still have Buvi Kumar waiting in the wings who is undoubtedly a new ball specialist and I am sure had he have been fit would have had an impact on the England series where the Duke ball would have suited a man of his particular skill set. Add him into the equation and India have an attack capable of getting lateral movement throughout the innings and we haven't even discussed their spin options yet! Taking 20 wickets in a match is a prerequisite to a chance of victory and India certainly have the tools to do that on a regular basis.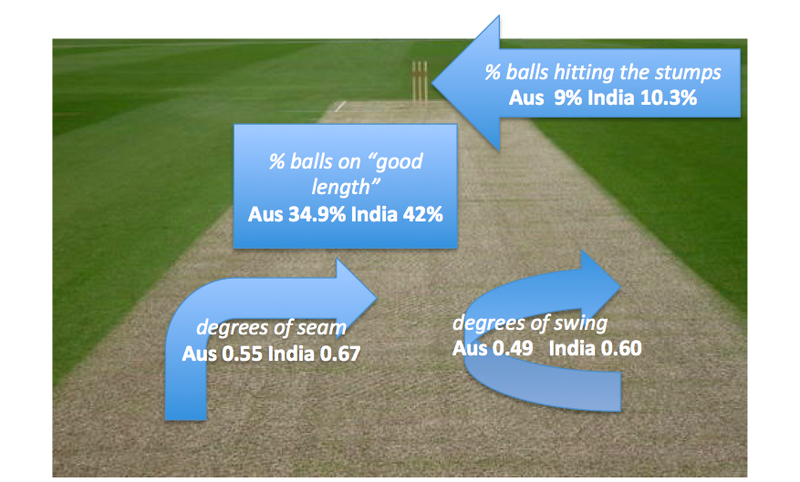 India's batsmen show greater stickability than Australia's
This is a bit of chicken and egg scenario. What came first India's better bowling or Australia's poorer batting? Undoubtedly the 2 were related but in general it was India's ability to weather the storm that allowed them to build match-winning totals in 3 of the 4 Tests played. After all, this series was really one for the Test Match purists as the average run rates through all the games were slower than many other series that have taken place over the last 12 months. In fact, but for the innings played by Pant and Jadeja in the final Test at the SCG this series would have seen the slowest scoring rates for Tests in Australia since the turn of the century.

The chief blunter of the Australian pace attack was of course Cheshwar Pujara, a man whose poor form earlier in the season had seen him dropped for the 1st Test against England. Surely the 3 marathon innings that he played in this series and in particular the hundred that he scored in the 1st Test in Adelaide which was the difference between the teams in the most tightly contested game, will have convinced the team management not to make that mistake again. Pujara even managed to only run himself out once during the entire series which by his recent standards is something of a miracle!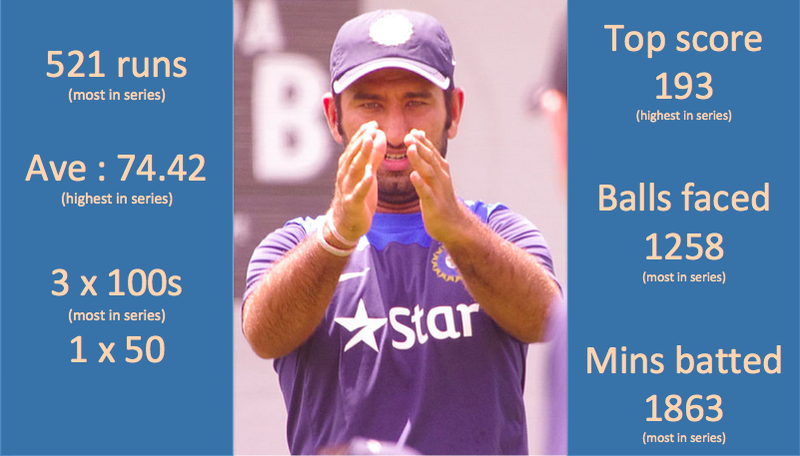 Pujara's ability to absorb pressure and bat long periods of time was second to none in this series and reminded me of some of the efforts that the recently retired Alastair Cook managed on his best tours down under. Just to put into context how long Pujara batted for, the most number of minutes that any Premier League player has played this season is 1890mins (20 players have played every minute of every game). Of course, Pujara's efforts were achieved over a 4 week period compared to the footballers who have been playing for over 4 months demonstrating that Test Match cricket truly is the ultimate test of an athlete's physical, mental and technical abilities.
What was equally impressive about Pujara's efforts was that on several occasions he found himself at the crease very early in innings. He was in after the 2nd over at both Adelaide and Sydney where he played match-defining innings and on average he found himself batting by the 9th over. While India will be pleased with their efforts in general, the opening births in the team remain an area of concern with the likes of Vijay, KL Rahul and Dhawan all having had poor years. Agarwal did his chances of grabbing one of those spots no harm at all with 2 good performances and India do have Prithvi Shaw to call on when he returns to fitness. With the quality and experience of Pujara, Kohli and Rahane in the middle order and youngsters Vihari and Pant making good all-around contributions at 6 & 7, India will surely be a force to reckon with in the coming year. The only issue I have is that I can't find when they next play a Test Match, although I'd assume it will not be for another 8 or 9 months which is a real shame for them and for cricket in general.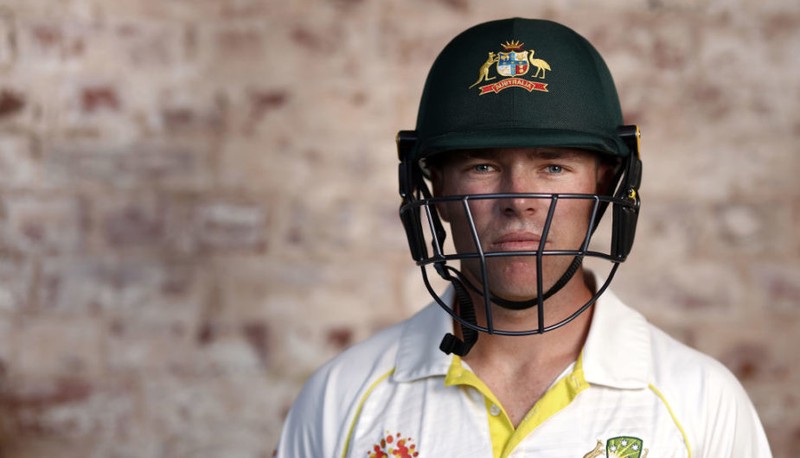 For Australia, none of their batsmen with the exception of Marcus Harris can look back at the series and feel that they matched or bettered their opposite number in the Indian side. From a personal point of view, I was happy to see Harris top score for Australia as I'd backed him at odds of 14/1, with my only regret being that I didn't put more money on it! Australia would certainly have hoped that experienced players such as Khawaja and Marsh would have been able to make more telling contributions to the side and it is notable that Marsh has been dropped once again from the Test side that will travel to Sri-Lanka next - surely that marks the end of the 35-year-olds days as a Test batsmen? With no Australian making a century in the series, Paine and Langer will be desperate to get Smith and Warner back into the side and scoring as soon as possible especially considering that we have a World Cup and Ashes series to come this summer which if Australia perform as poorly as they have in home conditions could lead to genuine embarrassment in England.
Australia lose the verbal and mental battle
In many ways, I feel that Australia lost this part of the battle before a ball had even been bowled and I wrote an in-depth piece about the sporting mentality of Australian cricketers here.
Beyond the fact that the Australian team is really struggling to find an identity, I felt the fact that they even bothered to engage in a verbal exchange with a player like Virat Kohli was a pretty poor decision. There are some players you sledge and some players that you ignore and Kohli is definitely a player that you ignore. He is a guy who seems to thrive on the hostility of an occasion and while Australia ultimately won the 2nd Test in Perth it was during that match that they provoked Kohli into playing his finest innings of the tour. England found they got a similar reaction this summer when Joe Root mic-dropped his bat at the Indian captain at the end of the ODI series prompting Kohli to hit a hundred (his 1st in England) in the opening Test. In fact, the Aussies really should know better than to try and get Kohli's blood pumping as this contest between Mitch Johnson and the Indian batsmen from 2014 shows.
By in large, a fielding side should be concentrating mainly on executing their plans to the opposition batsmen and Australia were generally unable to do that. As a batsmen, if they're not getting you out and are instead resorting to chatting nonsense at you then ultimately you know you've won the battle. Equally, with the decision to keep the microphone on the stumps switched on throughout the days play, it almost felt that the keepers, in particular, were obliged to play the role of pantomime villain. For Rishbah Pant at 20-years of age, his youthful exuberance was perfect for this and you could see he genuinely annoyed a few of the Aussie players. I actually thought at one point in the Melbourne Test that Nathan Lyon might turn around and punch him in the face! However, for Tim Paine, a senior pro and captain this was probably the kind of distraction that he could have done without. Again, he should have been focusing on getting the best from a group of underperforming bowlers rather than trying to come up with witty one-liners.
An Australian side that won just 2 of their ODI games in 2018 take on India in a 50over tournament that starts this week. I've a feeling that things are going to get worse for the Aussies before they get better!