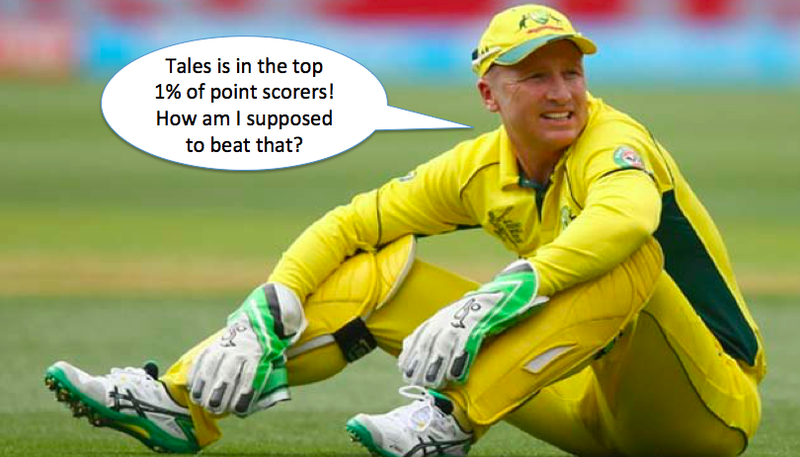 I needed a big win in this head to head against the top of the table Brad Haddin and I got it!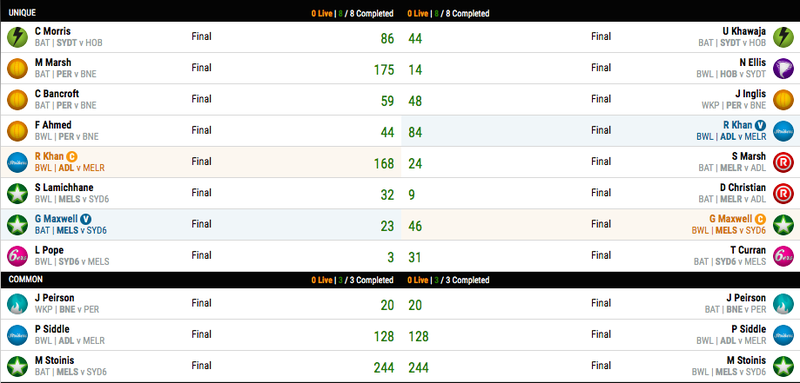 4 players scored in excess of a hundred points each in this round including Mitch Marsh who I traded in for this round and he duly got things started with a quickfire 90 against the Heat smoking the last 3 balls of the innings for 6 to see his side to a monster score. More was to follow this morning from Marcus Stoinis who made an astonishing 147 not out as the Stars all but guaranteed that they will take the league title this year. Elsewhere Peter Siddle and Rashid Khan took advantage of a Renegades side that are now nose-diving towards the wooden spoon and I guess the only real disappointments would have been Lloyd Pope who was smashed all around the MCG by Stoinis and Cartwright and Glenn Maxwell who was left to sit and watch the double-century stand between those 2. My guess is that would have hurt a lot of teams who would have had the inform Maxwell as captain including Haddin's Heroes.
My score relative to all other sides for this round was my best of the tournament yet and put me in the top 1% of sides for the 4 matches played this weekend. It also bumped me up into the top 4% overall and it would appear that my team is peaking at just the right time.

The win keeps me hanging in there in the Tales v Stars league with just 2 rounds to go in the regular season. Realistically I will need to win both to make the top 4 and reach the playoffs but round 9 is a definite must-win against Isa Guha whose team sit just 2 points ahead of me in the table. The strange thing is while I sit 2nd bottom in the head-to-head league I am now top of the league on total points!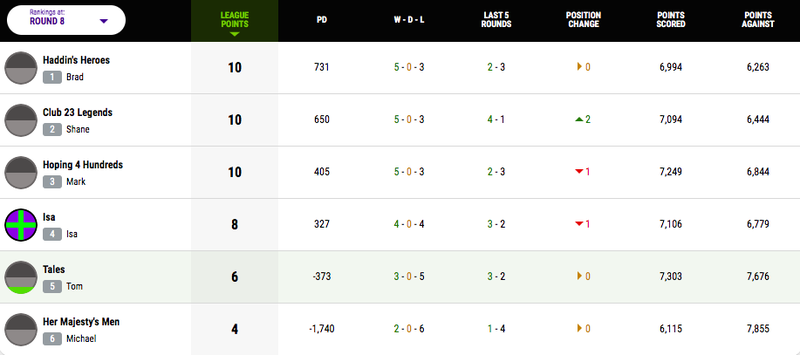 This kind of situation calls for a go big or go home kind of an attitude and so that's precisely what I've done for round 9. Out goes Sandeep Lamichane who has been in my side from round 1. With the Stars playing at the Optus Stadium it will be a tough ask for the little leggie to not get smashed about but of course, it also a risk as he is a proven wicket-taker. Similarly, I've ditched the in form Peter Siddle a move that I may reverse at a later stage. He was dropped only to allow funds to be freed up so that I could get Liam Livingstone and Josh Inglis into the side. With the Scorchers playing twice in this round and both games being held at venues with good run-scoring records having the entire top 4 of the Scorchers batting lineup in my side is a calculated gamble. I could have chosen to sub out Lloyd Pope whose Sixers don't play this round but as mentioned above I'll likely need to win both remaining matches in the head to head league and with The Sixers playing twice in round 10 I needed to keep him in the squad. Simon Milenko for Harry Nielsen is the only other trade and that was made purely to facilitate the 2 big-money names mentioned above. The only other choice then was whether to go with Caleb Jewell or Cameron Green in the final batting spot and despite Green playing twice this round I've gone for Jewell mainly because as an opener he is guaranteed to at least get a chance of hitting a big score.