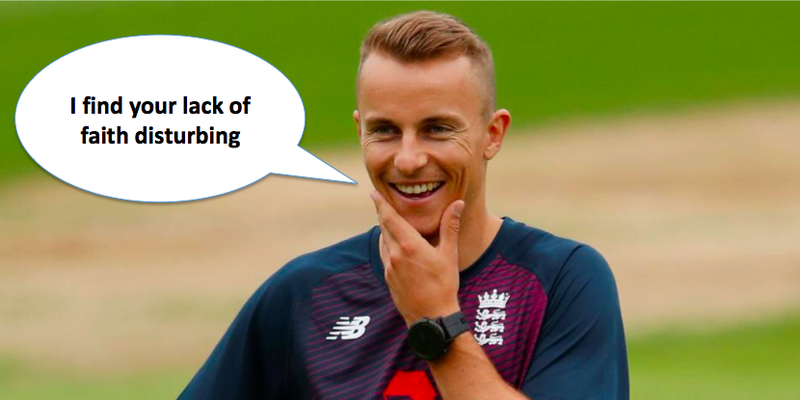 If I've said it once, I've said it a thousand times. The fact that Sam Curran goes for millions of pounds in the IPL auction while his brother is left until the 2nd part of the bidding process and goes for peanuts is a travesty! Tom is by far the superior white-ball cricketer and as with last year, he is once again one of the marque players in the Big Bash. As such you'd have to be an idiot not to have him in your fantasy team right?
Well, I am that idiot! It's not that I don't rate Curran, I've seen him come up through the ranks of my local Surrey side into international cricket and now the big money of the T20 franchise leagues and he absolutely deserves his place there. I think the reason for not selecting him is 2 fold. Firstly he was very expensive at the beginning of the season and secondly I always struggle to select players in my fantasy teams that I have an emotional attachment to i.e. from clubs that I support. The same is true in any fantasy football team where I hardly ever include any Spurs players in the side because I don't feel I can make an objective decision on their selection. Whatever the reason, not selecting Tom Curran has cost me again as Brad Haddin powered past me in the round 3 head-to-head.

As you can see, I led in the early stages of the round but it was the 2 games that involved Curran's Sixers that saw their former teammate Haddin cruise to victory in the end with the Surrey man getting him over 500 points as captain!
Next up I play Isha Gua in the 4th round. She got her first win of the season and despite my poor start, I know that a win in this round could see me back into the top 4. With the Strikers again playing twice, I have maintained a strong Adelaide presence in my starting 11. I have replaced Billy Stanlake with Peter Siddle who is seemingly available for both games following his release from the Aussie squad while bringing in Jake Weatherald for Josh Phillipe meaning that Alex Carey will play as my keeper. Elsewhere Ben Dwarshuis is replaced by Chris Morris. With the Sixers not playing this round I couldn't afford to maintain 2 high price players such a Phillipe and Dwarshuis in my squad. I've also decided to change the balance of the side a little by playing Morris in 1 of the batting slots which means that alongside D'Arcy Short, I could score bowling points from 7 players.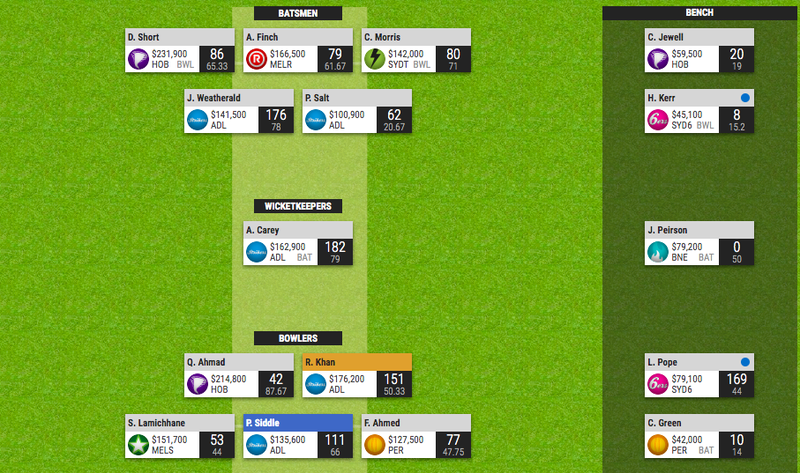 With the Strikers not playing in the 5th round, this selection is very much a case of Monte Carlo or bust! Gua by comparison already has 3 Strikers players in her squad but equally has 3 fairly high price Sixers players as well, meaning that she will need to ring the changes to stay competitive. Can I get my first win on the board in this round? Time will tell...