Victory is most certainly mine and I did drink deep from the keg of glory this morning at the conclusion of the Heat v Scorchers match.
It was a tense finish to the round against Isa Guha's team . She had 3 big name players taking part in the final match-up in Chris Lynn, Ashton Turner and Mitch Marsh and she needed those 3 to close a 140 point gap that I had created with the extra Strikers players I'd drafted in. Fortunately, all 3 failed to really get going in what was a fairly low scoring match and I was able to hang on for my first victory of the season in the Tales v The Stars league.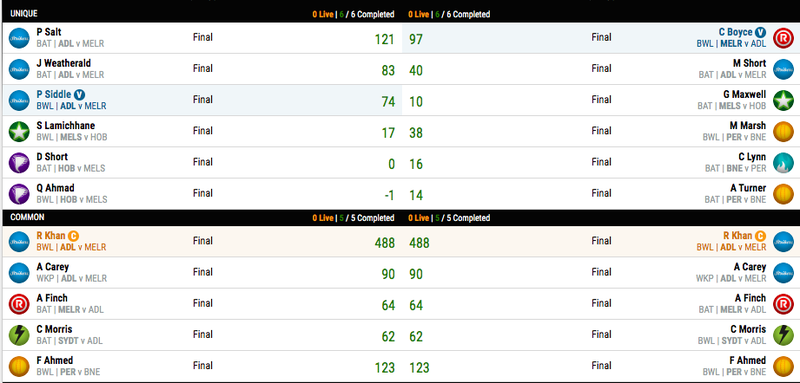 My score of 1121 for the round was in fact good enough to put me in the top 1000 worldwide and had it not have been for the rain-affected match between the Hurricanes and Stars costing me a few more points then it could have been even better.
Ultimately Rashid Khan's star performances with both bat and ball for Strikers is what contributed to a large portion of my point scoring this round but in general, the double chances for Adelaide all came good in at least one match and Fawad Ahmed then cleaned up a woeful looking Heat batting line-up this morning to add the cherry to the top of the icing.
The win leaves the league looking likely to be a 4 team battle for the 3rd and 4th spots that would ensure qualification for a place in the knockout stages with Brad Haddin and Mark Howard storming away at the top. Those 2 do play each other in round 5 which will ensure that someone in the chasing pack can close the gap a little.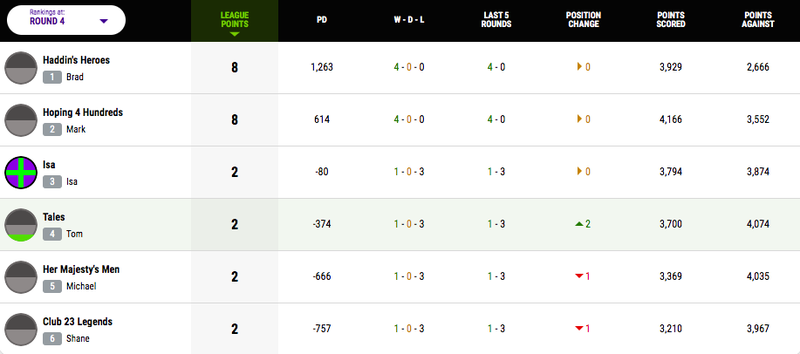 Round 5 sees me up against Shane Warne's team who also got their first win of the season in round 4. Given that his squad already has 6 players from the Stars and Renegades who both play twice this round and he is likely to reinforce that number by trading out at least a couple of the 4 Strikers players who are there then it's going to be a tough ask to win this one.
I've already traded out 3 Strikers players from my side in the shape of Phil Salt, Jake Weatherald and Rashid Khan. In their places come Kane Richardson, Peter Handscomb and Daniel Worrall. Richardson is one of the few bright points of what has been an otherwise disappointing season for the Renegades and he will captain my team this week. I think particularly on the slow pitch at the Dockland Stadium he will be difficult to score off and bowling as he does in the powerplay and then at the death he's always got a chance of picking up wickets. To be honest, I don't really rate Peter Handscomb much at least not as an international level cricketer but he's doing ok for the Stars this season and keeping wicket could earn him a few extra points as well. I've had Worrall in my team before and he was almost impossible to play on a very lively pitch down at the University of Tasmania earlier in the week.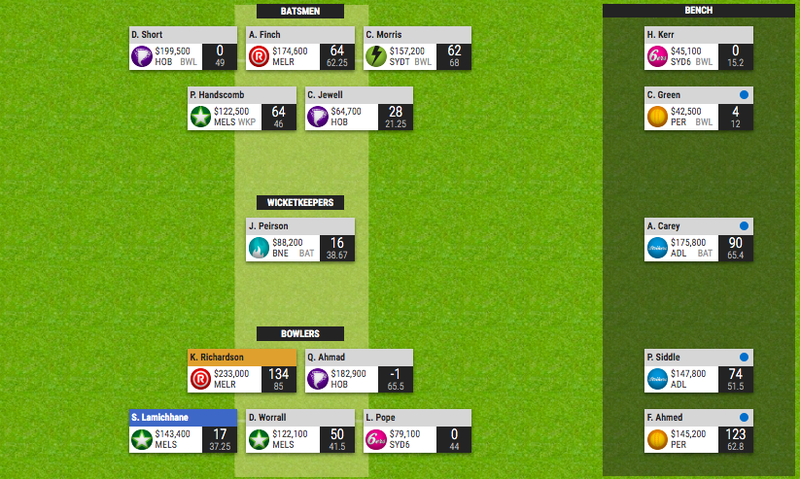 Given the byes for the Strikers and Scorchers, the rest of the side pretty much picks itself but at the very least I have maintained bench players like Jewell, Pope and Peirson who are likely to play for their franchises and it means I shouldn't be the victim of any DNPs for this round - every point will be crucial!