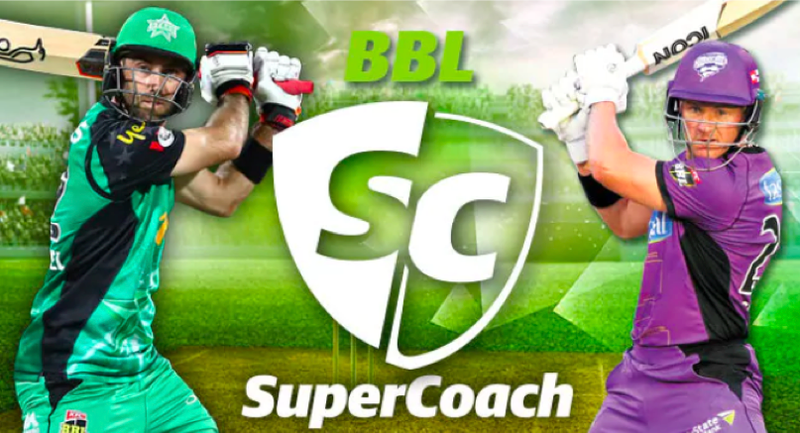 Revenge is most definitely a dish best-severed cold with lashings of success. Having lost to Michael Vaughan by 5 points in the first round of the tournament, I got my own back by spanking him in the return fixture.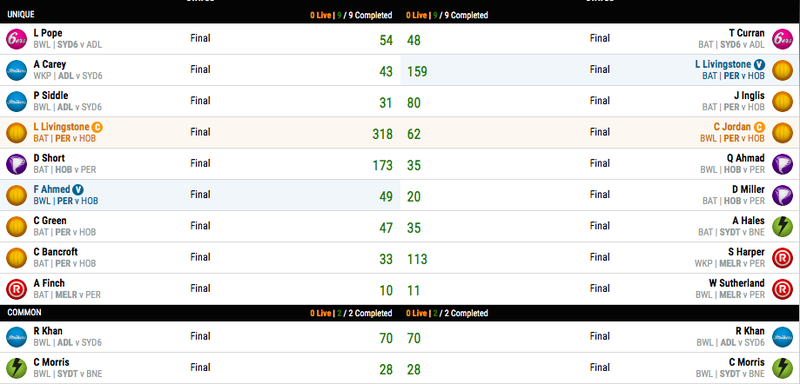 Liam Livingstone's quickfire fifty this morning against the bottom team the Renegades bumped his score up to a whacking 318 points. He'd already done well with the ball in his opening match and given that Vaughan's captain Chris Jordan had a terrible round it was always going to be difficult for him to make up the difference. D'Arcy Short celebrated his call-up to the Australia squad by smashing a century and finally justifying the big money that I've paid for him. Lloyd Pope instead of Qais Ahmed proved to be a good call and the young Australian leg-spinner is working out to be one of the best bargain buys of the season. Elsewhere it was a fairly even performance from the rest of the players which saw my points haul into the top 10% for the round and now the top 10% overall.

With the Australian ODI side leaving for India today, it means that a lot of the big-name players will be unavailable for at least the next couple of weeks. For me, that means needing to take out the likes of D'Arcy Short and Aaron Finch while Alex Carey will need to be replaced next time around as I struggle to get 11 players on the pitch. In replacing those 2 big hitters I've gone with 2 Aussies who will be somewhat disappointed to have missed out on that tour. Glen Maxwell took a self-imposed break from all cricket late last year but has come back refreshed and looking back to his best while Marcus Stoinis has been consistent at the top of the order and will be looking to bounce back following his recent fine for using homophobic language. Joining them in place of Liam Livingstone whose Perth Scorchers have a bye this round will be Ben Dunk who has gotten decent points batting up the order for the Stars and with Peter Handscomb away with Australia may be asked to keep wicket as well. With the Stars playing twice this round Lamichane comes back in to join those 3 names while the rest of the team picks itself.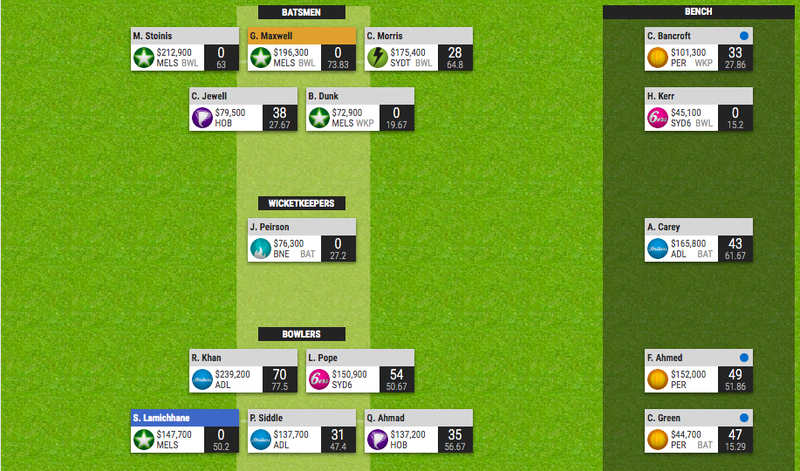 I'll be up against Mark Howard in round 7. One thing is for sure, i'll have more Stars players in my side than he does as he currently has none. He'll certainly need to make a change at wicket-keeper with Inglis not playing this round and Peter Neville nowhere near the Sixers' starting 11 while Kane Richardson will also need to be subbed at the very least following his international call-up. Looking at the weather forecast, there does appear to be a risk that the Melbourne derby will be disrupted by rain but given that I don't have any Renegades players in the squad anymore that shouldn't hurt me as much as it could Howard who has 5 Renegades players in his side.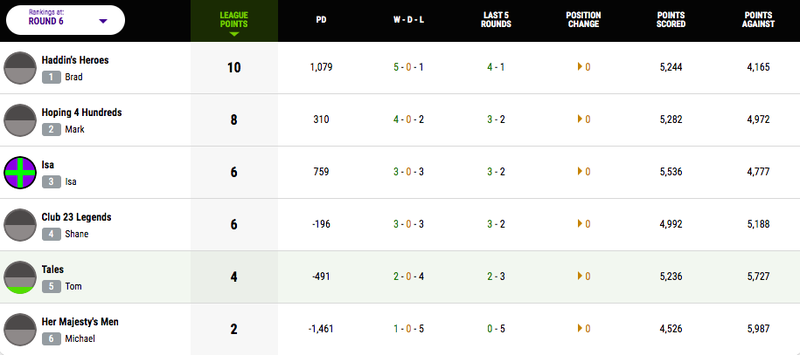 It was a must-win match-up against Vaughan and if I can take advantage of some of the problems with Howard's squad then perhaps I can get some momentum heading into the 2nd half of the season.