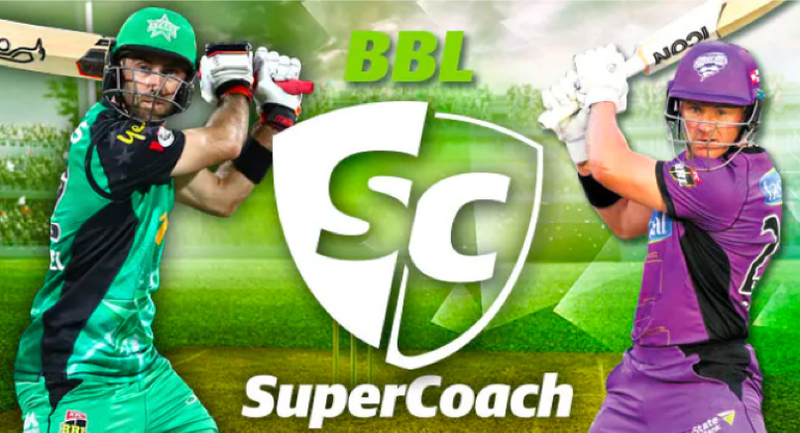 Beaten comfortably again by Mark Howard and once again not having Tom Curran in my side has cost me! With the Sixers playing twice in round 9 that may of course change but for now I'll just have to keep missing out on points.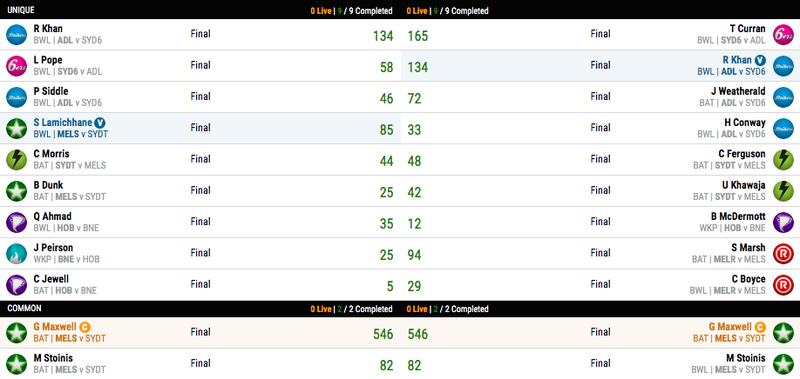 As you can see with us both having Maxwell as captain we benefited from the big points that he scored across his double game week as well as from Rashid Khan's hattrick for the Strikers. Shaun Marsh played well after being sent in to open the batting. In general, the Renegades have in my opinion struggled primarily because they are asking players who are better at the top including the likes of Marsh and Harris to play a role in the middle order. With Finch leaving to captain Australia and those 2 being given a chance in their prefered position it's perhaps no great surprise that their performance levels improved.
My 7-year-old son has really gotten into the cricket this year. To be quite frank he didn't have much of a choice because during the Christmas holidays I had the Bash on the TV most mornings. His favourite side are The Strikers and being a leftie himself his favourite player is Jake Weatherald. He is forever telling me I should get Jake back in my side and on the evidence of this week perhaps I should spend more time listening to him!

The overall effect of this round's points was quite interesting. Despite only being in the top 14% of point scorers I managed to improve my overall rank by 534 places and move from the top 9% worldwide to the top 8%. My guess is a lot of people would have picked Maxwell as captain this round so really the point-scoring relative to everyone else was what you got from the other 10 guys in your team.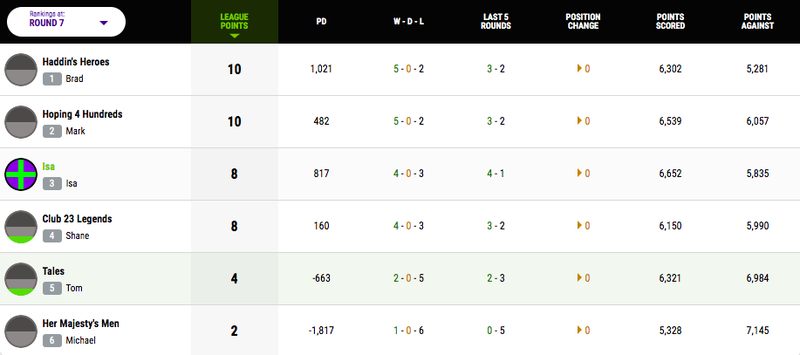 The frustrating thing in the head-to-head league is my overall points haul is good enough for 3rd place but with just 2 wins from 7 it's going to be an uphill struggle from here to finish in the top 4. The league, in general, is just outside the top 1000 worldwide with only Michael Vaughan's pathetic haul of 5328 points killing our average!
This round sees every team play once across a condensed period this weekend. I've subbed out Alex Carey who is now away on international duty as well as Ben Dunk who unfortunately only played once for the Stars in round 7. In their place I've brought in Harry Neilson who I assume will take Carey's place in the Striker's team as their only other specialist wicketkeeper. Mitch Marsh comes in as well with the big man likely to enjoy playing on the bouncier surface at the Optus Stadium later today. Picking Marsh also has something to do with keeping one eye on what is going to happen in round 9 when the Scorchers have a doubleheader. The other change I have made is to drop Qais Ahmad and bring in James Pattinson who is rumoured to be targetting this round to return for the Heat having played for Australia in the last 2 Tests against New Zealand. Pattinson's pace would bring an extra dimension to the Heat's bowling attack and he is also more than capable of giving it a good whack later down the order something the Heat have been missing all season. After a good start Ahmad has been fairly disappointing and the Hurricanes, in general, are looking in trouble with D'Arcy Short on international duty and Riley Meredith and James Faulkner injured.