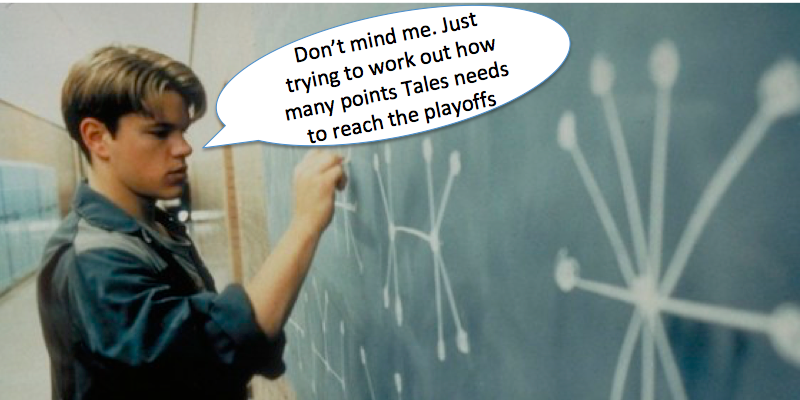 I got the win against Isa Guha that was necessary to keep me in with a shot at making the playoffs in my Tales v Stars league.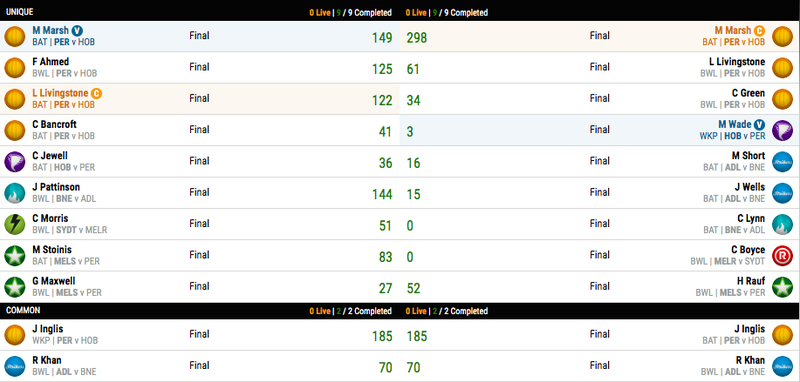 The round started pretty poorly for me after I made a last-minute change to my captain, opting to have Liam Livingstone score double points instead of Mitch Marsh. Marsh promptly scored a 40 odd while Livingstone was out cheaply against both the Hurricanes and the Stars however I was fortunate that the Hurricanes batsmen were in a very generous mood as a couple of them gifted their wickets to Livingstone's part-time leg-spin to at least get him on the board. Elsewhere Fawad Ahmad was also excellent in that match and Josh Inglis was the highest scorer for the round justifying my decision to bring in the Scorcher's keeper. The other major success story was James Pattinson whose 5-for blew away the Adelaide Strikers. By comparison outside of Marsh and Inglis, Isa Guha had an absolute shocker with Chris Lynn getting a first baller, Cameron Boyce bowling just one over for 15 runs in the rain-shortened game against the Thunder and Matthew Wade being part of record low score for the Hurricanes.
Again it was a very good week for me in the overall points table, finishing once more in the top 1% of all teams for round 9 and increasing my overall rank for the tournament into the top 3% of teams.

As previously noted, the game against Isa Guha was a must-win and it certainly helped that I won by a convincing amount as it pulled our points difference closer together. However, with one round to go it seems likely that I will need to win again this time against table-topping Shane Warne in order to stand a chance of making the top 4. My task isn't helped by the fact that Guha plays against bottom-placed Michael Vaughan's side who have only won twice all season. Assuming that she wins, it means that i'll need to beat Warne's 11 by 102 more points than she beats Vaughan by. Similarly, if I lose then I'd need her to be beaten 102 more points than me. Mathematically speaking it's also possible that if Mark Howard loses by a significant margin that he too is catchable but the points difference there means it'd require a big swing for that to become a reality.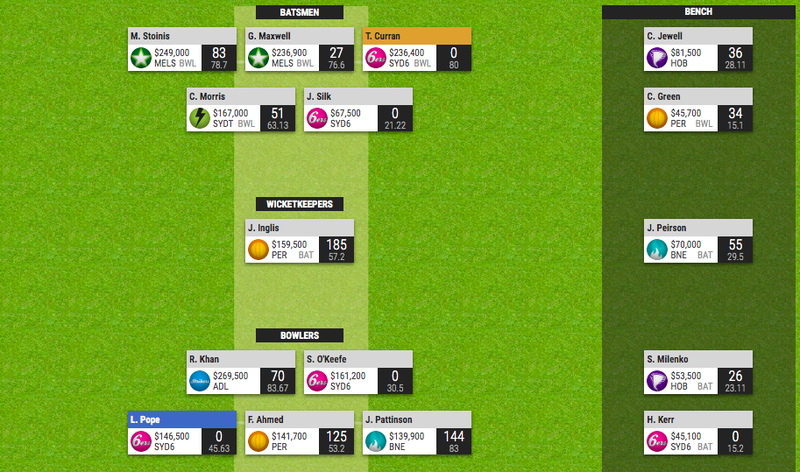 Following their dismal performance against the Stars, I've scrapped 3 of my Scorchers players and replaced them with 3 Sixers players who will all hopefully play twice this round. Tom Curran is making his first appearance of the tournament for me and I'm hoping that he'll be able to recover from the spanking he took at the hands of Marcus Stoinis last time out as I've made him captain. Not having him in my team has cost me on a couple of occasions this tournament so it's time for Curran to make up for that! Including 3 Sixers bowlers seems to make sense given that they are playing a flaky looking Hobart Hurricanes team and a Sydney Thunder side that even managed to lose to the Renegades, add to that the fact that they are still the leading wicket-takers in the tournament and I'm hopeful that they'll get me some decent points. It's a bit of risk going with Steven O'Keefe following his injury but he is a canny operator who often bowls in the powerplay and picks up wickets. Lloyd Pope then comes back into the 11 and the final addition is Jordan Silk whose opportunities lower down the order are often limited but he is more than capable batsman as well as a gun fielder.