Bowlers and their bunnies. Cricket's biggest bunnies. The most famous bunnies in cricket
Something of an Easter Special for you on today's blog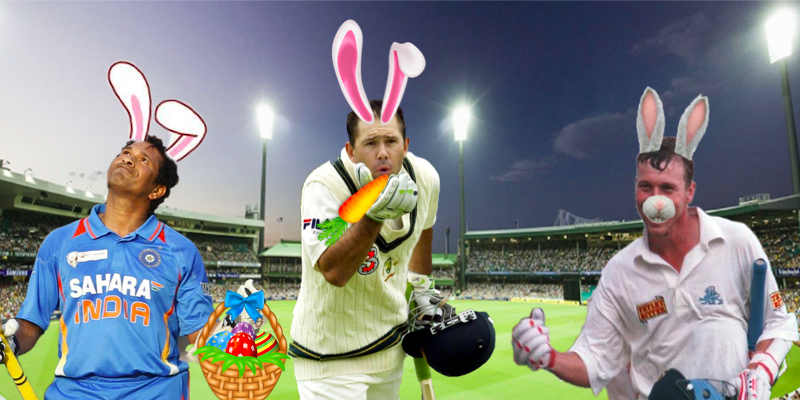 I regularly get visitors to my blog commenting that they'd love to get into cricket but they find the terminology a little bit tricky. Well my advise is that as is the case when learning any language, immersion in it is the key to success.
The term bunny in cricket is generally used to describe a batsman who for all intensive purposes is rubbish. However, the phrase can be further sub-categorised in the following way
A bunny refers to a player who usually bats at 10 or 11 i.e. they are in the team for their bowling, not their batting and they usually don't put up much of a fight to keep their wicket. In essence, they are like a rabbit caught in the headlights - frozen still, wide-eyed and waiting for the inevitable!
The other meaning of the term is reserved for a player who is a specialist batsman that has a particular weakness against an individual bowler. I guess to use the parlance of our times the most accurate definition would be the say that that batsman has become that bowler's bitch i.e. they just keep getting them out over and over again
This blog focuses on the 2nd meaning of the term bunny to explore 5 of the best batsmen of their generation and their struggles with a particular bowler who held sway over at least part of their careers.
Glenn McGrath v Mike Atherton
When considering that we are talking about a long-serving opening batsman v a long-serving opening bowler it shouldn't come as much surprise that Mike Atherton was dismissed on a fairly regular basis by the best seam bowler in the world at that time. However, the stats for this particular contest show the extent to which McGrath held the wood over Atherton. In the 17 matches that the pair played against eachother, Mcgrath dismissed Atherton 19 times! In terms of head to head contests that is the best ratio of dismissals to matches that any bowler in the history of the game has achieved (min. 10 matches).
Of course, the pair were both fierce competitors and a fairly fragile looking England side often relied on Mike Atherton to hold their innings together throughout the dark days of the 1990s.
For McGrath establishing a psychological stranglehold over Atherton was just the start of his domination over England in general. At the peak of his powers, McGrath would turn up for an Ashes tour and name the batsman who would be his bunny for that particular series as well as giving his score prediction which would invariably be a 5-0 win to Australia. McGrath's hoodoo over England was famously broken when he stood on a cricket ball in the warm-up to the 2nd Test in the 2005 Ashes but by then he had made many a bunny out of England's top-order.
As for Atherton, he would go on to struggle against the likes of Ambrose and Walsh. The pair of West Indian greats dismissing him a total of 34 times between them in the 27 matches in which at least 1 of them bowled against Atherton. The England opener was also dominated by Sri Lanka's left-arm seamer Chaminda Vaas. In tours where the primary battle was expected to be England's batsman v Muttiah Muralitharan, Atherton rarely found himself at the crease by the time the legendary spinner came onto bowl having already been bamboozled by Vaas and his ability to swing the ball in even the toughest of conditions.
Shane Warne v Darryl Cullinan
While some people are put off by Test Match cricket and the slowness of a contest that takes 5 days to complete, what the format always does do is provide wonderful stories and anecdotes from across the ages. Equally, it has provided some great characters over the years and none are as famous as Australia's great leg-spinner Shane Warne. A chubby guy with bleached blonde hair is perhaps not what most people would immediately term a great athlete but what Warne lacked in aerobic prowess, he more than made up for in skill and his ability to get inside a batsman's head.
The story of how he did it against South Africa's Darryl Cullinan is perhaps best told by him on the Michael Parkison show
While ultimately Cullinan was only dismissed 4 times by Warne in Test Matches between South Africa and Australia, Warnes early dominance over the right-handed stroke-maker helped set a precedent for future failures. Cullinan who averaged 44 in the 70 Tests he played scored just 153 runs in 7 matches against Australia, never scoring a half-century and averaging a meagre 12 runs!
Warne's dominance over South Africa in general extended into white ball cricket where an inspired spell of bowling saw Australia win the now infamous 1999 World Cup semi-final, a game which Wisden described at the time as being the greatest ODI ever to have been played. By that point, Cullinan was so worried about Warne that he just resulted to running himself out rather than having to face him with bat in hand!
James Anderson v Sachin Tendulkar
Has the world ever seen a finer player than Sachin Tendulkar? His record in all forms of the game is incredible and the fact that he maintained his run-scoring feats over a career that spanned 24 years makes his achievements all the more remarkable. He scored runs in all conditions, in all countries and against all bowlers. In fact, in a Test career that finished with him winning a world record 200 caps for India, he was only ever dismissed 5 times or more by 4 bowlers. Those included all-time greats Glenn McGrath and Muttiah Muralitharan as well as Australia's Jason Gillespie. However, the man who has dismissed the little master more times than anyone else in Tests, Superman's kryptonite if you will, is none other than the Burnley Express himself, Jimmy Anderson.
For Tendulkar, it was perhaps lucky that their careers only overlapped for the space of 5 years during which time Anderson dismissed him 9 times in Test matches.
Of course, while Tendulkar had retired by the time Anderson was perhaps hitting his peak in 2014, it fell upon another Indian right-hander and Tendulkar's heir apparent in Virat Kohli to become Anderson's bunny. Anderson dismissed Kohli 4 times in the 5 Tests that Indian played in 2014 as the now India captain struggled against the swinging ball. Fast-forward to 2018 and the Anderson v Kohli battle was touted as being one of the main spectacles of the cricketing summer. Normal service looked to have been resumed when in the first Test Anderson induced a tentative poke outside the off-stump from Kohli with the ball lollipopping to 2nd slip where Dawid Malan dropped a sitter. Kohli went on to make his first century in England with Anderson failing to dismiss him in the entire series. Is this perhaps the story of the bunny that got away?
Eknath Solkar v Geoff Boycott
Boycott, of course, would never admit that he was anyone's bunny but in the summer of 1974 one of England's greatest openers was found wanting not against one of the wonderful fast bowlers from Australia or the West Indies who were dominating the game during that period but instead against a medium-paced all-rounder from India who would take just 18 wickets in his 27 match career.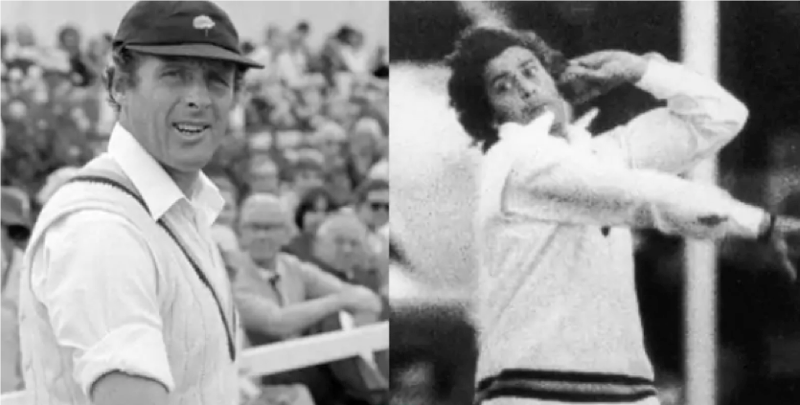 The story goes that when Solkar came onto bowl in a warm-up match against Boycott's Yorkshire, his Indian teammate Ashok Mankad son of the (in)famous Vinoo Mankad, came trotting over and promised to buy his mate a beer in the bar at the end of the day if he could beat Boycott's bat. Solkar duly obliged by nipping one past the right-handers outside edge at which point Solkar decided to up the stakes by suggesting to Mankad that he should buy him a 2nd pint if he could get the great man out. Next over Solkar bowled an inswinger which Boycott left and was trapped LBW.
Having enjoyed his Yorkshire Bitter so much, Solkar continued the fun in the next warm-up game against the MCC by dismissing Boycott in both innings. By the time the first Test came around Boycott was in a dark place having been overlooked for the England captaincy and Solkar ensured that he took full advantage of the situation. Fielding at short-leg (he was an exceptional close-in fielder), Solkar toyed with Boycott, threatening to run him out if his trademark forward defence saw him leave the crease. When it then came for his turn to bowl, Solkar tasted success once again by inducing an edge behind from Boycott to dismiss him for 6. It would be the last Test innings Boycott would play before a self-imposed period of exile that lasted 3 years. While Boycott's decision to step away from cricket was very much a result of Dennis Amiss being appointed as captain, I'm sure that Solkar would like to think that he gave his bunny a little nudge towards the exit.
Harbajhan Singh v Ricky Ponting
The 2001 series between India and Australia will remain in the history books as one of the sport's greatest ever contests and is perhaps most famous for India's follow-on victory in the 2nd Test. However, one man who will not look back on the series with any great fondness is Australia's leading Test run-scorer (2nd all-time), Ricky Ponting who was consistently tormented by Harbajhan Singh.
In the 3 Test series the Australian batted 5 times and was dismissed on each and every occasion by the man affectionately known as the Turbinator for scores of 0, 6, 0, 0 and 11 and to be quite frank he only reached double figures in that last innings following an absolute shocker from the umpire who failed to give him caught behind to the first ball he faced from Singh.
Having grown up playing on the harder, bouncier surfaces of Australia, Ponting's technique was all at sea on the turning pitches of India where Harbajhan was truly in his element. However, even on subsequent tours of Australia the off-spinner continued his impressive record against the man who would go on to be his nation's most successful Test captain, accounting for his wicket a total of 10 times.
Ponting now coaches Delhi Capitals in the IPL while Harbajhan at the ripe old age of 38 has the best economy rate and 7th best strike rate in this year's competition making new bunnies of players half his age.
Which batsmen do you consider to be the biggest bunnies in cricket?