England just about hung on to secure victory in the 2nd ODI against Pakistan played at the Rose Bowl yesterday. It was something of a run-fest on what was a glorious Spring day on a flat batting track in Hampshire. Had Pakistan been successful it would have been the 2nd highest successful chase in the history of ODI cricket and the fact that they only came up 12 runs short shows how well they batted in this match. I personally took a bet on them @4.0 to win the game (placed around the 22 over mark of their chase) while Fakhar Zaman and Babar Azam were at the crease.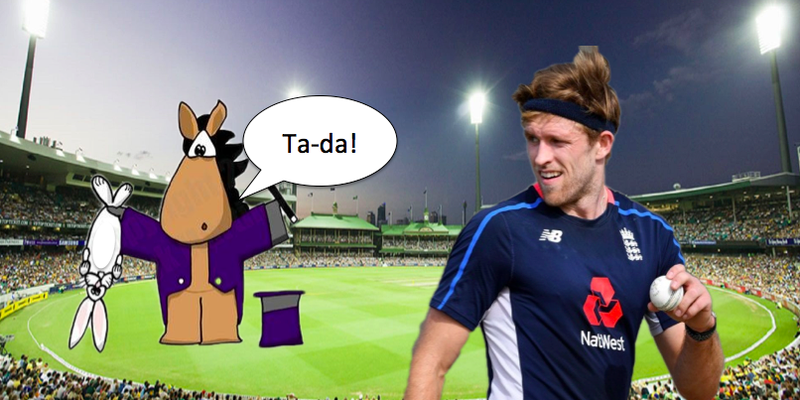 My belief that they had a pretty decent chance of winning this game was based not only on the talent of their batsmen but as much on the one-dimensional nature of England's bowling attack. The home side opted to go with Chris Woakes and David Willey in this match while the pace and variety of Joffra Archer and Tom Curran were left on the sidelines. The fast bowling spots in England's World Cup squad have been the subject of much speculation in recent weeks particularly now that Archer has made his debut.
By the time we had reached the 43rd over with Pakistan now favourites to win @1.8 it looked as though Archer would again be the primary post-match talking point despite not actually featuring. You could practically hear the journalists sharpening their pencils and dusting off their typewriters in preparation to lambast the likes of Willey and Woakes for allowing Pakistan to chase down an improbable 374 to win. However, it was not to be and the man in my mind who proved the difference in this match was the much-maligned David Willey whose spell of bowling at the death swung the game back into England's favour.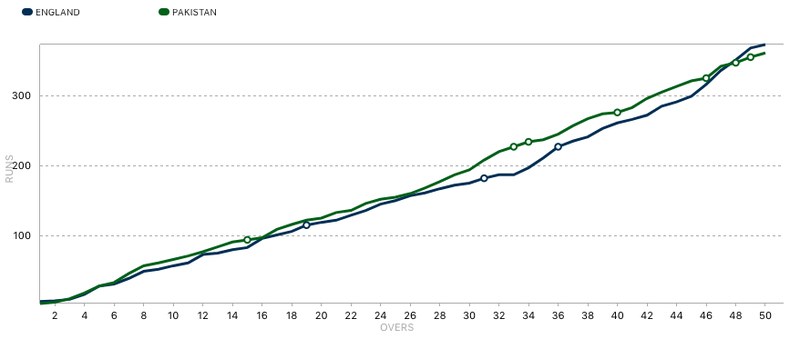 With Jos Buttler hitting a 50 ball century and Fakhar Zaman nailing a record score for Pakistan against England in ODIs it would be tempting to focus on these 2 players and while they both played brilliant innings they did so in conditions that were very much in favour of their attacking games. Buttler, in particular, feasted on some poor Pakistani death bowling as England added 74 runs in the last 5 overs of their innings while by comparison, the visitors hit just 40 runs in the same period. In fact, as the above worm shows Pakistan were ahead of the game for all but the last 4 overs of their innings.
Having bowled his customary opening spell, it was David Willey who was asked to return to close out the innings and he did so with aplomb, delivering a spell of 3 overs for just 16 runs and taking the key wickets of Asif Ali and Imad Wasim to boot. Willey's control and execution under pressure were what stood out above any other bowlers efforts at the death in this game.
Willey went full and wide to the impressive Asif Ali who is doing his own chances of a call up to Pakistan's WC squad no harm at all and baring one ball in the slot that Asif dispatched for a straight six, England's left-armer hit an excellent yorker length with several of his deliveries kissing the wide-tramline as they went through to Buttler. As soon as Imad Wasim came in Willey changed tact, this time going short and into the body of the left-hander who having missed a couple of big heaves finally succumbed to a top edge which Buttler scurried around to catch at full stretch.
Willey is undoubtedly one of the men who is most under-threat from Archer but yesterday's performance and an improvement in the options he provides as a whole will have given the selectors plenty to think about. As the below graphic indicates he is bowling more overs now than at any other point in his career and getting more from them.
Willey's additional workload initially began this time last year when Ben Stokes was unavailable for the series against Australia and England opted to choose a specialist batsman as opposed to another all-rounder. Alongside Mark Wood (who will hope to get a chance to impress in the coming weeks) Willey did an admirable job of bowling at the death in that series and it was notable yesterday that even with the return of Stokes to the side England's premier all-rounder was asked to bowl just 2 overs both in the middle period of Pakistan's innings.
Willey's modus operandi has always been to swing the ball upfront and in England that will always remain a useful option for them to keep up their sleeves. The fact that he is England's only a left-arm option and that he is now showing an ability to bowl crucial death overs only serves to strengthen his chances of making the World Cup squad. We wait to see how England will shuffle their fast bowling pack for Tuesday's day-night match at Bristol but Willey's performance yesterday has certainly cranked up the competition between the likes of Woakes, Curran, Archer and Wood.