Bold claim perhaps but I feel that England just about edged the first days play against the West Indies after recovering from a disappointing start and the early jousting tomorrow will go a long way to deciding this match and probably the series too.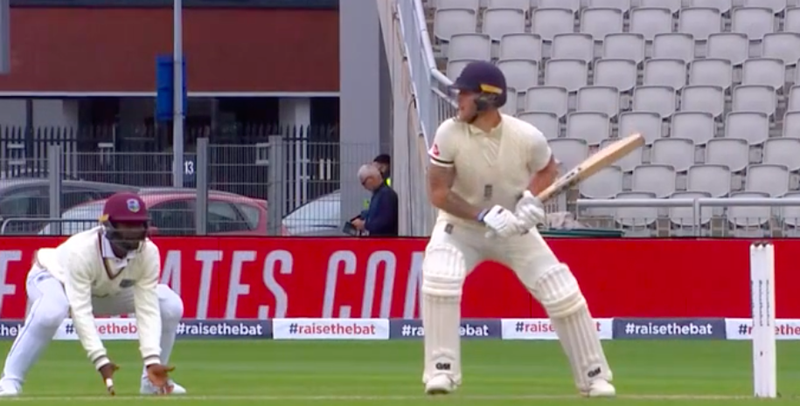 In fact, England's had problems this morning before play had even started following the news that Jofra Archer had broken isolation protocols in between tests by visiting his home in Brighton.
Anyone who has watched Archer play international cricket in this past year or 2 will know that the fast bowler is the very embodiment of relaxation both on and off the field - rumours are he slept through part of the World Cup final run chase. Unfortunately, that attitude will very often leave supporters and his teammates frustrated and I think England will need to man manage him effectively to get the best out of this rare talent in years to come.
Of course, the only option for them this morning was for Archer to be dropped as much as anything because he had compromised the bio-secure environment the ECB have worked so hard to create but even beyond that I would hope that he is now left on the sidelines for at least the next Test if not more. After all, England are not short on pace options at the moment and if Archer can't maintain simple professionalism then he has opened the door for someone to take his place.
When the cricket finally did start an hour and half late due to rain, England pair Dom Sibley and Rory Burns put on the kind of opening stand they are becoming synonymous with - effective yet boring. They survived the open bursts of all 4 West Indies seamers but in the last over before lunch, Burns quite inexplicably missed a straight ball from Royston Chase and was given out LBW. Whether out of desperation or sheer disbelief, Burns opted to review the decision with Hawk-Eye showing the ball was on course to hit the very middle of middle stump.
First ball after lunch, Zak Crawley who top-scored for England in the first Test and has since usurped Joe Denly at number 3, decided to gift the West Indies another wicket by inextricably flicking a nothing ball straight to Jason Holder at leg-slip. Holder at over 2metres in height is not exactly difficult to miss and any hopes that England fans had of finely solving the number 3 problem seem to have been at least temporarily dashed.

In came Joe Root at 4, the returning England captain coming into to face a hat-trick ball by Royston Chase who has become a perpetual thorn in England's side these last couple of years. Root survived but could only make 23 before knicking off to the impressive Alazzi Joseph.
Of all the West Indian seamers today you would feel that Joseph looked the most dangerous. He is a skiddy bowler with the ball particularly his bouncer coming onto the batsmen a little faster than they anticipate. Coupled with that pace he has good control of swing particularly away from the right-hander and it was his ability to jump wide of the crease and angle the ball into Root before taking it away that was the England captain's undoing.
At 22, age is still very much on Joseph's side and with Kemar Roach now beginning to fade as a force you would imagine that it won't be long before he begins leading this Windies attack.
As for Roach, he is still yet to take a wicket in this series and in general has not looked a particular threat. Yes, he has been tidy and economical as were all the West Indies bowlers today but his pace is now stuck at around 80-82mph and he swung the ball far less than either Joseph or Holder managed to.
He will, like all the West Indies bowlers quite literally get a second bite of the cherry when the new ball is taken first thing tomorrow morning and it is that 15-20 over spell that will prove crucial in this match.
While Stokes and Sibley have ground England into a strong platform the question still remains as to whether they can capitalise on that tomorrow? Much has been made of the depth of the England batting card for this Test in comparison to the first but I fear that if the visitors can strike early and remove one or both of the set batsmen then the likes of Buttler, Woakes and Curran may not have the game to resist a hard swinging Dukes ball and a West Indies side on top.
On the other hand, if England can negotiate that period without significant damage then the West Indies may have problems of their own.
Shannon Gabriel looked stiff and generally struggled with his line and length today. He managed just 10 overs all day sending down 4 wides in the process and looking a shadow of the snarling bowler who tormented England in the first match. To be honest I am somewhat surprised he was picked for this game at all. He looked to be struggling at times in the 2 innings in Southampton and was a late addition to the Test squad here following an injury. Unless the West Indian batsmen can bat very long when their turn comes I don't imagine that Gabriel will be fit to play the final match next week.
Equally, if England can continue to bat deep into day 2 then Gabriel might not be the only one in trouble. Jason Holder was left to carry much of Gabriel's burden today with the captain sending down 20 overs despite only recently recovering from his own ankle problems while Alzarri Joseph was warned for running on the pitch. WI can ill afford to have a bowler out of action either due to injury or breaking the rules.
If England do build on their lead to the point where they can make a match-winning first innings score then you wonder whether the West Indies have anything left to change the moment of the series. The home side have plenty of skill and experience to draw upon for what could be a crunch game while the West Indies will almost certainly have to rotate and look to some of their untried quicks sitting on the bench.
However, for now, this is all just hypothetical.
As the old adage in cricket goes, add 2 wickets to the score and thinks might look very different!