Chennai Super Kings success in last year's IPL was built off the back of the experience of several of its star players, many of whom are now the wrong side of 35 years of age.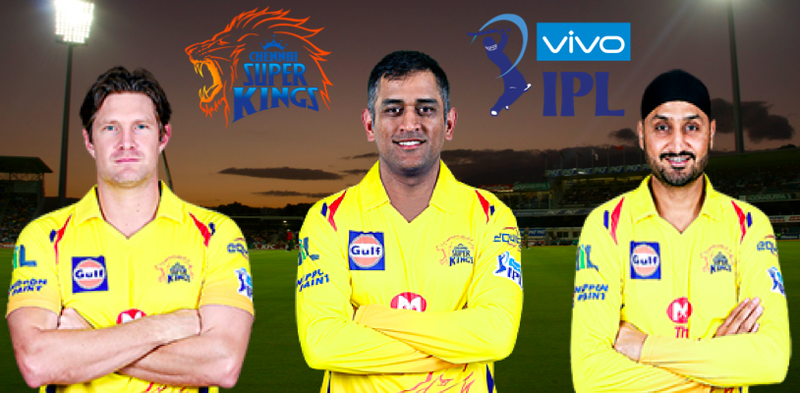 T20 cricket in general seems to be providing ageing stars with a great means of extending their careers by a couple of seasons, allowing them to move away from the grind of international cricket and the endless touring while still providing the opportunity to play at the highest level and provide some decent paydays to boot.
With CSK having made virtually no changes to their championship-winning squad, the question still remains as to whether some of their old boys will be able to deliver again this time around. Has time finally caught up with the likes Dhoni, Watson and Singh?
MS Dhoni
A modern day great who is considered a living god in his home country, MS Dhoni was brilliant both in terms of his batting and captaincy last year. As his S/R of 150+ suggests, his brutal hitting towards the end of the innings was a major factor in CSK's run to the final and he was only dismissed 6 times in the whole tournament which further enhanced his reputation as one of the best finishers white ball cricket has ever seen.

However, the last 12 months have been tricky for Dhoni. He has retired from Test Match cricket to concentrate on his bid to be a part of India's World Cup squad in a few months time but his performances for his nation and emergence of players like Rishabh Pant have put his place under pressure. With India losing ODI series against the likes of England and Australia this IPL could yet provide a platform for some fringe players to challenge established senior players like Dhoni and stake their own claim to get on the plane to the UK in May.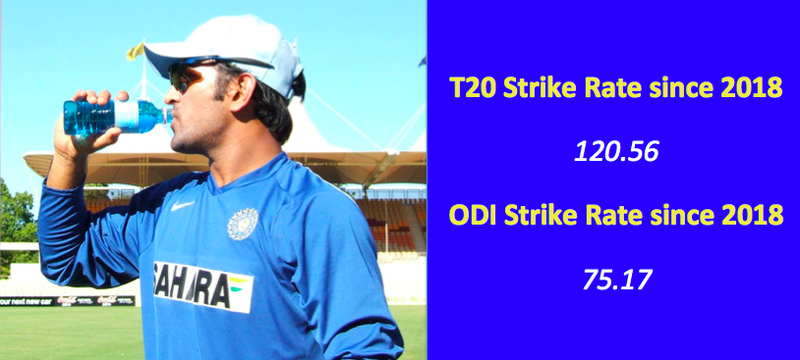 The above stats show a noticeable decline in Dhoni's ball striking ability both in regards what he achieved in last year's tournament and his overall career stats (ODI S/R 87.55, T20I S/R 126.13, IPL S/R 135.68). My guess is that barring a major slump in form then his place in the ODI side is secure as he continues to contribute important runs for the Indian white ball team and his presence on the field is essential in supporting Virat Kohli's captaincy.
However, it will be interesting to see what role Dhoni takes up for CSK this season. His performances for India of late suggest he is scaling back his attacking flair to be a more dependable middle order anchor and if that is the case then both CSK & India may need to look at other options in their squad that can provide that explosion of hitting late in the innings.
Does Dhoni have what it takes to hit at 150+ again this year?
Will other players be able to step up and score the kind of runs that Dhoni did last year in the later part of innings?
Shane Watson
Watson is probably one of the best examples of a former international player who has extended his time at the top of the game by being a T20 specialist. He was brilliant for CSK at the top of the order last year, scoring a century in the final to become the only batsmen to pass 3 figures twice IPL 2018.

The difficulty with judging Watson year on year is that at present his season is confined to the first 4 months of the calendar year when he plays T20 cricket in the Big Bash, PSL and then the IPL. The long break in between competitive matches might well explain why Watson was off the pace in the early stages of this year's BBL as he failed to get out of the 20s in his first 6 innings of the tournament. Thereafter his form has picked up to the extent that he led the scoring charts in this year's PSL, helping his side the Quetta Gladiators to the title just yesterday. From there it's just a short hop and a jump over to Chennai and CSK will certainly hope that his success in the PSL is a good omen for Watson having another impactful year in the IPL despite the fact that he turns 38 in a couple of months time.

One area that it looks as though Watson may not be able to contribute this year for CSK is with the ball. With the options at Dhoni's disposal, Watson's medium pacers were only used in specific circumstances and conditions last year but he was able to contribute 6 wickets to the cause from 28 overs. Since playing in last year's IPL tournament though Watson has bowled just 1 over in T20 franchise cricket that suggests that his days as an all-rounder are now over.
Can Watson bring his fine form from the PSL into the higher level of the IPL?
Will CSK miss him as a bowling option this year?
Harbajhan Singh
Perhaps one area that CSK could really have done with strengthening during the auction in November was their spinning options with veteran Harbajhan Singh the only off-spinner on their books.
At the princely age of 38, Harbajhan has been spending more time in the commentary box of late than he has on the cricket pitch and since last year's IPL he has played just 3 T20 games for his native Punjab and has failed to pick up a wicket in any of those matches.

There is of course value in having a man of his experience around (103 Tests, 236 ODIs and 254 games in the IPL) but perhaps this would have been a good season to try and ease in a successor to the throne. With CSK bidding for players like Varun Chakravarthy in November's auction it seems to suggest that they too are of the opinion that depth and in particular homegrown depth was required in that area but they were unable to close the deal.
The amount of game time that Harbajhan will receive is likely to depend on how CSK balance their side this year. It seems likely that Watson and DJ Bravo will take up 2 of the 4 foreign player spots and you would have thought that CSK will want to get Imran Tahir in too alongside homegrown player Ravi Jadeja who did the bulk of CSK's slow bowling last year. Of course, if CSK decides to pick a foreign batsman e.g. Du Plessis or Billings alongside a bowler such as Ngidi or Willey then it's entirely possible that Harbajhan will need to step up to the plate in Tahir's absence with their only other option being to bowl Kedar Jadhav who while being effective in the 50-over format as a 2nd or 3rd spin option has barely bowled in T20 cricket.
Does Harbajhan still have what it takes to play at the highest level?
Will CSK's failure to bring in another homegrown spinning option cost them this season?