Close to the perfect day at the Oval yesterday. I got to see one of England's better performances with the bat in what were near perfect conditions for watching cricket.
I've often heard the 3rd day of a Test Match referred to as "moving day" on account of it being the day that regularly decides the outcome of the game. If that is the case then England certainly had the better of proceedings and have given themselves a great chance of levelling this series up at 2-2.
I was pretty nervous early on knowing that England's fragile top order would be up against the skill and pace of Cummins and Hazlewood. The plans to both England's openers were pretty obvious. Burns was consistently targetted with some short-pitched bowling aimed at his chest and arm-pit. My belief is that the Australians feel that Burns' unique technique means that he struggles to get his gloves out of the way of the rising ball and that was certainly the case against Cummins who had the left-hander in trouble on multiple occasions. For Denly, it was very much the opposite with Hazlewood troubling him early with good length balls moving away from the right-hander. Credit must go to Denly for pulling his hands in a lot closer to his body during what could be his match winning knock of 94.
While England did well to resist the new ball burst of Australia's premier bowlers, I also believe that Hazlewood and Cummins were far from their best. Hazlewood passed the bat a lot throughout the day and looked decidedly grumpy by the final session delivering figures of 0-57. That being said, for me he bowled 6-8 inches short all day and when any Australian bowler did pitch the ball up England's batsmen and Denly in particular looked comfortable on the drive. That could partly be explained by a tiring Aussies bowling attack but I think the Oval pitch even going into Day 4 is still a good one. A couple of balls stayed a little low and Nathan Lyon found some turn but England will need to bowl well and remain patient in order to take 10 wickets on this surface.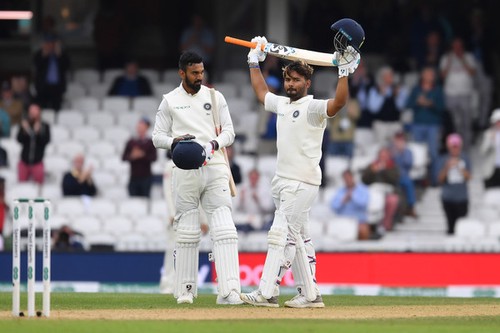 Let's not forget this is the same venue on which India made 345 batting 4th against England last year albeit in a losing cause. England had a lead of 450+ in that match and they will be hoping their tail can bump them over the 400 mark in this game. If I was to be particularly selfish/critical, I would say that England really should have finished the day only 6 down. In general they played well enough and while Denly and Stokes were at the crease they seemed totally dominate. However, as has been the case for several years there were far too many cheap dismissals and rather than batting Australia into oblivion they have left a small glimmer of hope for the tourists to cling onto. In a series where we have already witnessed a couple of epic finishes who is to say we won't see more of the same in London.
I'll be watching from home today and it seems to me that the 2 men at the crease for England now, Archer and Leach, probably hold the key to England winning this match. I'd love to see England's last 2 wickets frustrate the Aussies first thing before we unleash the pace of Archer onto their top-order. The Oval has always had a bit more pace than other English wickets and while it isn't as quick as it might have been 20 years ago, I still think Joffra is going to enjoy bowling here throughout what we all hope will be a long and successful England career. As for Leach, he has become an instant hero for England. Every shot he played yesterday whether in defence or attack was cheered to the rafters by England's supporters and he will be keen to show off his primary skill later today and win England a game on a turning 4th-day pitch.
I'd had quite a lot of beer and been sat in the sun for some time by this point. I was happy to find this video this morning that confirmed I hadn't been hallucinating and there was a giant chicken in the crowd with his shoes off