This is a concept that I've seen a few writers use most notably @mikey and it's designed both for a bit of fun and I guess if you fancy it some long shots on a few bets which I will build more upon in a future post. As such these predictions are going to be a little more out there and some of them might even be a bit controversial. Let me know what you think and whether you agree.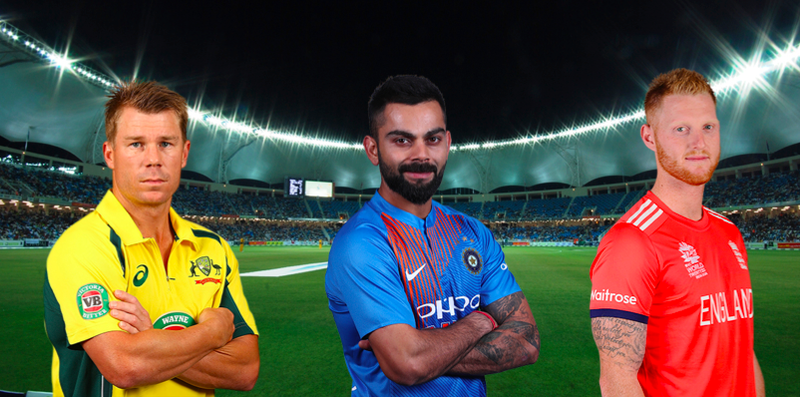 Prediction 1 - CSK won't make it to the final this year
I was thinking of going really big on this one and saying that they won't make it to the playoffs at all but I would still say they have enough to get a top 4 place. However, I don't think they'll finish the round robin stage in the top 2 places and that'll mean needing to win 2 elimination games to reach the final and I don't see that happening. As noted in a previous blog, the primary reasons that I see CSK coming up short in this year's IPL are their failures to add a homegrown spinner and their potential lack of a power hitter at the back end of an innings.
Prediction 2 - Sam Curran will be a flop in this year's tournament
I still maintain that Kings XI have brought the wrong Curran brother and the fact that the TV channel that was hosting the auction that saw Curran sold for $1.2million managed to put a picture of his brother Tom up when the bidding began only strengthens my suspicion. Perhaps KXI are entitled to a refund under the Indian equivalent of the trades description act having essentially been missold a blond haired English all-rounder. Sam Curran has played just 47 T20 games in his career and while his bowling record is ok it's worth remembering that playing in England all his career he will have had conditions that suited him. The ball is unlikely to swing much in India and Curran has generally been used by Surrey at the top of the innings where he can shape the new ball both ways. Without that assistance he is just an 80mph left-armer who comes onto the bat nicely - I can see a few of the big hitters in the IPL licking their lips at the chance to face him!

Prediction 3 - David Warner will score a century for SRH
It's not been a great year for Warner who since his involvement in the sandpaper gate incident has been stripped of the Australian vice-captaincy and used as something of a human punching bag by the media and public alike. To say that he has something to prove would be an understatement but that has been the case for much of Warner's career. When he first came onto the cricketing scene he was known by the not so affectionate nickname of "Cow Corner Warner" as a result of his propensity to slog to deep midwicket. Since then he has developed into one of the most innovative players in white ball cricket as well as a consistent performer in Tests. Whether you are ready to forgive him for his part in the ball-tampering affair that took place this time last year or not, the fact still remains that he is one the IPL's most consistent run scorers.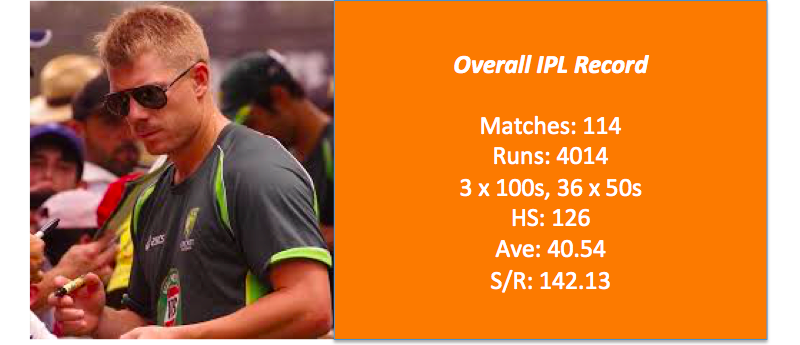 Prediction 4 - AB de Villiers will outscore Virat Kohli at RCB
Let's be honest they are both world-class players so perhaps it's not the biggest call I could make but with the Indian captain in the kind of form that he was in during 2018 it is still risky to back anyone but King Kohli. That being said, he has generally limited his appearances in white ball cricket this year for India as he seeks to manage his workload. He didn't play in the 50 over Asia Cup games last autumn nor did he play the T20 series against the West Indies so there is the chance he may be a little ring rusty despite having done well in India's recent 2-0 defeat to Australia in a T20 series. Furthermore, it appears that with RCB failing to buy any opening batsmen to replace McCullum and De Kock that Kohli will move to the top of the order, a position that he has taken before but certainly doesn't have a wealth of experience of. Personally, I'm not sure it's the right move. I know that logic states that you want your best batsmen to spend as long as possible at the crease but at the same time having someone who can come out and have a bit of a slog in the powerplay while not minding if the lose their wicket can be a big plus too. In that respect, I believe that the role of Parthiv Patel who it seems likely will open with Kohli is crucial in ensuring that he takes responsibility for being the aggressor while Kohli plays himself in.

Prediction 5 - Ben Stokes will come good
Is this a prediction or more of a wish from an England fan who needs to see the side's star all-rounder deliver the goods in the World Cup and Ashes series that follow the IPL? Stokes has had a fairly limited impact on matches since returning from his ban for playing for England while his court case for affray was being sorted. However, he did finish the recent Test series against West Indies as England's highest scorer and he did perform well with both bat and ball in the ODI series that followed. Let's be honest it wouldn't be difficult for him to improve on his performance in last year's IPL during which he was one of the biggest disappointments of the whole tournament. It's an Ashes year Ben! England expects.......

Do you disagree with any of my predictions?

Do you have any bold predictions of your own?