Betting Tips England v Sri Lanka
Preview England v Sri Lanka
With Bangladesh and South Africa missing out on opportunities to upset the teams occupying the top 4 positions it's tempting to say that this game represents the last opportunity for the chasing pack to be involved in the semi-finals. For the good of the World Cup in general then you'd hope that Sri Lanka win but of course I'm not a neutral so I'd be quite happy not to see any upsets in this particular game.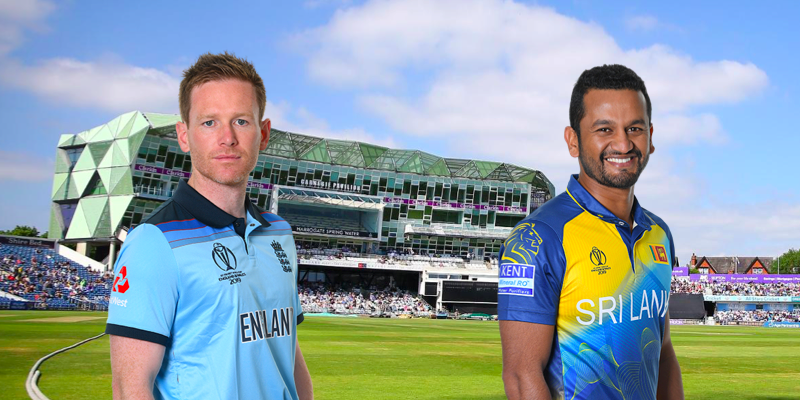 The Venue - Headingley, Leeds
The World Cup 2019 makes its long-awaited debut in Yorkshire. Headingley is certainly known for its boisterous fans and cricketing heritage with Joe Root, Jonny Bairstow and Adil Rashid all local lads and Liam Plunkett having played here for several years.

Over the past few years, Headingley has become something of a stronghold for England's ODI team. They have won their last 6 games here and have not been beaten at the venue since 2011 when they lost to their opponents today by 69 runs. In fact, if you ignore the hammering that Sri Lanka took here in a Test Match in 2016 then they have a very respectable recent record at Headingley having won a Test here in 2014 and a further ODI in 2006.
A key facet of England's success here over the last few years has been the role that their spinners have played on this pitch which may come as a surprise to some who have traditionally seen Headingley as a seamers wicket.

And of course who can forget this delivery that Adil Rashid bowled to a bemused Virat Kohli at this very ground last year. Best batsman in the world? Not in Yorkshire lad!
Time was that Sri Lanka would have been happy to see a pitch on which spinners were taking wickets but these days their 11 is without any real attacking slow bowlers. Dhananjaya de Silva is Sri Lanka's primary option in that department but he has taken just 2 wickets so far in the tournament and only 17 in his ODI career as a whole. With such limited options particularly in the middle overs, it's difficult to imagine Sri Lanka being able to stifle this England batting line-up.
The flatness of the Headingley pitch can further be demonstrated by the number of runs that were scored here during the recently completed Royal London One Day Cup. 4 out of the 5 completed innings here saw the sides reach in excess of 300 with 2 more efforts that surely would have breached that mark cut short by rain. You would expect that if this is to be another high-scoring match that England will simply out-muscle their opponents today.

Form Guide
It'd be fair to say that Sri Lanka gave it a good go in their last match against Australia restricting the defending champions well in the final overs of their innings before starting their chase with a bang. Indeed Kusal Perera has been one of the few bright points of the tournament for Sri Lanka and despite consistently ending up on the wrong side of results he can be pleased with his overall form this World Cup.

The area that Sri Lanka have particularly struggled in has been the middle order who have failed to build on the good start that the openers have provided. By contrast, England's middle order have all found form and added to the weight of runs that Roy, Bairstow and Root are delivering it means that they are looking like the complete package with bat in hand.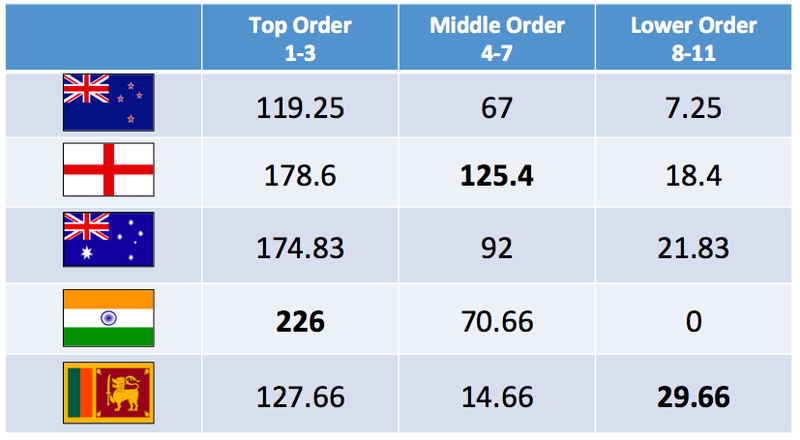 What was evident from Sri Lanka's approach in their game against Australia is that they aren't afraid to take on the short ball. England have the 2 quickest bowlers in the competition at the moment in Archer and Wood but both will need to use the bouncer well and ensure that it is up around head height in order to trouble the Sri Lankan openers.
Psychologically speaking England have the upper hand in this contest coming off the back of their comfortable 3-1 ODI series win in Sri Lanka this autumn a tour in which they also won the Test and T20 series with ease. It remains to be seen if England will shuffle their pack with continuing injury concerns over Mark Wood, Eoin Morgan and Jason Roy as well as Liam Plunkett who was ill earlier in the week. It's important for England to protect those players while at the same time maintaining the moment that they have established with 3 convincing wins on the bounce.
Predictions
While this may be the first game of the World Cup at this venue and despite Sri Lanka struggling with the bat during certain phases of the game, I am backing this to be a high-scoring affair with both sides making over 300. As well as all the runs that we've seen at this venue in domestic cricket, the weather is set fair today and a few of these Sri Lankans have a point to prove following some of their comments in the press recently. I don't think they'll be able to complain about the wicket up in Headingley today so it is very much a case of put up or shut for their batsmen.
At the same time if England bat first I can see them scoring over 400 here against this limited bowling attack. The record score in the World Cup is the 417/5 hit by Australia against Afghanistan in 2015 and I reckon if England bat first on this wicket then that record will be in their sights. Odds for team totals aren't released until after the toss but I will be checking to see what prices are available should England be asked to set a total on this surface - think big! In individual terms, I'm backing Joe Root to continue his fine form in this World Cup and at this venue.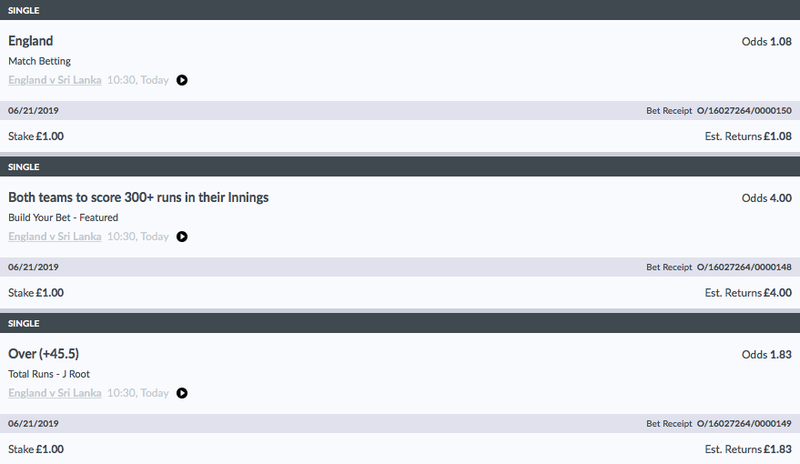 Current World Cup Betting Record
Bets 56
Wins 35
ROI +13.12%