Cricket is back (just about)!
If you are a die-hard cricket fan such as myself, the last 5 months have been difficult. It almost feels like I've had a part of me amputated and no amount of video highlights of games gone by can fill the void left by the finest sport on the planet being stolen away from us.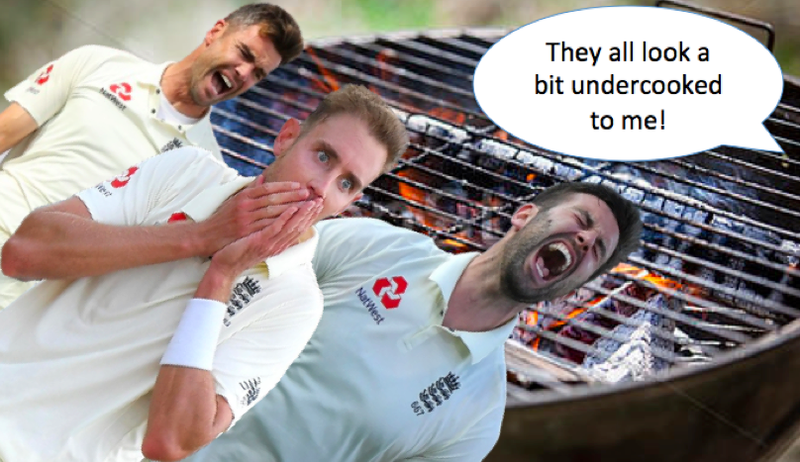 However, as of Wednesday this week, I have been able to watch some live cricket. The inter-squad warm-up match being played by England at the Rose Bowl is being streamed on the ECB's website albeit that the shots are from 2 fixed cameras at either end with no sound whatsoever let alone commentary. Beggars, however, can't be choosers and I've still found myself engaged in watching a game that doesn't even merit first-class status.
The purpose of this match though is to give the players some time in the middle and the selectors a basis for finalising their decision ahead of the 1st Test on Wednesday. In regards to selection the big questions are...
Who will bat number 4 in place of Joe Root?
Joe Root is set to miss at least the 1st Test due to the birth of a child with Ben Stokes captaining in his absence. Given that all 3 matches in this series are played back-to-back it could well be that Root misses even more cricket if things don't run to schedule. The main contenders to fill his spot are
Joe Denly - Denly has largely batted at number 3 since returning to the England team and done ok without ever cementing his place. At the age of 34, he is only ever a couple of low scores away from questions being asked about his place but he remains in the side hanging on in quiet desperation for that first Test hundred. The return of Rory Burns following his farcical injury means that England do have a decision to make at the top of the order. It seems likely that Burns will open with Dom Sibley which means long-term Zak Crawley and Denly are playing-off for the number 3 spot but Root's absence may well mean that at least for this game, both players can be accommodated.
Jonny Bairstow - At 30-years of age and with 70 caps to his name, Bairstow should be coming into the peak of his career as a Test Match batsmen but instead, he played a bit-part role in England's winter tours with just a solitary Test in South Africa. He's failed to score a Test hundred since 2018 and in fact, hasn't hit a century in England since 2016. At his best, there was hope that Bairstow could become at least a top 5 batsmen for England but his white-ball ambitions have seen a change in technique which leaves him vulnerable on both sides of the bat and any future England Test career will surely be at 6 or 7 as a keeper-batsman (see below)

Dan Lawrence - Lawrence is very much seen as the next cab off the rank as far as an England middle-order spot is concerned so the match here might be an opportunity to blood him as a Test player. I wrote a more thorough review of his chances earlier in the year and he did his cause no harm with a fluent 50 in the warm-up game before somewhat giving it away with a tame dismissal. Ideally, you would want to give a young player like Lawrence a run in the side so if it is to be a one-off Test then England might be better off looking at more experienced options.
Who will keep wicket?
Head Coach Chris Silverwood has moved quickly to put this debate to bed early by all but confirming that Jos Buttler will keep his place at least for now.
In 2018 after a couple of years on the fringes of the Test side, Buttler returned and was one of if not England's best Test batsman that year. It finally looked as though he had cracked the tempo of Test cricket and married the mental aspects of the game to his unique talent. However, the last 18months have been significantly tougher for Buttler and his place is now under real threat from the aforementioned Bairstow and Ben Foakes who might have got another chance to showcase his qualities had England's tour of Sri-Lankan not been called off.

England have set out their stall to be fairly conservative at the top of the order with the top 3's task to see off the new ball and lay a platform for England's best 2 batsmen in Root and Stokes to take over from there. After that they are looking to the engine-room of Pope, Buttler and whoever plays at number 8 (Curran/Woakes/Ali) to really take the game to a tiring opposition. As we can see in the stats above, Buttler's strike-rate is up but England will want more than the odd flirty thirty in that position particularly given the options available to them. Buttler probably has the West Indies series to save his spot in the side.
Who will England pick in the pace/seam department?
Injury problems for the likes of Anderson and Archer made selection pretty straight-forward for England's tour of South Africa but they now have a full stable of quicks to choose from.
Again, the selectors and coaches have moved early to confirm that there will be squad rotation this year as England look to consider their options while also managing their stocks and preventing further injuries. England's traditional spearheads, Broad and Anderson have been reluctant to accept a rotation system in recent years with both players stating that they need overs under their belt to maintain form and rhythm. However, with England set to play 6 Tests in 7 weeks with no competitive cricket with which to prepare there seems to be an acceptance that things will need to be different.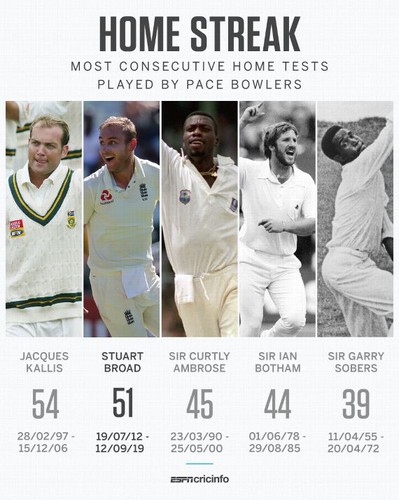 Silverwood has also stated that the XI that starts on Wednesday will be England's strongest possible team (minus the aforementioned Root) but that begs the question as to who is England's best pace attack?
James Anderson has been a stalwart for this side for over a decade and his bowling in South Africa prior to injury was the sharpest I've seen for several years. However, there will be concerns around his ability to return at the top level straight away and his performance on Wednesday during the warm-up game won't have erased those doubts in the selector's minds. He bowled an initial 3 over spell and looked every inch like a man who will be 38 at the end of the month and hasn't played competitive cricket for a while. Even the walk back to his mark looked painful and he spent a lot of time poking at his footmarks and shaking his head. He did get better as the day progressed and it was notable that he bowled more overs than anyone else in that innings albeit from a series of short spells.
Silverwood has also given an indication that those already in possession of a place at the end of the South Africa tour would be more likely to be picked for the 1st Test of this summer. In that sense, it seems likely that Stuart Broad will get the nod and with Anderson struggling for form and fitness it seems highly unlikely that England would go into a match without either of their experienced new-ball duo.
In terms of raw pace, England have the option of one or both of Jofra Archer and Mark Wood. Both bowled well and generated some pace yesterday as the XI they represented captained by Jos Buttler ran through Ben Stokes' team. Neither is recognised as a rhythm bowler and therefore they might be the ideal candidates for England to select early on while others require time to find their feet.
If England continue their plan of playing a bowling all-rounder at number 8 then it seems likely that either Chris Woakes or Sam Curran will play. Both played in the final Test in South Africa as England opted against selecting a specialist spinner but prior to that Curran was the man in possession. While Curran has certainly proved a lucky charm for England over the past couple of years, Woakes' record in this country is very impressive particularly when you consider he generally bowls first change behind Broad and Anderson. With Curran unwell and now self-isolating following a coronavirus test it seems unlikely that he will play any part in the 1st Test.
In terms of back-up options, Ollie Robinson bowled with pace and bounce yesterday and picked up a couple of cheap wickets while Craig Overton was the standout bowler on the first morning and unlike Saqid Mahmood and even James Anderson he showed a willingness to pitch the ball up which ended in him being rewarded with the wicket of Rory Burns and should have been followed by that of fellow opener James Bracey had Ben Stokes not have shelled the chance at 2nd slip. It's unlikely that any of these men will be required for the 1st Test but England could well opt to give a couple of them a go later in the summer.
Who is the 1st choice spinner?
Prior to what was probably a bout of coronavirus, Jack Leach was very much the man in possession but with Leach ill and Ali unavailable, Dom Bess once again pushed his credentials as a player that England can count on at the highest level. Bess is certainly not a prodigious turner of the ball nor does he have a great array of deliveries to bamboozle opposition batsmen but he is a competitor who can keep things tight and has a happy knack of getting good batsmen out.
On a relatively green track in generally overcast conditions, no spinner has been required to do much bowling during the warm-up game. Leech and Ali were both milked for fairly easy runs while Dom Bess did take a wicket and was no doubt helped by the performance of the seamers around him. There is, of course, the possibility that England will opt to go with a 5th seamer again although I highly doubt it and I am always of the opinion that if 4 quicks can't get the job done then what hope does the 5th guy have.
My predicted XI for the 1st Test v West Indies
Sibley
Burns
Crawley
Denly
Stokes
Pope
Buttler
Woakes
Bess
Broad
Wood
Of course, if Sam Curran tests positive for Covid-19 and has potentially spread it to teammates then all bets are off!