I'd like to start by personally thanking Kagiso Rabada on behalf of all English cricket fans for his role in helping hand back the initiative to England in this Test Series.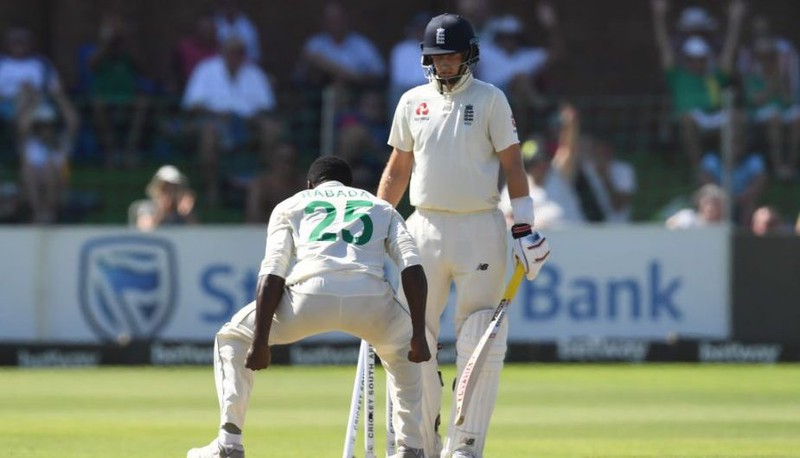 For what it's worth I don't think the celebration that has earned him enough demerit points for a suspension in the 4th and deciding Test in Johannesburg was all that bad but then Rabada's prior behaviour at Test level means that he is a marked man by the authorities and needs to be a little more cautious with his actions.
Indeed, it's not even the first time in this series that Rabada has gotten into a spat with the England captain. Upon Root's dismissal to Nortje in the 1st innings of the 2nd Test, Rabada ran a fair distance across the playing area, past the South African huddle and into Root's path as he made his way back to the pavilion. I don't mind a bit of verbals towards a batsman when he's at the crease but to go out of your way to get into his face when he's already been dismissed is not only unnecessary but also as it turned out unwise. The action and whatever was said left Joe Root visibly upset (presumably Rabada's intention) but I also believe that it helped to galvanise and fire up the England team for the remainder of the Test. Anderson and Broad came out and bowled faster than I have seen either of them bowl in quite some time and there was plenty of chat towards the South African batsmen for the remainder of the game with even the usually mild-mannered Jos Buttler getting busted for calling Vernon Philander a fat knob head.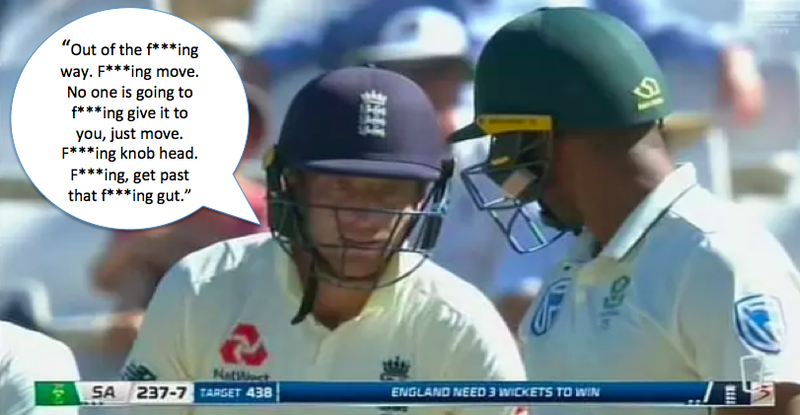 This was the same England side that was so placid on their tour to New Zealand before Christmas that I felt it was like watching a Sunday League game down at the local village green. With South Africa already one up in the series, Root failing to convert a start once again and England slipping towards yet another below-par first innings score, what did Rabada hope to achieve with that confrontation? A similar question could also be asked about the incident in this Test and on both occasions South Africa's superior cricket up until that point was already doing the talking, there was really nothing else to say!
Coming into the 2nd Day of this 3rd Test you would probably say that the match was evenly poised with the home side knowing that a quick wicket or 2 could see the visitors bowled out for a score of around 300 on a pitch where first innings runs would be crucial. All sides have bad days in the field but it seemed very apparent that this South African team much like their main strike bowler were guilty of letting their emotions get the better of them. Certainly, when you compare the patience and discipline of their bowling on day 1 against the bang it in and hope tactics of day 2 it's clear to see that the breaking news of Rabada's upcoming suspension had an effect on the side.
Aggression is a necessary characteristic for all successful athletes but when it's unchecked and uncontrolled as it was the South Africans today then it becomes entirely counter-productive. I've no doubt they wanted to get at the English and felt hard done by Rabada's ban but bowling short on this pitch against a player of Stokes ability is quite frankly idiotic and it set the tone for the entire day as South Africa handed over control of this game and the series to an England side that has historically struggled on this kind of a wicket whether at home or abroad. By the time England's number 10 Mark Wood had finished smashing the South Africans all over the park the wheels had well and truly fallen off with Rabada again guilty of just pushing it too far when he overstepped and had Wood caught off a no-ball.
Tomorrow is another day and despite a couple of wickets tonight, England will need to show the kind of patience and discipline that South Africa couldn't in order to take 20 wickets in these conditions. As for Rabada and the rest of his team, they will need to rebalance their emotions very quickly and get back to letting their cricket do the talking if they are to have any hope of saving this match and potentially the series.