The best and greatest all-time West Indies Test side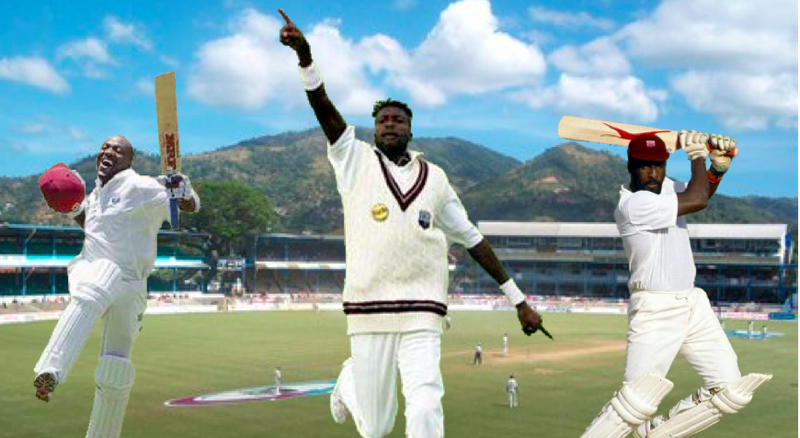 Naming an all-time best West Indies 11 for Test Matches is one hell of a difficult task! The sheer number of world-class batsmen and bowlers they have produced over the last 70 years means that narrowing it down to just 11 takes careful thought and a lot of time. To make it somewhat easier for myself, I've decided to select from only players that played in the great sides of the 1970s or later. While I'm not old enough to actually remember any cricket before about 1990 there is enough TV footage and video highlights of the all-conquering West Indies Teams of that era for me to able get a feel for just how good these guys were. At the same time, it does mean that the likes of Frank Worrell, Everton Weekes, Clive Walcott, George Headley and Wes Hall aren't up for consideration despite having reputations and records comparable to many on this list.
Desmond Haynes and Gordon Greenidge
Arguably the easiest task in selection terms is to pick an opening pair. Haynes and Greenidge formed a formidable partnership at the top of the order for over 13 years that netted a combined total of 6482 runs across 148 innings at an average partnership of 47.31. No other opening partnership has scored more runs in Test cricket and with the current scarcity of high-quality opening batsmen, it's a record that may well last for some considerable amount of time.
For me what makes a great opening partnership is that the 2 batsmen complement each other's play. This was very much the case with the Haynes/Greenidge combo with the former taking the more traditional and conservative approach to batting whereas the later was frequently on the attack. They both finished their careers with remarkably similar records (7000+ Test runs and averages over 40) which given they faced the new ball, in an age where there were great fast bowlers in many other countries too and pitches with pace is testament to their class.
Viv Richards
Imagine getting through that opening partnership and seeing this man walk out to bat! The greatest athletes in any sport don't just win, they entertain and this guy is not only one of the best cricketers of all time he is also one of sport's most revered entertainers. Strolling out to bat without a helmet on he was the epitome of a West Indies side that played with swagger and no little confidence and you might say with the way that cricket has changed since the onset of T20 that he was a man ahead of his time. I mean just imagine how much he would cost in the IPL auction?
He remains his countries 3rd most prolific run-scorer in Test cricket with an average of over 50 across a glittering career lasting 17 years and 121 matches. For a long-time, he also held the record for the fastest century in Test Match cricket coming off just 56 balls. Sit back and enjoy the Master Blaster at his very finest
Brian Lara
In at number 4 comes his nation's highest ever run-scorer in Test cricket. A man who twice broke the world record for the individual highest score in an innings and unfortunately for us Englishman both times it was our bowling that he was smashing around the park.
I remember watching Lara first hand when he came to tour Australia in the early 90s and even then you could tell there was something special about this guy. The exaggerated backlift and the flamboyant cover drives were enough to catch any youngsters eye and I still vaguely recall at the age of about 10 doing a school project on him and a certain young Indian by the name of Sachin Tendulkar, predicting that the 2 of them would go on to dominate world cricket for the foreseeable future - not a bad shout for a primary school kid!
Lara had his critics and there were times when you felt he went missing when his side most needed him. Then again he was perhaps unfortunate that the quality of the cricketers around him began to fade towards the 2nd half of his career, with the success of the side as a whole often resting on him producing something super-human.
Clive Lloyd (c)
A brilliant batsman in his own right with over 7000 Test runs at an average of 46 it was Lloyd's captaincy of the great West Indies teams of the 1970s and 80s that really stands out. No man has captained the Windies more times in Test cricket and no man has won more games as a captain of them than Lloyd. Much like the Haynes and Greenidge record above it seems that achievement could remain for a very very long time.
The West Indies had had their fair share of talented players prior to the Lloyd era but they had also developed a reputation as a bit of a soft touch. Lloyd galvanised the side around him and added a ruthless winning streak to the raw talent he had at his disposal.
Garry Sobers
Almost without question the greatest all-round cricketer of all-time, Sobers seems the obvious choice to bat at number 6 and add a 5th bowling option. His Test average of 57.78 remains the 3rd best of any West Indian to have played Test cricket and for so very long his 365* was the highest individual score in the game until his fellow country batting number 4 in this team famously eclipsed it. He also became the first player in history to hit six sixes in an over, a feat he achieved in Swansea of all places.
With ball in hand Sobers could do just about anything. He bowled finger spin, chinamen and left-arm seam and snared 235 Test wickets in his career. As if that wasn't enough he was also a brilliant fieldsman and this obscene all-round ability lead to the great Don Bradman stating that Sobers was like a "five-in-one cricketer". There's certainly reason to believe that to make the task of picking a greatest all-time West Indies XI easier you could simply select 11 Gary Sobers and your team wouldn't be any the weaker!
Jeff Dujon (wk)
During the 1970s and 80s, the West Indies mass-produced fast bowling talent of such quality that they could comfortably have fielded 3 sides with world-class quicks. However, such searing pace, bounce and hostility might not have been so effective if it weren't for the lithe and spritely presence of Jeff Dujon behind the stumps. Hardly a game seemed to go by where he didn't take a blinder of a catch and that barrage of magnificent fast bowlers gave him plenty of opportunities to do so. He finished his career with 270 dismissals still the 7th highest of all-time and the best for any West Indian in Test cricket. He was also a very handy lower-order batsman as his record of 5 Test centuries demonstrates.
Malcolm Marshall
Into the bowlers now and what better place to start than the man who still has the lowest career average of any West Indian in Test Match cricket. Malcolm Marshall lead the West Indies attack from 1978 to 1991 picking up 376 Test wickets in the process. Unlike many of his peers in the West Indies, Marshall was not a particularly tall bowler but that didn't stop him generating considerable pace via a whippy action. With that speed mixed with unerring accuracy and movement both ways through the air and off the pitch he became simply irresistible.
Like so many on this list, he seemed to reserve his best performances for England and he once took 7 for 53 against the old enemy despite having a broken thumb on his non-bowling hand. With 10 half-centuries to his name he's also not a bad man to have coming in at number 8 should one of the stars above him need someone to hang around.
Michael Holding
Regarded as one of the fastest and most aesthetically pleasing bowlers to watch (perhaps not if you were an opposition batsman) Holding was nicknamed "Whispering Death" for his near-silent approach to the crease that so often ended in the batsmen's demise.
He still holds the record for the best bowling figures in a match by a West Indian with his 149 for 14 coming on a dry Oval wicket offering nothing to the quick bowlers. Holding's solution to such a problem was simple, bowl quick, bowl full and bowl straight, taking the pitch out of the equation in one of the greatest performances ever delivered by a single bowler.
Curtly Ambrose
One of my all-time favourite cricketers and as a child the sports-star that I wanted to be when I grew up. Ambrose is an unassuming character off the pitch but a fierce competitor on it. In fact, the story of how he went on to become one of the greats is somewhat unique as Ambrose had very little interest in the sport until later in his teens when it was recommended that a man of his physique might give fast bowling a go.
His height was a major advantage but his superb accuracy and ability to jag the ball off the seam were his true weapons. There are so many options for the seam bowling positions in this Windies all-time 11 but for me, Ambrose will always be one of the greatest.
Lance Gibbs
The West Indies have produced a couple of decent white-ball spinners in recent times but as far as Test cricket is concerned one name stands out in a field dominated by quicks. Lance Gibbs was an exceptionally talented bowler and the first spinner in the history of the sport to pass 300 career wickets.
He was an orthodox finger spinner capable of producing both prodigious turn and bounce and with an arm ball that surprised many batsmen. As well as his wicket-taking abilities he was known to be incredibly accurate and economical as demonstrated by a career economy rate of under 2 in Test cricket. Picking him in the team would mean no matter what the pitch conditions you could keep your quicks firing from the other end all day long.