To kick off the Best of 2018 series that I announced earlier in the week, we will begin with my number 1 sport - cricket!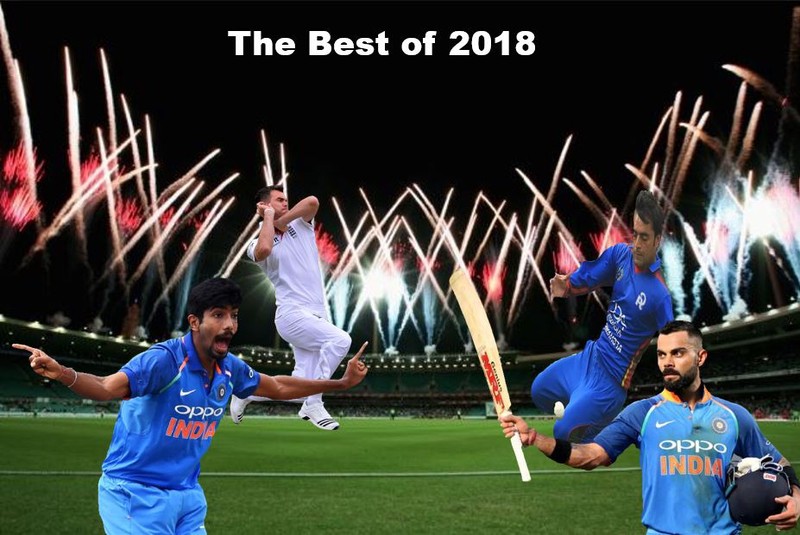 2018 has been a great year for cricket across all formats and all parts of the world. The below gives a very broad account of some of the best matches, individual performances and stand out moments from the world of cricket this calendar year. They are of course all purely subjective and as such I'd love to hear your views in the comments section about what the stand out moments were for you.
Best T20 Match of 2018 - Aaron Finch goes berserk in London derby
In any given summer I would normally have gone to the Surrey v Middlesex game with my Dad who is a member at Surrey CCC. This is a little tradition that has developed over the last few years and we will often make a day of it by having a late lunch, a few beers and then a few more while watching the game. However, with the arrival of my 2nd child due to occur in mid to late July we decided that this year it would be a better idea to go to a game a little earlier in the summer so as to avoid me potentially missing the birth of my son. Therefore we went to the Surrey v Kent T20 at the beginning of the month and very much enjoyed ourselves despite Surrey's defeat. In fact, if I were to put in a category for best individual performance in a match for 2018, then Kent's Joe Denly would surely have been a contender as he hit a century and then took a hat-trick to deliver his side victory in that game. As it was, I was left to watch the Surrey v Middlesex match at home while trying to keep a 3-week old baby cool in the very hot (by British standards) summer that we suffered in the UK this year.
The game itself was an absolute corker with runs galore from both sides. Middlesex's score of 221 should have been enough to see them to victory with only 9 sides every having chased more to win. However, Surrey didn't just get there, they did so in style with an incredible 4 overs still left to bowl! It's worth noting before you watch the highlights below that every catch taken in the crowd is awarded a £1000 - I'm guessing the sponsors (Kia) were feeling the pinch a little after this match!
---

Best ODI Match of 2018 - England break World Record
I'm always conscious when making these kinds of posts that I don't want to be seen as being biased towards England but having put their Antipodean troubles behind them, England have had a very successful time of it in 2018.
Perhaps the crowning achievement of the summer for England was their world record score of 481 at Trent Bridge against Australia, a total that comfortably eclipsed the record that they had previously set at the same venue against Pakistan. I remember the day vividly as I was at work listening to the coverage of the game via digital radio. With Hales, Roy and Bairstow just smashing the ball to all parts and Eoin Morgan playing a nice little cameo that also saw him become England's all-time leading run scorer. Probably the only regret is that England didn't make it over the 500 mark. Looking back at the innings and even that last sentence, it seems crazy to think that that is now a total that is within reaching distance in a 50 over game. When considering the history of ODI cricket within the first 30 years of its inception it was rare to see a side make over 300. Even 10 years ago 280 was considered a good total at most venues but now sides exceed 300 on a regular basis - England have managed it 8 times this year themselves!
The big question for this innings is should England have sent in someone other than Joe Root and if they had would they have become the first team in the history of the game to have scored over 500 in an ODI? I guess they'll just have to have another go in 2019!
---
Best Test Match of 2018
This is a tough one as we have seen some excellent games this year in the longest form of cricket. There are some who will tell you that Test Match cricket will struggle to survive into the later part of the 21st Century but the series between South Africa & India, South Africa & Australia and England & India all demonstrate that Tests are still the pinnacle of a cricketers career and that as a result there is no reason to believe that we won't continue to see high quality and competitive games in cricket's original form. Even as I write, we've just witnessed Australia storm back to level their current series with India with 2 highly charged games still to come and Sri Lanka play one of the great rearguard actions in New Zealand - Test Match cricket is very much alive! However, the game I've chosen as the best Test Match of 2018 is the recently completed game between Pakistan & New Zealand
1st Test Pakistan v New Zealand, 16-19 November 2018
In all honesty, I could have chosen any one of the games in this series as the best match for 2018 because whilst the matches and the 2 teams involved aren't as high profile as some that I mentioned above, they served up 3 great spectacles which saw the contest swing one way and then the other.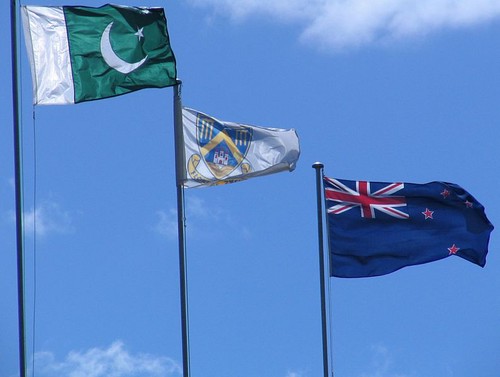 This game saw New Zealand bat first and make a fairly meagre 153 with only talismanic captain Kane Williamson offering any genuine resistance to a Pakistan side that has become adept at taking wickets in these conditions. Despite the tough conditions, 5 of Pakistan's top-order managed to get themselves in but none could go on to make a really big score and push the home team out of reach. However, they did accumulate a very useful lead of 74 and when they then reduced New Zealand to 108-4 (a lead of just 34) it looked like this game was destined to go in favour of Pakistan.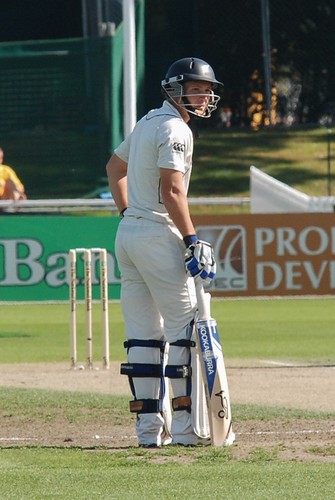 However, a fifty from Henry Nicholls who used this series to demonstrate that he is a name to watch out for in the future, was backed up by another from BJ Watling. There is a lot to like about Watling and the way he approaches the game. He is a real throwback to a bygone era of keeper batsmen who whilst not being the most elegant stoke makers are very very difficult to dismiss. In that sense, he reminds me a little of the legendary cricketer and all-around character that was Jack Russell. He will probably never make it onto a list of the world's best players but he is a very important part of this New Zealand side and has a tendency to make runs when his side needs them most, as was the case here.
New Zealand were ultimately bowled out for 249 leaving Pakistan needing 175 to win. I would say on most good Test Match pitches chasing a total of between 180-220 to win the game is what you want to see in order for a potentially tight finish and this game didn't disappoint. However, with Pakistan cruising along at 130-3 at one point it seemed as though they would win at a canter.
Pressure is a wonderful thing to observe in sport and I think watching players perform (or not) in those big moments is probably what excites most sports fans. At 147-4, just 28 runs short of their target and with star batsman Azhar Ali set and looking comfortable at the crease surely Pakistan weren't about to crumble? The collapse started with the comedy run-out of Babar Azam who was quickly followed back to the pavilion by captain Sarfraz Ahmed. Suddenly Pakistan's long tail who probably half an hour earlier were thinking about how they would spend the day off that their work with the ball had earned, were being asked to score the winning runs. Asif, Shah and Ali were all out to absolutely terrible shots which given that Azhar Ali was still in were completely unnecessary. New Zealand finally crowned a fantastic comeback victory when debutant Ajaz Patel who took 5 wickets in the 2nd innings and was named Man of the Match, produced an absolute peach of a delivery to dismiss Azhar Ali. Cue wild scenes of celebration amongst the New Zealand side and total disbelief amongst the Pakistan players and their fans - wonderful Test Match cricket!
---
The Best Batsman of 2018 - Virat Kohli
Yeah, it's an obvious choice but you just can't argue with it, can you? The man has scored more Test Match hundreds this year (5 to date) than any other player in world cricket and is also the only player to have scored over a thousand Test runs this calendar year (1240 to be precise). Add to that the fact that he is also the leading run scorer in ODI cricket this year (1202 runs) despite the fact that he was rested for the Asia Cup and has played fewer games than any other player in the top 10. In 2018, Kohli has an average in ODI cricket of 133.55, that's not a typo, he averages 133.55, that's insane!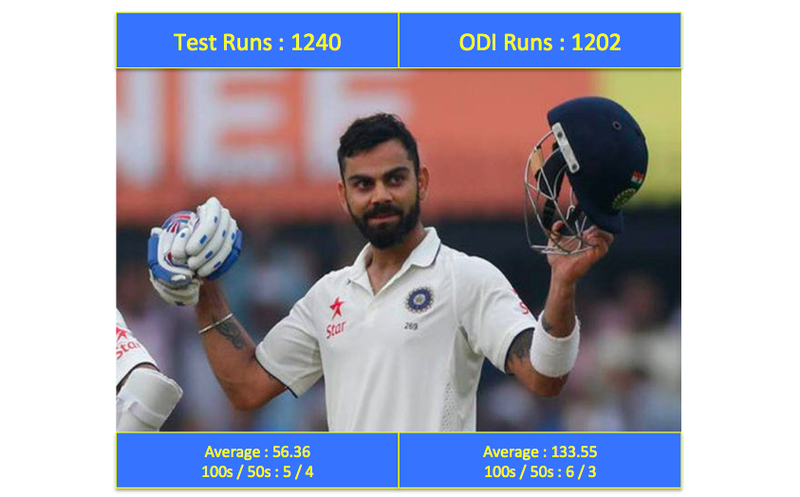 Beyond, the simple stats though is the fact that Kohli has scored the bulk of these runs in very tough away conditions where other batsmen on both sides have struggled. I shudder to think of the numbers that he might deliver next year when India return to the kind of benign pitches that they thrive on. I've written A LOT about Kohli this summer and I won't go through it all again, except to say that the way he has adapted his game and grown as a player since we last saw him in England shows me that he is without a shadow of a doubt the world's number 1 batsman at present. The great thing for cricket lovers is that we have the likes of Steve Smith, Kane Williamson and Joe Root in the game who will all be seeking to close that gap - the quality has been high in 2018 and the competition will be fierce come 2019!
The Best Bowler of 2018 - Jasprit Bumrah
This was a tougher choice mainly because we see many bowlers, particularly wrist spinners, being very successful in white ball cricket but then struggling to make an impact in Tests. Therefore, I decided to go for a pace bowler who has performed well across all 3 formats in 2018 and that man is India's Jasprit Bumrah.
Like those wrist spinners I mentioned before, there has never been any doubt about Bumrah's ability in white ball cricket. He bowls with a slightly awkward looking action that includes a braced front leg but from that position, he is able to generate good pace and excellent control. The uniqueness of his delivery stride has always made him difficult for batsmen to pick up which is probably why he was successful in T20 and then ODI cricket for India. In January of 2018, India decided to elevate one of their most potent white ball weapons into the Test side, no doubt in order for him to try and take advantage of the quicker and bouncier tracks in South Africa, England and now Australia and Bumrah has never looked back. As well as pace Bumrah has bowled with great skill and discipline throughout the year as the below stats testify and it's not unreasonable to believe that had he not have been injured for the first 2 games against England this summer that he may have finished the year as the leading Test wicket-taker and India might have come away from that series with a positive result.
Indeed, 2019 and the future in general for Bumrah who is only 25 years old will depend a lot on how India manage his workload. Fast bowling is one of the worst things an athlete can do to their body and Bumrah's action as unique and brilliant as it is, doesn't look like one that will be sustainable in the long-term.
Best Young Cricketer of the Year - Rashid Khan
For this category, I'd judge a young player as an individual under the age of 21. It almost comes as a surprise to learn that Rashid Khan only turned 20 years of age in September as it seems like he has been around forever (in fact he debuted just after his 17th birthday). While the Afghan-international had already established himself as a player to watch in 2017, his exploits in 2018 have taken his career to a whole new level. At present he has taken 92 wickets from the 58 T20s that he has played in this year which is a new World Record, eclipsing the 87 that Dwayne Bravo managed in 2016 albeit from considerably fewer games (Bravo played in 72 matches). With his participation in the current Big Bash tournament he might yet pass the century mark for the year and given his performance in the opening game on Wednesday then it seems more than just an outside bet.
As well as his exploits in T20 cricket, Rashid has topped the wicket-taking tables in ODI cricket with an impressive 48 wickets. The partnership that he has formed with fellow spinner Mujeeb Ur Rahman has taken Afghanistan to new heights including being added to the list of Test playing nations. Their success in that format will surely be dependant on how quickly Rashid can adapt his game to the rigours of Test cricket. At the moment his fast fizzing deliveries that can spin both ways are ideal for limited overs cricket but can he learn the subtle variations of flight and pace as well as develop the mental ability to think about how to set a batsman up over a period of several overs as opposed to the wham bam thank you mam approach of T20? Time, of course, is very much on his side in the pursuit of these assets.
Best Cricketing Moment of 2018 - James Anderson becomes the Most Prolific Fast Bowler Ever
This is another tough one. Should I go for Alastair Cook scoring a century in his final innings? How about Australia's women sealing victory in the World T20? While not being a good moment for cricket, could I even consider the Australia ball tampering incident in this category? It certainly has defined a large chunk of the cricketing year and will continue to do so into 2019. But no, I think the moment that I will choose will be the point with which England sealed their 4-1 series victory over India and in doing so James Anderson became the most prolific fast bowler in the history of a game that has been played since the 19th Century.
There was a beautiful symmetry to the whole moment as Anderson got one to nip back and knock Mohammed Shami's middle stump out of the ground. He immediately ran over to Cook his captain for so many of those 564 wickets and a man who with that ball had just ended his Test career. During the interviews that followed the close of play, Anderson was struggling to hold back the tears not so much for his own personal achievement but for the sense of loss that he felt knowing that he'd never play a game alongside his "best mate" again. Sometimes it's easy to forget that sports stars have a life away from the playing fields and especially with the rigours of Test Match cricket and the endless touring that the pair has undertaken over the last 12 years they had obviously become very close.
I hope you enjoyed my take on the best of cricket in 2018. Next up in the series @rougebot will be posting about the Best of F1 in 2018
Please comment below to share your memories of the cricketing year