Week 2 of the IPL and the tournament so far has been a real humdinger! We've had controversy, exhilarating finishes and action all the way in what has generally been a great advert for how exciting T20 cricket can be. Below are my views on the key events of the last 7 days, let me know what you think in the comments below.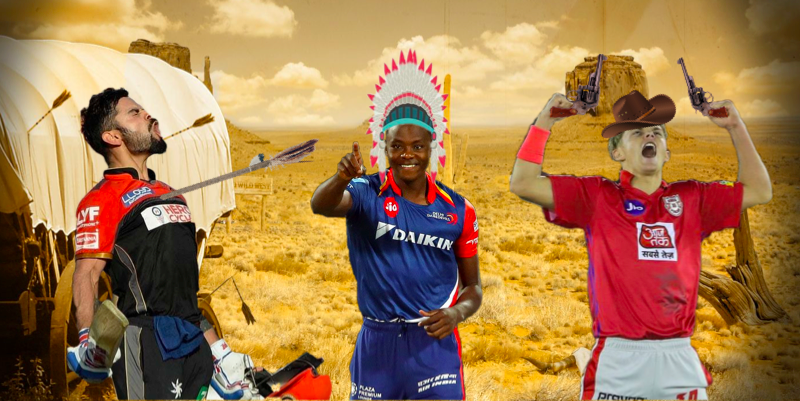 The Good - Super Over, Super Fun!
Ultimately this is just what you want almost every T20 match to come down to - a final over scramble for the win! It was real edge of your seat stuff as Dehli Capitals took on the mighty Kolkata Knight Riders. Dehli got off to a great start with both bat and ball and to be honest they really should have sealed victory in this match without the need of a super over but as with almost any sport, it's human error that often leads to the greatest drama.
With the scores tied after 20 overs, Delhi sent out skipper Iyer and blockbuster keeper-batsman Pant and managed an admirable 10 to certainly keep themselves in the hunt. However, with the massive presence of Andre Russell striding to the crease for KKR it was entirely possible that the run chase be over in just 2 deliveries and when Rabada missed his length with his first ball Russell happily bludgeoned it to the leg-side boundary to leave KKR needing 7 from 5.
I've watched the clip of what happens next over and over again because it was such a great piece of bowling in a pressure moment and in a format that has been roundly criticised for being too batsman-friendly it still shows that when a high-class bowler gets it right then this is the result .......
90Mph (150Kph) dipping yorker. Middle stump out of the ground. Thank you and goodnight! DC went on to restrict KKR to just 2 further runs from their remaining 4 balls to take a great victory.
The Bad - Dehli fall apart as Curran runs riot
I guess part of the bad here has to be the utter failure of one of my bold predictions which is that Sam Curran would be a flop in the IPL this year. Given that the guy has just taken a hat trick to win KXIP a game out of nowhere then it's fair to say that he's only enhancing his burgeoning reputation in the early stages of the tournament.
Still, while credit must go to Curran and Kings XI for believing they could get something from the game, a lot of criticism must also be aimed at the Capitals batsmen who threw away a match that they should have won with ease. It was noticeable throughout the DC run chase that the Mohali crowd was particularly subdued by IPL standards (another reason to watch a game this year is the unbelievable atmosphere that is maintained for up to 4 hours of cricket) suggesting that even the diehard fans felt that this match was going the way of DC until Curran intervened.
First to go was Rishabh Pant who despite his abundant talent reminded everyone that he is still only 20 years of age and as such is subject to the occasional brain fart. At that point, Dehli needed just 22 to win off 21 balls and in reality, Pant and Ingram just needed to see out the 20 overs to win their side the game. Pant's dismissal was immediately followed by a suicide run-out as Chris Morris hit his first ball hard to mid-off where captain Ashwin gathered and threw down the stumps.
Next to go was Colin Ingram who must have had dinner reservations within the next 15mins as he decided that it was better to try and finish the game with a couple of lusty blows but only succeeded in giving Sam Curran the first of 4 wickets in 5 balls when he hauled out to the man on the fence.
Curran then struck with the final ball of that over and returned to dismiss 2 more batsmen with the first 2 deliveries of his next to claim his hat trick and a memorable victory for Punjab. The looks on the Delhi team bench (players & coaches) pretty much summed up the situation and in a competition as closely contested as this one, throwing away a win could really come back to haunt DC when the round robin stage is concluded.
The Ugly - RCB's winless run continues
It's difficult to feel sorry for Royal Challengers Bangalore given that their activity in the auction really didn't help them to overcome any of the issues that they had last year. Their batting looks fairly unbalanced and Kohli's constant shuffling of the line-up isn't helping anyone. While their bowling is once again just lacking a bit of penetration and the genuine star quality that is needed to make things happen when the chips are down.
Their performance against Sunrisers was quite frankly embarrassing. They were thrashed around the ground for 20 overs with no answer to the dual assaults of Bairstow and Warner and when they came out to bat while a victory was never likely they played without pride or passion in being dismissed inside their allotted overs. I watched the game with my Dad on Sunday afternoon and half-jokingly said that RCB would be bowled out for 140 - Looks like I overestimated just how rubbish they are!
There were some seriously soft dismissals off the bowling of Mohammed Nabi but the real disasters were saved for the 3 run-outs that RCB managed to engineer. My favourite was the last of them which were it legal within cricket would have seen a double play scenario such was the lack of effort of either batsman to get back into their ground! Just to add a final bit of farse to proceeding that delivery was called for a no-ball! Such a performance would be embarrassing in Sunday League cricket, these guys are paid millions of dollars!
Things didn't get much better in RCB's next game as they took on Rajasthan Royals in a clash that saw 2 teams with 0-3 records go head to head. RCB started well enough but lost their way when young leg-spinner Shreyas Gopal knocked over both Kohli and de Villiers. To give credit where it's due, Gopal has had a very good start to the tournament but at the same time to see Virat Kohli, the best batsman in the world, aim a booming cover drive at a guy who primarily bowls googlies just underlines how scrabbled his and RCB's thinking is. The 158 they scored was never likely to be enough and while RR took it down to the final over it was by all intensive purposes a comfortable first victory of the season for them.
Where next for Kohli and his crew? I mean it's Kohli so you know that changes will be made........Nathan Coulter-Nile is available and RCB will be hoping that Marcus Stoinis' performance against RR was just a case of being a little ring rusty following his arrival in India the day before. Shimron Hetmyer looks like a rabbit in the headlights at the moment and Kohli obviously doesn't have a huge degree of faith in Moeen Ali's bowling. It would be one hell of a come back for RCB if they were to reach the final 4 from here!
Social Media Success
The above tweet featuring Scorum's site address on the GIF I created was retweeted by former England Test batsman and current Sky Sports commentator Mark Butcher. There is plenty of value in promoting Scorum on social media during live sporting events when specific tags and phrases are trending. Even my tiny little twitter account managed to get 5000+ impressions off the back of this one tweet

What have been the highlights of the last week of the IPL for you?