Wow there are some great contests going on in the world of sport at the moment! We had the 2 epic comebacks from English teams in the Champions League, I hear that the NBA playoffs between The Rockets and Golden State has been a pretty tight series too and even England's ODI against Pakistan swung back and forth but to cap it all off was yesterday's IPL Final between CSK and MI that provided more sporting theatre of the highest calibre.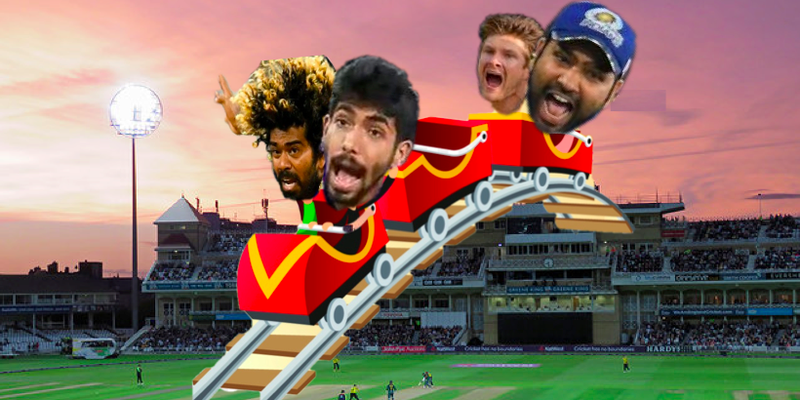 This is of course what T20 cricket is supposed to be like with its condescended format meaning that 1 big over for the batting team or a couple of wickets for the fielding team can swing the match in an instant. A great tool for cricket writers and bettors is the cricviz app which includes a prediction model called winviz that will give a % likelihood of each side winning at any point during the game. The winviz model had this match as pretty much a straight 50-50 before a ball had been bowled but as you'll see even a mathematical model based on a huge pool of data struggled to keep up with the action in Hyderabad yesterday.
Perhaps somewhat surprisingly Mumbai Indians won the toss and elected to bat first. I couldn't really see too much in the pitch that would suggest this would be a better track to defend on and the statistics of late show a clear advantage for the team chasing in T20 cricket. I guess the thinking behind it may have been psychological with Rohit Sharma wanting to put a CSK batting line-up that has misfired throughout the tournament under pressure in the 2nd innings.
In the opening exchanges, the decision looked to be an inspired one, with Sharma himself and Quinton de Kock helping themselves to 30 runs from the first 3 overs including 20 from Chahar's 2nd over. I can see why Dhoni would have bowled Chahar for a 2nd over in the powerplay as he has been one of the most consistent seam bowlers all tournament but against de Kock, in particular, I do wonder if he missed a trick by not opening at the other end with Harbajhan Singh given the South African's love of pace and weakness against spin.
By the end of the 4th over with 37 runs on the board MI had already taken their chances of victory up to 60% according to winviz but CSK were to strike back almost immediately. On an individual basis, defending champions CSK have hardly had a brilliant year in the IPL but it is Dhoni and coach Stephen Flemming's trust in the players that has seen them deliver when the chips are down. My pick for CSK's leading wicket-taker Shardul Thakur has had a torrid time of it in 2019 but he got the all-important breakthrough last night. With Chennai's slow turning pitches we've not seen much in the way of fast bowling from the men in yellow but Thakur did de Kock with an old fashioned 2 card trick by giving him a pullable short ball which he duly dispatched for 6 before bending his back for a bouncer with a little more venom in it that the MI opener gloved through to Dhoni. When 3 balls later Rohit Sharma followed de Kock back to the pavilion, MI's promising start was fast evaporating and by the end of the powerplay CSK were now holding the advantage with a 56% chance of winning.
With CSK's slow bowling options in the middle overs and Dhoni's ability to read the situation, this period was always likely to be dominated by the defending champs. Of course from Mumbai's perspective, they knew that with Kieron Pollard and Hardik Pandya waiting to come in that they could accelerate the scoring in the final part of the innings. Therefore, what followed was something of a stalemate with Ishan Kishan and Yadav happy to accumulate relatively risk-free runs while the overs ticked by. When the big 2 hitters finally did arrive at the crease together with the score at 100-5, CSK were very much in charge of the match with winviz suggesting that they would win on 68% of occasions from this position.
However, Pandya and Pollard put on a partnership of 40 from 21 balls to swing the match once more in Mumbai's favour and with 2 overs left you felt that a score of 170 was not out of the equation if 1 or both of these 2 remained at the crease. Yet again though CSK struck back with Chahar going for just 4 runs in the 19th over and taking 2 wickets including that of Hardik Pandya. DJ Bravo then began the final over of the game by bowling 3 dot balls and so we had an almost unheard of situation in any stage of a T20 innings let alone the final 2 overs where 8 balls had been bowled without a run being scored!
The period though was not without controversy as Kieron Pollard got into a spat with the umpires over what he felt was a wide delivery. His reaction was to stand in a comical fashion well outside his off-stump as Bravo came into deliver the next ball before pulling away just before he delivered it. We've seen several incidents of decent from players in this IPL and I have to say I'm not a fan. Yes, it was a wide but just get on and play the game, we don't want this sport to descend into the kind of poor behaviour we see in almost every game of football where players feel they have a right to question every decision the officials make.
For his part, Pollard rediscovered his composure and crunched the final 2 balls of the innings for boundaries to take MI to 149. I felt they were short, most commentators felt they were short and winviz gave MI just a 37% chance of defending their below average total........
For the most part of their chase CSK seemed in total control with Du Plessis playing the role of aggressor and taking his side 33 without loss after 4 overs. His departure thereafter was followed by a period of rebuilding as the experienced pairing of Watson and Raina maintained the run-rate required. However, it was the young leg-spinner Chahar (cousin to the man with the same name playing for CSK) who got the breakthrough as he skidded one through Raina's defences to dismiss him LBW.
MI tasted blood in the water as the woefully out of form Ambati Rayudu came to the crease with Rohit turning to his main man in Jasprit Bumrah to get another quick wicket. Bumrah obliged with the 3rd ball of the over as Rayudu could only glove a bouncer behind and suddenly the whole feel about the game had been turned on his head. From the relative comfort of 70-1, CSK suddenly found themselves 71-3 with over half the overs gone but of course with MS Dhoni now at the crease they still fancied their chances.
Events like the IPL final are amazing in that you can see how the pressure effects even the most experienced of cricketers and these 2 sides have several of the most capped T20 players in history of the sport playing for them. As a school kid playing the game you always learn certain key mantras to guide you in the game that includes Never run on a misfield and Catches win matches. From here on out it would appear that the occasion contributed in the players regressing to pre-school level.
Dhoni was the first to go as he was called through by Watson for a 2nd run following a wild throw at the non-strikers end as the batsmen completed an easy single. Young Ishan Kishan, however, was alive to the situation and had the composure to hit the stumps from mid-off. There was a wonderful camera view of Rohit Sharma's reaction as the sequence took place. It began with anger and disbelief at giving away an easy overthrow in a tight match and was then followed by celebration at the direct hit. Even then it took an absolute age for Dhoni to be given out as the TV umpires looked for an angle and frame that would confirm whether he'd snuck his bat across the line or not. I don't relish being the 3rd umpire having to make such a decision and I don't think it's too much of an exaggeration to say that the outcome all but decided the game - certainly had Dhoni have been there at the end you would have thought CSK will win. That being said I think the correct decision was made but my word was it tight!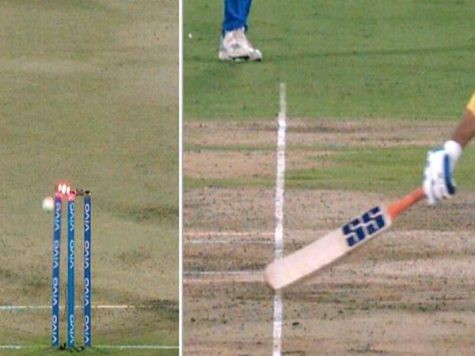 By this point everyone was on the edge of their seat sensing that they were about to watch a thrilling finale. Personally, I was chatting back and forth in 4 different social media groups including with a few members of Scorum and most of us felt that the game was now Mumbai's to lose with winviz giving CSK just a 21% chance for victory. That chance would have been even slimmer had Chahar managed to cling onto a return catch that Watson offered in the next over. In fact, MI would go onto drop Watson 3 times in his innings of 80 with Chahar shelling a later opportunity in the deep as well.
Despite the drops, a tight couple of overs meant that CSK were in a now or never type of situation and Shane Watson, the man who hit a hundred in last year's final, decided that Malinga was the bowler who had to go and boy did he go. Watson took 20 from Malinga's 3rd over as the Sri Lankan legend was put to the sword. A lot is said in commentary these days about bowlers not bowling the yorker enough but Malinga's over was testament to the fact that if you miss your length by just a few inches when bowling the yorker it's going to get hit out of the park!
Suddenly off the back of one big over CSK were right back in the game but Mumbai still had 2 overs of the irrepressible Bumrah to call upon. The man who I think is the best fast bowler in world cricket at the moment went for just 4 run in the 17th over leaving CSK once again facing an uphill battle at over 12 an over. But if you thought CSK were done you had reckoned on Watto's response. The muscle-bound Australian hit Krunal Pandya for 3 straight 6s in a row off the next over to cut the chase to a far more manageable 18 from 12 balls. As if watching 2 prizefighters slugging it out the ball was then handed back to Bumrah who once again was asked to pull his side back into the context. With 5 balls of his over bowled and having conceded just 5 runs as well as accounting for DJ Bravo it looked as though he had done just that but then ............
From the final ball of the over Quinton de Kock let a fast short ball that had defeated the batsman and should have resulted in a dot through his hands to gift CSK 4 runs and cut their requirement from the last over from 13 down to 9. At that point with Bumrah bowled out and MI needing to turn to either Pandya or Malinga to bowl the final over my money was on CSK to win.
And so it was that Rohit Sharma turned to Lasith Malinga, arguably the greatest death bowler in the history of T20 cricket but a man who up until that point had bowled 3 overs for 43 runs! Anyone who has watched Shane Watson play cricket at almost any stage of his career knows that he isn't the most mobile of athletes and so he did well to scrabble a quick single and 2 from the next couple of deliveries. The equation was now 5 from 3 balls and Watson was on strike knowing that one decent blow would end this match.
Malinga again bowled full and Watson carved the ball away backward of square. Watson set off for the first, turned as quickly as Titanic for the 2nd and was left short of his ground as the throw came in from the deep. 4 from 2 was now required and with a new batsman at the crease. Malinga again went for a full dipping yorker but only succeeded in bowling a full toss that Thakur worked of his pads. For a moment it looked as though he'd timed it well enough for it to make it to the fence but fine leg scrambled around to keep them to down to 2. CSK were left needing 2 from the final ball or else a single would see us going to a super-over. The field came up, de Kock behind the stumps removed one of his gloves and the cricketing world waited.
It seemed to take an age for the final ball to actually be bowled. With 1227 wickets in white ball cricket in his career spanning 18 years, we all know what Lasith Malinga is about. His slingy action and relatively short frame actually makes it easier for him to execute the yorker because the trajectory the ball takes is much lower than what a tall bowler with a high action can achieve. Of course, as we'd already seen in this match, executing even the most basic of skills under this kind of pressure is very difficult. However, Malinga, a man who came out of retirement to play in this year's IPL drew on all that experience to bowl the perfect yorker once again and trap Thakur LBW. Mumbai Indians had won by 1 run to finish what had already been an incredible tournament in the most spectacular way possible.
I strongly recommend that you check out the highlights of the game here