England battled back on Day 3 of the 2nd Test against New Zealand to leave the game evenly poised. If it hadn't been for a run-out and a couple of late wickets they would have truly been in the ascendancy but with Joe Root still at the crease and a long tail to come, the tourists will hope to push past New Zealand's first innings total and exert some pressure on them later in the afternoon.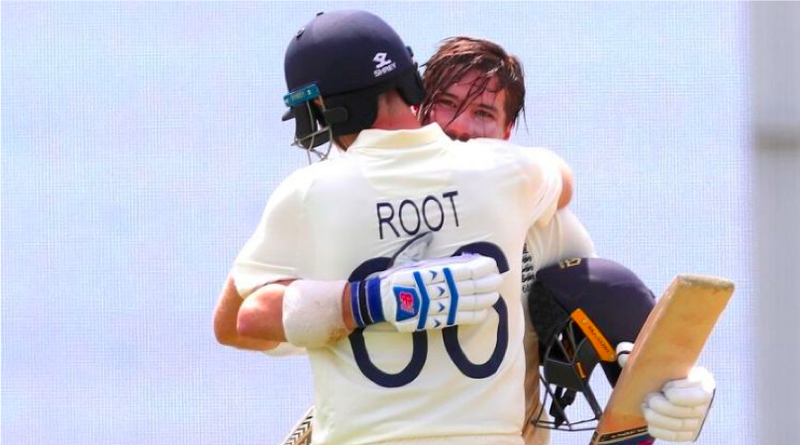 With rain once again cutting the available overs down, a draw still looks the more likely scenario on a pitch that shows no signs of deteriorating to the extent that wickets will suddenly be easier to come by. However, England will take heart from the fact that they put together a more accomplished batting performance off the back of a 177 run partnership between Burns and Root who both scored centuries.
The personal milestone allowed Root to finally shake the monkey from his back in regards to his often criticised conversion rate. Yesterday, I highlighted the fact that Root's returns with the bat have slipped since becoming captain and that in large part is due to him struggling to turn nice 50s into match-winning hundreds. There is no doubt that this innings will keep the wolves from his door for a little while longer much in the same way that his ton against the West Indies back in the spring came as a welcome relief. The challenge now is for Root to be able to play this type of innings on a more regular basis.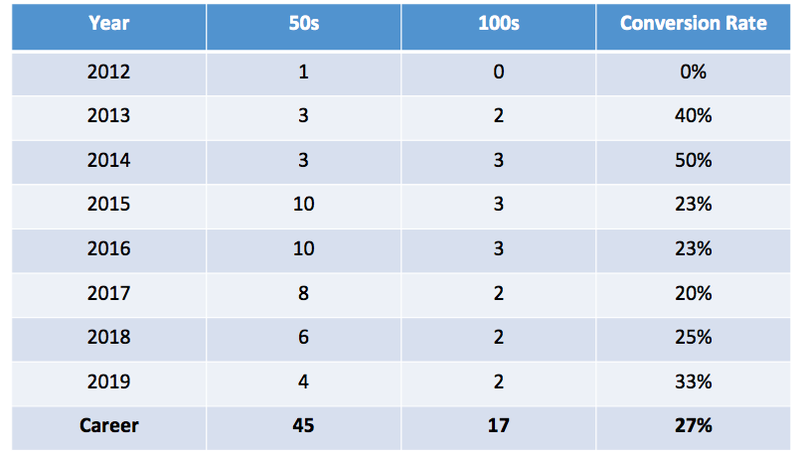 Despite the fact that this looks likely to be Root's leanest year in regards run-scoring since he came into to Test cricket (he currently has 662 runs in 2019 from 21 innings, behind the 777 he scored from just 11 innings in 2014) his importance to the team cannot be denied. In fact, England have only constructed 9-century stands this calendar year and Root has been a part of 6 of them! Equally telling is the fact that 3 of those stands have been alongside Rory Burns, England's new-found champion at the top of the order. It will probably come as some relief that the 177 that Burns and Root added yesterday supplants the 145 run stand that Jason Roy and nightwatchman Jack Leach put on against Ireland as the highest partnership for England in 2019. If you were to take that innings out of the equation then Burns and Root have shared the 3 highest stands for England this year.
However, as the below graph demonstrates 2019 isn't just a one-off as far as England struggling to put together match-winning partnerships is concerned. The peak a decade ago under Andy Flower and batting coach Graham Gooch saw England reach the number 1 rank in Test Match cricket, a feat that they have zero chance of achieving with their current returns. During that period of dominance, the emphasis for the team was to score "Daddy Hundreds" i.e. not just pretty 50s or indeed stopping when you reach three figures but to go on to dominate the opposition and be as greedy with your run-scoring as possible. While it can be argued that the calibre of player in that generation was different to what England have available now, the mindset that this current team adopts must return to that way of thinking - greed in batting terms is good!
Graph 1 - England's average number of century partnerships per Test Match by year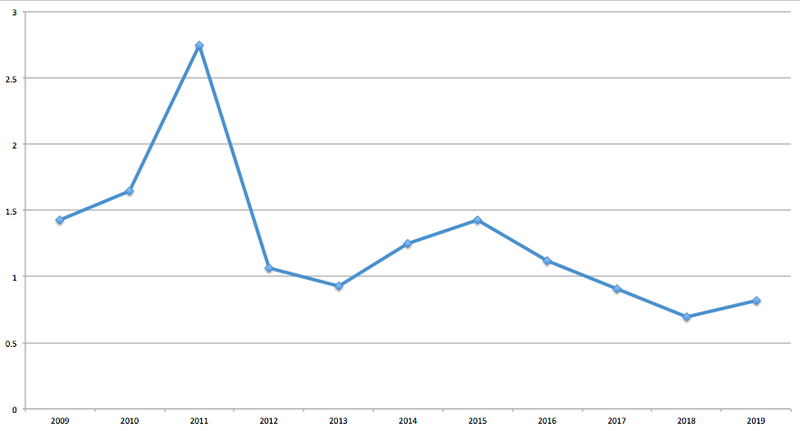 The finger of blame will and has been pointed at England's focus on white-ball cricket and while that is undoubtedly a consideration not only for them but every team in world cricket the effects seem to have been felt more greatly by this current crop of English cricketers than they have in any of the other top 5 Test-playing nations. While the below graph shows that trend over the last 4 years i.e. the period of time that England have switched their focus to white-ball cricket, even within the series that are being played at present we see the likes of India and Australia putting weaker opposition to the sword in conditions which favour them. The likes of David Warner who could hardly hit the ball off the square during the Ashes is now gobbling up runs against a weak Pakistan attack. Similarly, Mayank Agarwal who is a relative newcomer to the game at this level is plundering scores against a meek Bangladesh team. I can't remember the last time that an England team or an individual batsman really took the opportunity to fill their boots in quite such a greedy manner.
Graph 2 - Top 5 Test teams average number of century partnerships per Test Match by year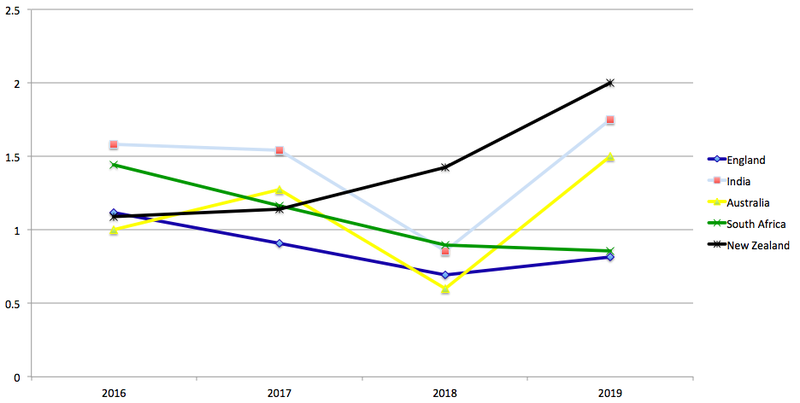 Perhaps the one standout from the chart above is the continued improvement of New Zealand's batsmen. Of all 5 nations involved they have by far the smallest population and yet they continue to punch well above their weight. While England have traded red-ball success for a World Cup win, New Zealand who made the 50-over final in both 2015 and 2019 have maintained form across multiple formats.
Many of the present England limited-overs side have stated that the thrashing at the hands of New Zealand in the 2015 World Cup provided the motivation to make radical changes in the way they approached that format of the game. Shortly after New Zealand toured England and Eoin Morgan's new-look side played a completely different brand of cricket against an opposition captained by his friend Brendon McCullum. Morgan has been quick to point out the influence that McCullum's side had on England's renaissance that culminated in them lifting the World Cup at Lord's this summer. Perhaps Joe Root needs to buy Kane Williamson a few beers at the end of this Test so that he can pick the brains of another New Zealand skipper in regards firstly how he's created one of the most effective and greediest batting units in world cricket and secondly how he's managed to maintain his own form while still leading the side so effectively.