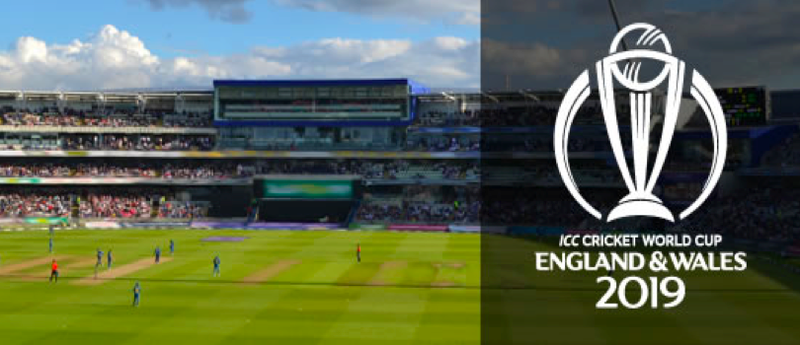 I posted an early preview to this year's cricket World Cup a couple of months ago in which I included some initial tips and early prices on the favourites to win the contest. During the interim, we've seen a couple of surprise results in bilateral ODI series as well as the start of cricket's biggest and most celebrated T20 league, the IPL. How those results have changed each side's preparations for the World Cup and what the outright winner market is looking like now will form the basis of this post.
Australia

The Antipodean's stock is definitely on the rise following back to back series wins in India and then Pakistan (played in the UAE). I had written in my previous post that I expected those 2 series would be another nail in the coffin of the Australia ODI side given their terrible time of it in 2018. Historically winning on those 2 countries has been difficult for any side but with Australia's recent struggles against slow bowling as well as a lack of depth themselves in the spin department it seemed certain they wouldn't triumph this time around. How wrong I was!
Usman Khawaja showed why he has done so well for Australia on recent tours that take place on slow wickets, often anchoring the side's innings and allowing big hitters to play around him. It was interesting to see that in a tweet yesterday, Shane Warne left him out of his Aussie World Cup squad altogether!

Ignoring the inclusion of D'arcy Short (which it seems the Aussie selectors will probably do too) the big talking point will, of course, be how to reintegrate Smith & Warner into the mix now that they are available. Going into those series with India and Pakistan under the assumption that the Australian's would be comfortably beaten it seemed a simple equation for Langer and the selectors - get your best 2 batsmen back in the team and everything will be alright. However, with the likes of Khawaja and Handscomb proving their worth and actually winning matches for Australia everything has become that much more complicated and the Aussies find themselves in a bit of no-win situation. If you bring them in and they fail then there will be criticism for destabilising the dressing room. If you leave them out and the team fails then you'll be criticised for not picking your best 11. I guess the answer is that Australia better keep winning.
Of course for their part Smith & Warner are using the IPL as the perfect platform to show that they remain at least if not more hungry for success at the highest level of the game. Warner, in particular, has been on fire so far this year and is deservedly wearing the IPL's Orange Cap as top run scorer. Smith while not quite at his fluent best is still making runs and it seems difficult to imagine that the selectors will be able to ignore either of them come decision time.
As I mentioned in my previous blog @7.0 was a good price for the current holders and I was honestly hoping that their recent tours would push that up to beyond @8.0. Many questions still remain to be answered and so for me @5.5 is a little on the short side - let's hope everyone got in at 7s!
India

It seemed to many that throughout 2018 India were simply biding their time, experimenting with a few combinations and giving a few players on the fringes of the first 11 a chance to grab a spot in the final 15. While on the face of it this seemed like a good plan, one of the issues that it has raised is that India don't have quite the settled side that they would like heading into the World Cup and defeat against Australia has only raised further questions.
The big issues still revolve around who will play in the middle order, how will they balance the side and potentially get a 6th bowler into the mix and what to do with MS Dhoni? Another concern is the fitness of key players following a gruelling 2018 which saw them tour South Africa, England and Australia as well as play in the Asia Cup and host the likes of the West Indies and Australia. I'm not 100% convinced of Bumrah's current fitness and the form of Virat Kohli's RCB side must be of some concern to the Indian public - losing is a habit!
Still, while India may have a few questions to answer they still remain one of the big favourites to win in England this summer. Their top 3 has been in sparkling form for the last 18 months and their bowling has variety and penetration throughout. Strangely enough while India have been beaten in the space between my previous blog and this one, their odds have shortened suggesting that they are over backed at their current price of @4.0
Pakistan

Thrashed 5-0 by Australia at home in what was their first defeat in an ODI series in the UAE in over 4 years, the signs for Pakistan aren't great. A strong bowling attack has been the basis of their success over the years but they lacked penetration against Australia. The fact of the matter is that since their surprise win in the Champions Trophy 2 years ago, they have only beaten one other Test playing nation in a bilateral ODI series and that was Sri Lanka, a side that most pub teams could roll over at the moment.
Being underdogs has never phased the Pakistanis before and while it's difficult to see how they can replicate that win of 2 years ago with a side that is short in most areas they have proved time and time again that they are at their best in tournament cricket. At 17.0 they represent decent value for a small bet.
England

Old habits die hard and with England it may just be that their chances of a first 50 over World Cup fall apart, as a result, of their habit of being brilliant for 2 or 3 innings then awful in the next one. We saw 2 collapses by England against the West Indies leaving the series drawn at 2-2. England have perhaps the most settled side of any of the major contenders going into the tournament but you wonder if that might just have bred a little bit of complacency amongst a few of the players. It was good to see that a couple of outsiders to make the final 15 had an impact on the T20 series that followed which will hopefully put a little bit of pressure on those currently in possession to up their game.
Their odds have lengthened a tad following that up and down series against WI. I still think they are a little overvalued but if the Australia and India odds keep getting shorter then we might yet see England slip to 4.0 maybe even 4.5 and that would represent good value.
West Indies

A win in the Test series against England was followed up by a 2-2 draw against the same opposition who are ranked number 1 in ODIs and has given West Indian cricket a new lease of life. They were, however, woeful in the T20 series that followed during which the West Indian cricketing powers decided to pick a side that was predominantly made up of Jason Holder's ODI squad in order to give him and the side more time together. It backfired spectacularly and while WI can take confidence from their earlier successes the 3-0 hammering they took in that series has knocked a little of the wind out of their sails.
The question is can they get their big stars to the World Cup and then have them perform as they are in the IPL? A fully committed and fit Andre Russell joined by Chris Gayle and Azarri Joseph alongside several other players who have a real x-factor about them could easily cause a surprise or 2 along the way. I can't see them winning it (@19.0) but if they can ensure those star players are on the plane then finishing in the top 4 is not be beyond them @3.0
South Africa

The fact that South Africa thrashed Sri Lanka and yet have still seen their odds lengthen is probably testament to 2 factors. Firstly, Sri Lanka are crap! You'd have thought that after their shock Test series victory we might see a side riding a wave of confidence but we didn't. They were so far off the quality of an international side that it makes you wonder if the qualification system needs to be extended to give other associate nations a chance to replace them. Secondly, is the fact that South Africa continue to lose players to either Kolpak deals or T20 franchise cricket. The latest to go is Duane Olivier who made a great impact in his first 10 Tests with a bowling average under 20 and made his ODI debut against Sri Lanka last month only to sign a Kolpak deal with Yorkshire last week. There is plenty of South African talent out there but apparently, none of them particularly wish to represent their nation.
@10.0 makes them 4th favourites but they are quite rightly a long way behind the top 3 in those stakes. Of course, we all know that even if they do exceed expectations and reach the knockout stages that their infamous curse will strike and they'll choke on the big stage once more.
New Zealand

Dark horses is probably an apt name for the Black Caps who crushed lowly Bangladesh in a recent home series but are now without any further internationals until the 2 warm-up games in about 6 weeks time. They do, however, have a few of their key players playing in the IPL and they will be keen to see the likes of Martin Guptill, Ish Sodhi and Lockie Ferguson do more than carry the drinks for the next month.
Another major area of concern is the fitness of captain and star batsman Kane Williamson. Last year's leading run scorer in the IPL has managed just 1 match so far in this season's tournament as he seeks to recover from a shoulder injury in time to lead his team in the World Cup.
Again it seems the market has reacted with a decided shrug of the shoulders and a 'so what' following the win over Bangladesh and the injury to Williamson has undoubtedly contributed to their price drifting. However, they were finalists 4 years ago and have remained one of the most consistent teams in all forms of cricket ever since. They are worth a small punt to win at those odds with a larger stake on a top 4 finish @2.25 Definitely worth following the form and fortunes of the above-mentioned players in the IPL as that looks likely to dictate their starting price.