I woke up this morning, flicked open my laptop and was greeted by this bizarre image in my newsfeed of the Australian cricket team walking around Edgbaston (venue of the team's semi-final against England on Thursday) with no shoes on!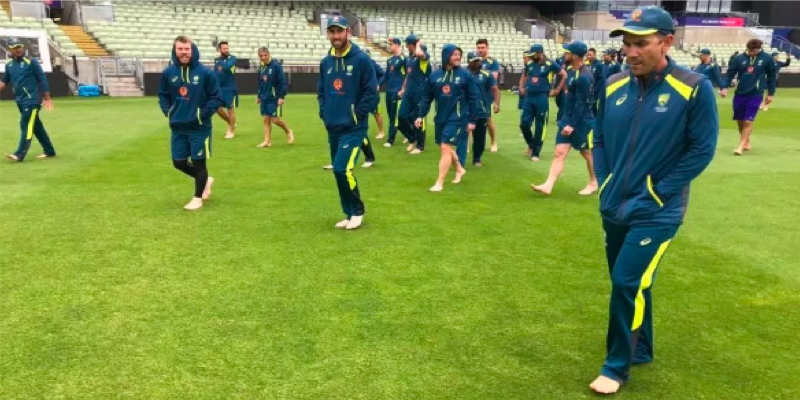 Had they been the victims of some kind of schoolboy prank I thought? Perhaps the kit man had truly messed up and left all their shoes in Manchester following the defeat against South Africa? But no, as I read on I learned that this was a deliberate ploy known as "earthing". According to the website barefoothealing.com.au this allows electrons to be absorbed into the body when bare feet come into contact with the earth, a technique that is proven to reduce illness, injury or fatigue.
What a load of crap! If there's one thing I can't stand in the modern era it is the continual rise of psychobabble bullshit pseudoscience like the above. We live in an age where the human race can achieve almost anything if it could only focus long enough and drown out the noise of such distractions.
Rant over, I thought it might be fun to look at some other weird and wonderful pre-match rituals that I've heard of from around the world of sport.
Willy Wonka and the Chocolate Factory
Lower league footballer Malvin Kamara admitted to watching the 1971 classic children's movie before every match! When asked why Kamara stated that it was his favourite movie as a child and helped relax and focus him prior to a game. Perhaps the Aussie cricket team could try something similar with Crocodile Dundee?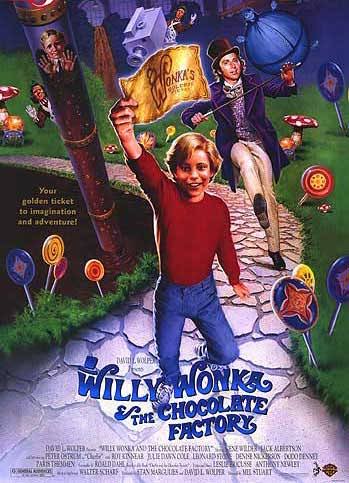 Kamara is a similar age to me and I have to admit that Willy Wonka and the Chocolate Factory was one of my favourites as a kid. My sister and I must have watched it every couple of months when we were growing up. When quizzed about the 2005 remake, Kamara responded that he found it "offensive". Again, I'm with you there Malvin, Johny Depp isn't fit to shine Gene Wilder's shoes!
A Catt that cleans behind his ears
These days almost every sport (at least the ones I regularly watch) seems to value physical strength, raw power and speed above good old fashioned technique and game awareness. Mike Catt's part in England's 2003 World Cup win is often understated but it was his natural talent for game management, heads up rugby and being able to spot a play earlier than anyone else on the pitch as opposed to being the kind of muscular brute we see on display today that allowed England to close out big moments in that tournament.
However, as with all geniuses, there was something of the strange about Catt and one example manifested itself before the start of every game. Watch closely in the video below and see if you can notice his little idiosyncratic flick of the ear
I can remember certain fans thinking it was somewhat disrespectful of the player, after all he was born in South Africa so perhaps it was a show that he wasn't wholly English. However, Catt would go onto to explain that the flick started as a means of saying hello to his family who were unable to attend some matches and had to watch on TV. Later on it became something of a good luck ritual and given the golden period that England sustained during Catt's career who's to argue with it!
New pants please!
I think almost any athlete at any level probably has a lucky bit of clothing or kit that they can't do without during the game but in his autobiography Open, Andre Agassi revealed that for him it was the exact opposite i.e. not what he was wearing but what he was not wearing.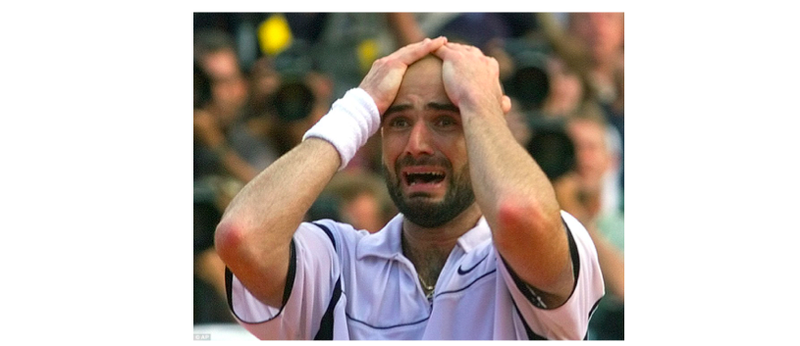 The story goes that when Agassi got to Paris for the French Open in 1999 he forgot to pack any additional underwear. Obviously, Andre had never been camping or stayed at an all weekend music festival and so didn't know the trick of turning the pair he wore on the plane inside out or simply washing them in the hotel sink. Instead, Agassi played his 1st round match commando and won. Believing this to be a defining factor in his victory Agassi decided not to go shopping for a new pair of underwear in the fashion capital of the world and played the rest of the tournament pantless. He would go on to win the contest completing one of the greatest comebacks ever seen in a Grand Slam final.
Can you think of any weird pre-match rituals you have heard of or indeed do you have any yourself that you are willing to share?