So who would have thought that heading into the final Test of the series The West Indies would stand on the edge of completing a whitewash or blackwash as their fans famously referred to it following their 5-0 thumping of England in 1984. That West Indies team was one of the all-time great sides in Test history and while this current crop aren't in that league, England have clearly underestimated their opponents as can be evidenced from their lack of preparation and application during the tour to date.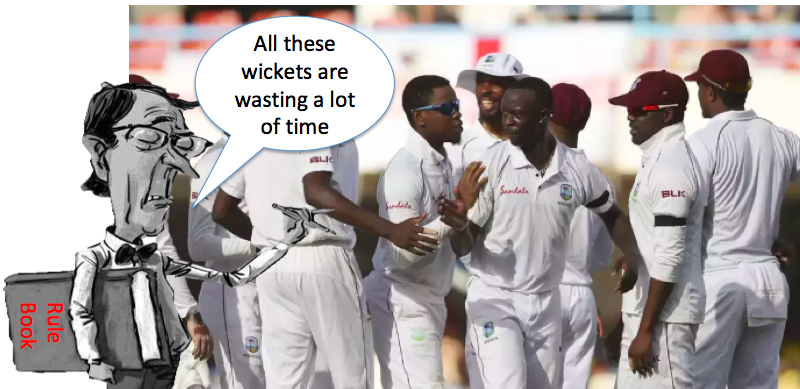 One of the major factors behind the Windies recent success has been the impressive form and leadership of their captain Jason Holder. Thrown into the big job at the tender age of 23, Holder remains the West Indies youngest ever captain. At the point he took the reigns, he was faced with a situation whereby the majority of the country's senior players had already quit international cricket or were on their way out and the players coming in to replace them lacked both experience and quality. The West Indies results since then have hardly been brilliant but Holder has stayed on helping to forge a young side that at least in their home conditions can now compete at Test level.
The glowing reviews of him from his own team following the win in Antigua speak volumes about how highly he is regarded by his teammates. He is also the leading run-getter in the series so far and has taken 7 wickets at a better strike rate or average than any England bowler, a run of form that has seen him rise to the top of the ICC all-rounder rankings.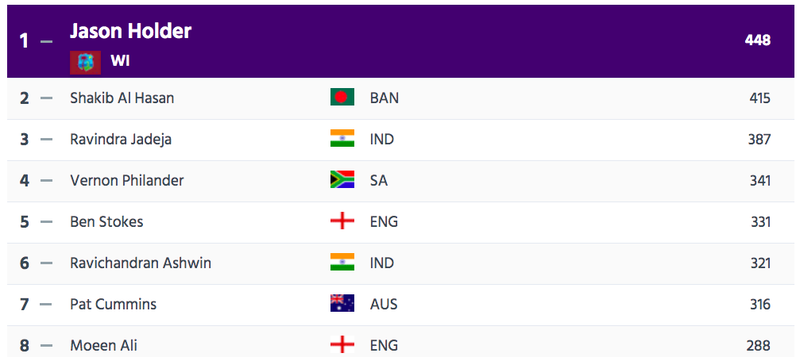 However, despite all these wonderful achievements and the fact that Holder comes across as a humble guy who plays the game in the right spirit, the ICC in their infinite wisdom have decided to ban him from the final Test of the Series.
He hasn't been ball tampering or spot-fixing or verbally abusing his opponents, no instead, Holder's crime is that his team's over-rate during the 2nd Test was too slow. In fact across the 3 days that the Test lasted his side was adjudged to have been a miserly 2 overs behind what it should have been. That's 8 minutes of play across a total of 30hours + additional time that is available in a Test Match. It's the equivalent of me chartering a jumbo jet to fly from London to Perth, Australia and back again and then requesting a full refund because we arrived back 8 minutes late!
Forget the fact that the West Indies ended the game an entire 2 days early by taking all 20 English wickets in 103 overs. No, apparently Holder's tactics of bowling pace bowlers on a wicket that was built for pace bowlers should be punished. I'm sure that England would have been more than happy to see Royston Chase be thrown the ball so that he could have hurried through a few overs of part-time off-spin in order to get the rate up but is that really what is best for the game?

I bet if you ask any avid cricket supporter to name the best pieces of cricketing action that they have watched then almost all of them will involve genuine pace bowling. I remember sitting on my Grandmother's living room floor, nose pressed up against the telly, watching Devon Malcolm destroy South Africa. Or in 2005 pulling a sickie from a job I'd only started a fortnight before in order to watch the final day of the Ashes in which Brett Lee charged in against Kevin Pietersen. That was the best of sport! Pure drama and excitement all made possible by bowlers who while they may take a little longer to get through their overs are also capable of delivering more entertainment than a part-time spinner who has been brought on just so that the TV channels can get their ad breaks on in time.
Furthermore, is it really rational to punish a man for time wasting when what he was choosing to do was select the bowlers who were most likely to win him the game in the shortest space of time? Holder wasn't trying to run the clock down by taking time over his field settings or requesting extra drinks be brought on. Quite simply he was captaining his side to the best of his ability in order to secure a victory which he achieved. How can that be against the rules? It's commonplace to see batsmen decide to take a long chat between deliveries or undertake a bit of pitch gardening in order to run the clock down and ensure that the over they are facing is the last before an interval and yet I haven't seen a single player receive even a slap on the wrist for such an obvious ploy to waste time.

In an age where Test Matches are struggling to maintain their position as the ultimate format of cricket, you would have thought the administrators in charge of ensuring the overall resilience of the sport would want to make sure the best players play as many games as possible. This is particularly true for a West Indies side that has been struggling to define itself for the best part of 20 years. Having a weak West Indian side in cricket is a bit like seeing the Dutch struggle in football. You remember all of those great individual players and wonderful teams they have had throughout the history and you wonder where it has all gone wrong.
As a child, I didn't want to be a footballer, I didn't even want to be an England cricketer (not really surprising given I grew up in the 90s), no, what I wanted to be was a West Indian fast bowler! I wanted to be Curtly Ambrose. I wanted to be tall and lean, athletic and mean. I wanted to see the fear in the batsman's eyes as another delivery went whizzing past their throat! Unfortunately, my mum had to break it to me that I wasn't tall enough and I wasn't black enough to play for the West Indies. Well, I reached 6ft 1" so I'm hardly short and as for the black thing, the Windies were happy enough to take Brendon Nash so I'm not giving up on my dream just yet!
Beyond the reminiscing what I'm trying to say is that the decision to ban Holder is far more damaging to the game than the act of being a little slow on the over-rate. Though perhaps I wouldn't ideally like the West Indies resurgence to come about at the expense of England what is great to see is the local crowds beginning to return to the grounds as their team starts to taste success once more.
When the series started it appeared that over half of the spectators were scantily clad English men and women, mostly aged 50 or more and intent on drinking their body weight in rum as opposed to enjoying the cricket. With the local DJ pumping out pure cheese along the lines of Agadoo and Hey Mickey, the whole affair is more reminiscant of a Butlins holiday than it is a cricket match in the West Indies.
The passion and joy about the game of cricket has drifted away from the Caribean over the last couple of decades but now just maybe this could be the spark to reignite it. And yet the pencil pushing, clock-watching dickheads in charge would rather play things by the book than have the vision to understand why it was so important that Holder be involved in what could be a turning point for West Indies cricket and a massive bonus to the sport as a whole.