Before we get into the cricket, a big thank you to @jon.bonomo for creating the art work in the below thumbnail. For those of you that don't know Jon, I would highly recommend you check out his work. Beyond the awesome graphics that he designs himself is some very in depth analysis on a range of sports - Thanks again Jon!

The England v India Test series this summer has provided drama at almost every corner. Like most good cricket it has been a fair contest between bat and ball. We have seen top orders struggle, to the extent that no opener on either side has yet managed to pass 50. We have seen the ball swing, seam and spin often all within the same days play. However, we have also seen some magnificent innings played by batsman of true international quality.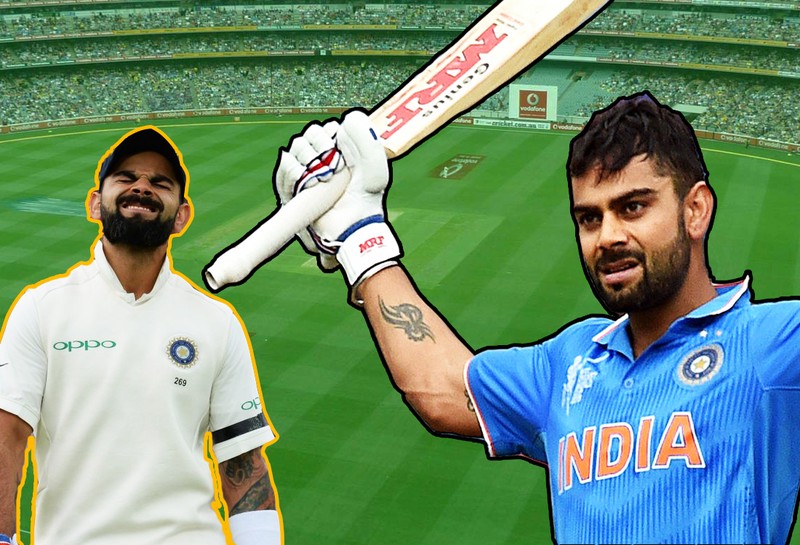 First and foremost amongst those batsmen is the man who many, including myself would judge as the best player in world cricket at the moment, Virat Kohli. Not only is he the glue that holds the rest of the batting line-up together but he is also Team India's captain and talisman. This article reflects on the successes of Kohli the batsman in winning his personal battle to overcome English conditions against the backdrop of his side's failure to win the series overall.
A point to prove
It goes without saying that Virat Kohli arrived in England this summer with a massive point to prove. 4 years ago he first toured this country in a series that India would start well in but ultimately lose 3-1. Kohli's failure in that series, reflected that of most of his teammates at the time, as he struggled to adapt to the swinging conditions and Duke ball.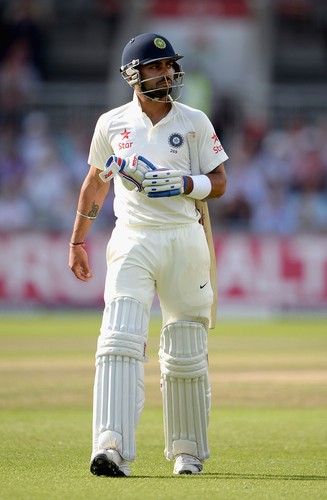 Kohli's 2014 Tour in Numbers
Total runs : 134
High Score : 39
Average : 13.4
Caught behind/in slips : 6 times
Dismissed most by : James Anderson (4)
Ducks : 2
For me, Kohli's lack of success in England was not just a question of technique but also one of mindset. Could he reign in his natural instincts to go at the ball outside off-stump long enough to get himself settled at the crease?
Technical changes
It was clear that after the 2014 debacle, Kohli intended to find a new way of overcoming the swinging ball and in particular of nullifying the threat posed by his old nemesis, James Anderson.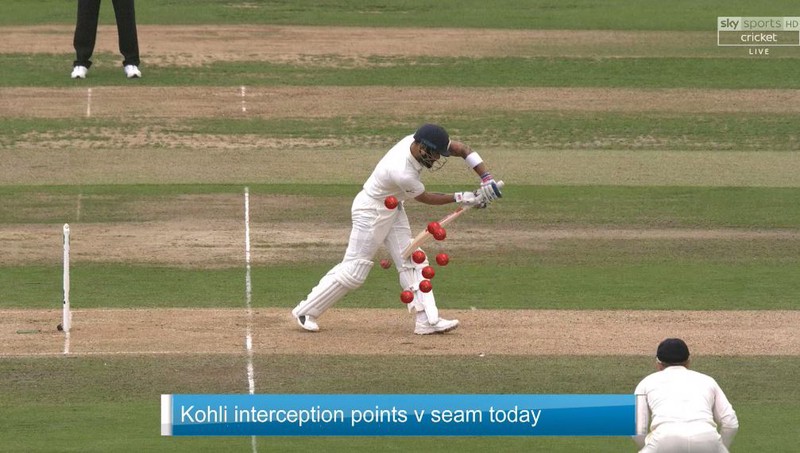 It became very apparent in the early innings of the series that Kohli was going to look to stand outside of his crease and try and get to the pitch of the ball in order to nullify the swing. Against bowlers of the class of Anderson and Broad who can move the ball both ways, it also ensured that the majority of the time his front pad was both a long way down the wicket and outside the line of off-stump, decreasing the likelihood of LBW.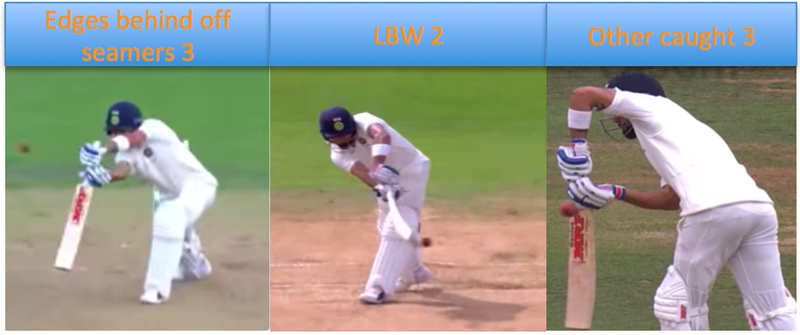 Have the technical changes worked? The above seems to suggest that he has certainly become less likely to be dismissed edging behind to the seamers than he was 4 years ago. In going across his stumps more, Kohli has left himself more vulnerable to the LBW when his head falls too far to the off-side and he over balances. However, he is such a good player at caressing the ball through mid-wicket that any team hoping to consistently target Kohli's pads might find that he has a very big score on the board before he finally misses one!
Mental strength in overcoming his nemesis
Kohli v Anderson was touted as the key battle of this series by many pundits around the world. Having had Kohli caught behind or in the slips on 4 occasions in 2014, Anderson came into the series full of confidence that he would once again be able to dominate. Right from the off it was clear that Kohli meant to be very circumspect outside off-stump against Anderson. There would be no booming cover drives that would end in him edging to 2nd slip. Instead Kohli would bide his time, rotate the strike and wait for the bad ball.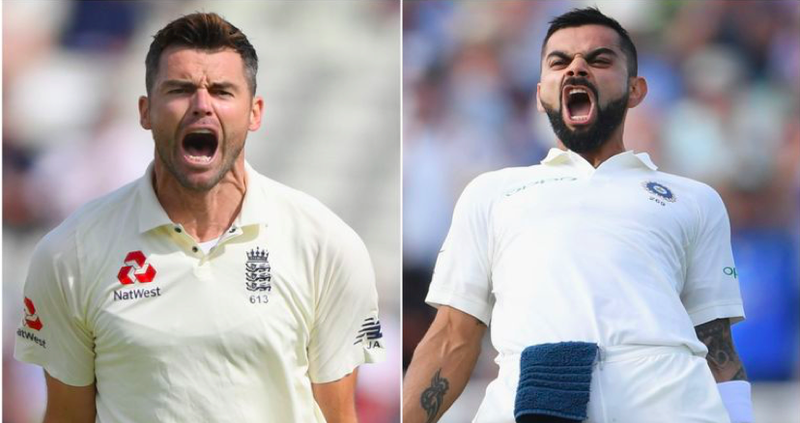 Kohli did it masterfully. Anderson has not dismissed him once yet in this series and while Kohli's strike rate in the 2018 matches (57) is down on his strike rate against the same opposition in India in 2016 (61) and his career strike rate (58), it is noticeable how positive he has remained at the crease.
Anderson of course will reflect on what might have been after he did induce Kohli into edging a ball outside off-stump in the 1st innings of the series, only to see Dawid Malan shell the opportunity at 2nd slip.
A class above the rest
As a result of those technical changes and the mental strength shown, Kohli has been head and shoulders above the rest of all the other batsmen on both teams during the course of this series.

A 3-1 series scoreline might flatter England a little and from India's point of view their players and fans have been left reflecting on those "what if?" moments, particularly in the closely fought 1st & 4th matches. However, if not for Kohli's contribution with the bat then surely India would have been done and dusted long before the 4th day at Southampton.

Kohli's achievements with the bat represent the best return for a touring player in England since Pakistani Mohammed Yousuf made 631 runs across a 4 match series in 2006. That series in 2006 was a relatively high scoring affair whereas the 4 Tests we have just played have generally seen sides struggle to score 300+ runs in an innings.
Failings as a captain
Despite the above successes and deserved congratulations that Kohli has received from the cricketing world in general for his feats with bat in hand, there are still serious questions about his leadership of this talented Indian team. How did India, in control of 3 out of the 4 Test Matches find themselves 3-1 down and out of the series before the final game?
Selection issues
Going into the game at Trent Bridge, Virat Kohli had the wonderfully balanced figures of having made 37 changes to his teams in the 37 games that he had been in charge. After the thrashing it Lord's it seemed inevitable that India would change their line-up again but it was quite bizzare for them to then send home the likes of Murali Vijay and Kuldeep Yadav. While neither had had much success up until that point, sending players home from a tour is usually only reserved for breaches of discipline, not poor form. While Kohli has vehemently denied it in serval interviews, it must be unsettling for a player to know that The Sword of Damocles is perpetually hanging over your head.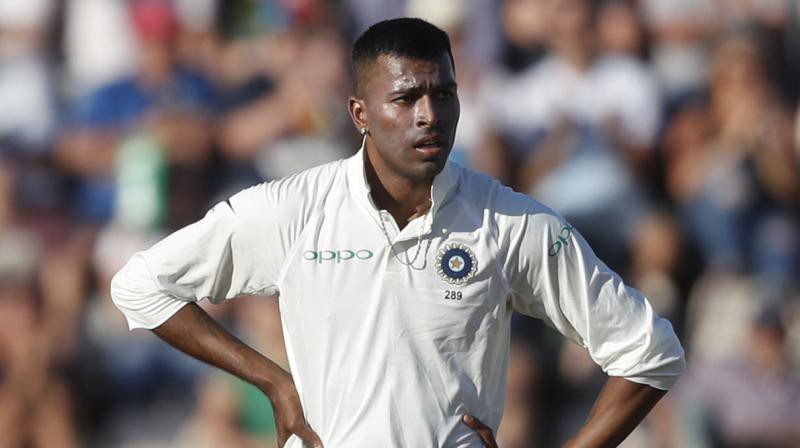 At the same time, it's hard not to think that Kohli doesn't have favourites amongst the group. Hardik Pandya for instance, while being a talented young player, has not shown enough with either bat or ball to justify selection in all of the Tests. KL Rahul would be another player who seems to have been favoured initially ahead of Pujara and then Vijay in the side. He is averaging just 14 in the series so far, the lowest of any batsman on either side who has played in all 4 Tests.
Furthermore, there was the selection debacle for the Lord's Test, where despite losing an entire day to rain and the forecast suggesting grey drizzly conditions for the duration of the match, India opted to play 2 spinners! Indeed, I am very surprised that with their frail looking lower middle order, India haven't decided to play a 6th specialist batsman. Taking 20 wickets has never looked a problem but scoring later innings runs has. Why didn't Kohli look to enact a change to remedy this?
Losing a grip on advantageous positions
At Tea on the 3rd day of the 4th Test, the game was on a knife edge. With England just 125 runs ahead and having only 5 wickets in hand, India must have known that a couple of quick wickets would have swung the game fully in their favour. However, rather than bringing his best bowlers into the attack in order to get the job done, Kohli allowed the game to simply drift along. One end was occupied by Ravi Ashwin who looked unfit and was generally ineffective on a turning pitch and at the other end Hardik Pandya was allowed to bowl 9 overs on the bounce. When India did finally take the new ball (after 3 overs of waiting) they promptly handed it back to Ravi Ashwin. Mohammed Shami, arguably India's best bowler in that innings and the series as a whole didn't bowl for over 30 overs and nearly 3 hours - criminal!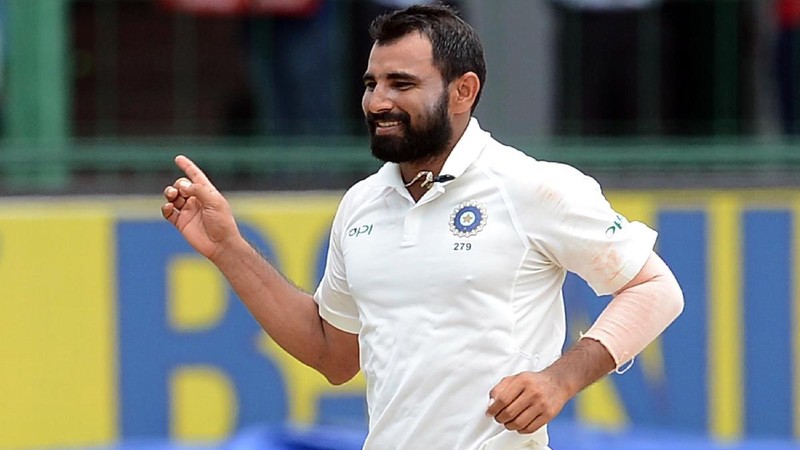 The above example was not unique in this series. When under pressure in the field, Kohli has generally failed to be proactive enough as captain and I believe that he relies heavily on the coaching staff for inspiration. While there is nothing wrong with that in itself (they are employed to advise him), I do think that he needs to have a clearer idea of what he wants from the team. There is indecision prior to games with the selection and further indecision during the game with his bowling changes and fielding positions, both of which have contributed to India losing this series.
The man and his emotions
In some ways, with the way that modern athletes are media trained these days, it is quite refreshing to see a sportsman who still lives on his emotions. No one can say that Virat Kohli doesn't give 100%! Let's also not forget that he managed to inspire his team back from the crushing defeat at Lord's to win the next match at Trent Bridge. There is passion a plenty with this man.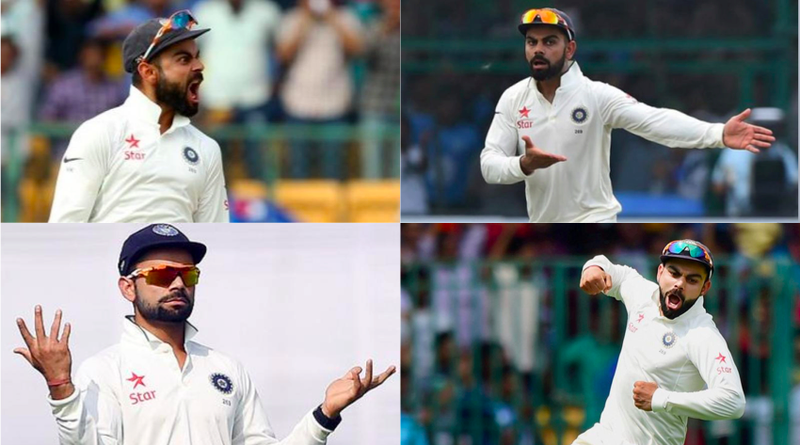 However, I also think that as a captain, he needs to maintain control of his emotions better at key times in the match. If you kept a camera pointing solely at Virat Kohli on the pitch when his side is bowling, you would witness a man going through the full spectrum of human emotions about every 10minutes. Think of your own experiences in the work place, is that the kind of manager or leader that you would respond well to? Particularly when things aren't going your way, the captain needs to be the rock that everyone looks to. Sometimes he has to show passion but at other times there is a need for him to put on his poker face - he may be a rage of emotion on the inside but don't allow that to show on the surface!
At 29 and with less than 40 matches under his belt as India's captain, there is still plenty of time for Kohli to grow as a leader. We have seen the changes he has made to the technical side of his game pay dividends. Can he be as self aware and capable of adapting his leadership style as well? Time will tell .........
AS ALWAYS, ALL GENUINE COMMENTS WILL RECEIVE AN UPVOTE