Face masks are very common thing in these days as it is used as a protection method from Covid-19 virus. Even though most of the sports are paused now, sports will resume within 2-3 months later. In a such a situation, players will use masks in the ground as well. It will be a new experience to the players. But there was a popular incident happen before in Cricket field, when Sri Lanka cricket team played a cricket match with wearing a mask. But that time it was not due to a pandemic.
This was happened in December 2017 in Feroz Shah Kotla Stadium in Delhi, India. It was the 3rd game in Test Series between Sri Lanka vs India. After winning the toss India decided to bat first & they dominated the 1st day with scoring 371 runs for 4 wickets. During the second day's play, Sri Lanka leave the field few times with complaining that they can't play under the poor air quality around the ground. Game was paused for around 30 minutes. Sri Lankan players decided to resume the play with wearing masks.
This game was ended as a drawn game & India won the series 1-0.
Comments about this incident.
This incident was happened in 123rd over of Indian 1st Innings. At that stage India in a commendable position with having 519 runs in the board with losing just 5 wickets. Indian Captain Virath Kohli was on 240 runs & fans were waiting to see his triple century. However, soon after that short delay, Lakshan Sandakan Dismissed Kohli for 243 runs. Unfortunately, most Indian fans criticized Sri Lanka's action as a trick that use to change Kohli's concentration.
Former Indian Cricketer Virender Sehwag said to a media channel that "It was all a strategy against Virat Kohli. They wanted to stop him as it seemed that he was inching towards his triple century".
(https://www.india.com/sports/virender-sehwag-slams-sri-lankan-players-says-smog-drama-was-a-tactic-to-stop-virat-kohli-from-scoring-300-2711547/)
Crowd booed several times at Sri Lankan players. After Kohli's dismissal, he declared the Indian Innings and gave the chance to Sri Lanka to start their 1st innings. He was seemed to be in angry mood with Lankan players, as he indicated a signal that they were okay to ball in that conditions.
Truth behind this Incident, Was Sri Lanka acted to break Indian player's concentration?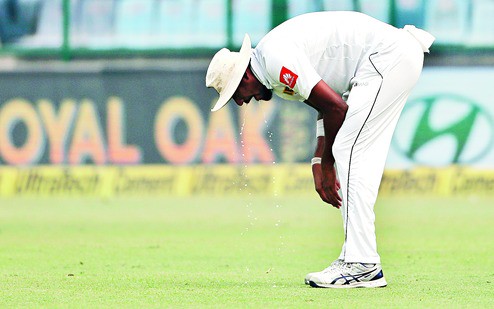 1.During the Match Sri Lanka's fast bowlers Lahiru Gamage & Suranga Lakmal vomited several times due to bad air quality.
2.India's Kuldeep Yadav, who was worked as a reserved player also wore a mask while he brings the drinks to the players.
3.According to the reports, India's Ravichandran Ashwin & Mohammed Shami also vomited in the dressing room.
4.Sri Lankan coach (in that time) Nic Pothas mentioned that players had to use oxygen cylinders in the dressing room.
5.In 2009, Bangladesh team also wore masks while their practice sessions.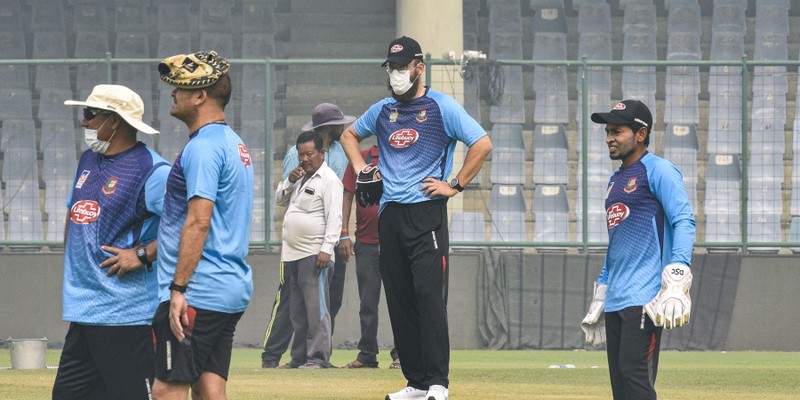 About Delhi Air quality.
According to the survey done by Word Health Organization considering 1600 cities, Delhi is the worst city when considering air quality.
In 2019, Indian Supreme Court of India said that air pollution of India can kill everyone & "Delhi has become worse than hell".
Delhi loses around 80 lives per day due to air pollution.
References:
https://en.wikipedia.org/wiki/Air_pollution_in_Delhi
http://www.indiaenvironmentportal.org.in/content/413019/addressing-global-mortality-from-ambient-pm25/
---
What's your thoughts? Comment Below.
Follow me to read my next articles.