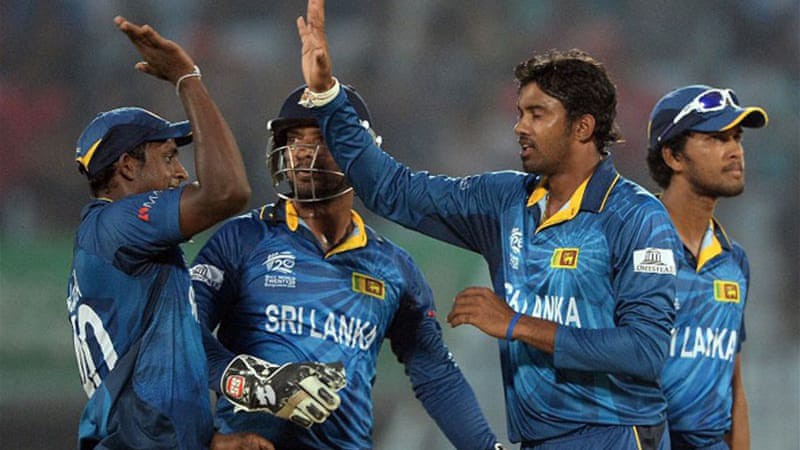 From today onwards, I decided to write some late reviews about every match played by Sri Lanka in their triumph to World T20 2014.
Sri Lanka came to the tournament as one of the favorite team to lift the trophy. They were ranked number 1 T20 side then. Sri Lanka's legendary duo Kumar Sangakkara & Mahela Jayawardene confirmed that they would retire from T20 Cricket After this tournament. Dinesh Chandimal got the opportunity to lead the Sri Lanka, as he was the youngest captain do so for Sri Lanka in an ICC event. They previously missed two opportunities to Win the trophy in 2009 & 2012. They had to play their Super 10 round matches in Group 1, with South Africa, New Zealand, England & Netherlands. Their first match against South Africa in 22nd March 2014.
Toss & Team Line ups:
Sri Lanka won the toss in this important encounter and they decided to bat first. Sri Lanka decided to play with 2 spinners & 2 front line fast bowlers. Their lineup was boosted by two fast bowling rounders, Thisara Perera & Angelo Mathews. Batting line up was look very stable.
Meanwhile South Africa led by AB De Villiers, decided to play with one front Line spinner & 3 main fast bowlers. Albie Morkel & JP Duminy fulfilled the vacant spaces as two genuine All-rounders.
What Happened at the End of the day?
Sri Lanka clinched a victory by 5 runs to open their account in the Points Table.
Kusal Perera's masterclass innings decorated the 1st half of the game
World-class Dale Steyn shocked with his first 5 deliveries in his very first over, As Kusal Perera went on to score 17 runs with two fours and a six. However, Dale Steyn came back with a in swinger to remove Dilshan's off stump. Dilshan went for Duck.

Sanga- Mahela combination showed some struggle at the middle. Jayawardene just scored 9 from 9. Sangakkara spent 18 deliveries for his 14 runs.
Kusal Perera scored 61 runs from 40 balls. His pick-up shots against seamers were remind his idol great Sanath Jayasuriya.
Attack from Imran Tahir.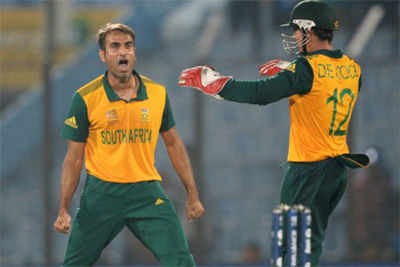 South African leg spinner Imran Tahir was the biggest challenge for Sri Lankan middle order. Tahir finished his 4 overs with just conceding 26 runs. More importantly he got the wickets of Kumar Sangakkara, Kusal Perera & Skipper Chandimal.
Mathews the finisher.
After Kusal Perera's fireworks, Sri Lankan run flow was reduced with the exceptional bowling from Tahir & Morne Morkel in the later part of the innings. But as always, Sri Lanka's captain in other formats, Angelo Mathews led the team to finish their full quota of 20 overs. Mathews scored 42 runs with 3 fours and a six. Sri Lanka finished the innings by scoring 165 for 7 wickets.
South Africa started brilliantly.
Target for South Africa was 166. Quinton De Cock & Hashim Amla opened the innings for them. In the 3rd over of the innings, De Cock attacked Kulasekara to score 15 runs.
Yorker!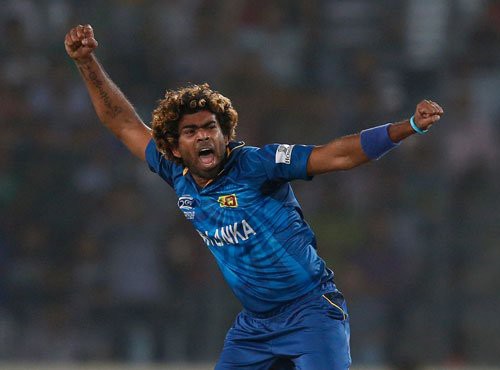 Lasith Malinga just used two balls to get De Cock out. An eye-catching inswing Yorker ended the short innings of him. South Africa one down, Jean Paul Duminy came to the crease.
51 run partnership recorded for the second wicket by Duminy & Amla. Sachithra Senanayake spun the ball to remove Hashim Amla for 23 runs.
More trouble for South Africa when their skipper ABD caught behind against Angelo Mathews. And Duminy followed his captain's way for 39 runs.
South Africa 120/4 after 16 overs. 44 needed from 24 balls. Albie Morkel & David Miller on the crease.
Scare for Lankans in 17th over.
Sri Lankan main spinner Ajantha Mendis delivered the 17th over in the innings. Morkel bashed him for two sixes. Morkel tried to make hattrick sixes in a row, but his 3rd shot was not much went distance. Chandimal took a brilliant catch near the boundary line. Morkel couldn't believe it.
Ajantha Mendis finished his 4 overs by conceding 44 runs. Little bit of expensive!
Unplayable Malinga-Kulasekara combination won it for Sri Lanka.
Lasith Malinga bowled two overs & Kulasekara bowled the other one. South Africa was required 29 runs for those 3 overs. But their unplayable Yorkers didn't allow African Batsmen to score runs. Sri Lankan restricted South Africa for 160/8. Sri Lanka won by 5 runs.
Sachithra Senanayake was the most successful bowler as he finished his 4 overs for 22 runs with 2 wickets.
Kusal Perera won the Man of the Match award for his valuable contribution with the bat.
Post-Match Analysis.
Sri Lanka played 39 dot balls in their 20 overs while South Africa played 45 dot balls. Playing more dot balls is always disadvantage for any team.
Imran Tahir & Sachithra Senanayake ware the best performers with the ball for both teams. But Sri Lankan batsmen rotated the strike against Tahir. Tahir bowled just 6 dots. But Senanayake bowled 10 dots. It was clearly showed the weakness of South Africa's strike rotation.
Kusal Perera scored 73% of his runs on leg side. South African seamers used more short length deliveries and Kusal Perera picked all those deliveries well.
JP Duminy just bowled two overs for 13 runs. Albie Morkal also bowled two overs for 24 runs. it might be a good choice if South Africa use Duminy to bowl another over.
---
This article has been written for scorum loyalty program here:
https://scorum.com/en-us/betting/@alextazy/scorum-loyalty-program-for-tipsters-and-writers-2-0-may-2020

Follow ME to Read My next articles.