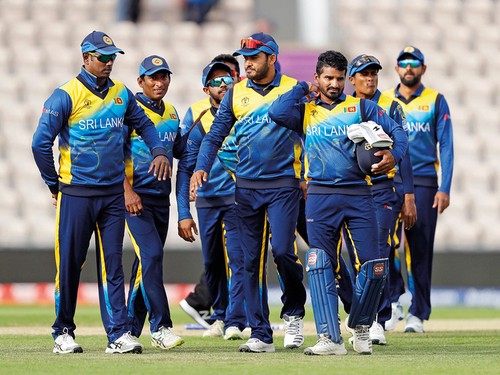 I am big follower of cricket from around 2004. So, I had watch so many of cricket matches within this period. As my country, Sri Lanka is one of the major cricket countries in the world, I always have hopes about their performances. 1975 the year Sri Lanka's international cricket journey was started. But up to 1996 it was a learning period for Sri Lankan cricket. But they suddenly stunned the whole world with the unbelievable world cup victory in 1996. So that was the turning point of Sri Lanka's sporting history.

From 1996, Sri Lanka was a very prominent team in world cricket. They had won major tournaments, produce great bowlers, great batsmen. In 2014 Sri Lanka managed to win the T20 world cup after beating India in the final. Everything was perfect up to 2015. The golden period of Sri Lanka was between 1996-2015
After the early exit from ICC Cricket world cup 2015, Sri Lanka's greatest players like Kumar Sangakkara & Mahela Jayawardhana decided to retire from the lineup. Unfortunately, that was led to a decline of standard of Sri Lankan cricket. From 2015-2019 Sri Lanka was just a weak side in world cricket. They lost more than they earn. They had to whitewash few series against India, Pakistan, South Africa during this period. most important thing was they didn't win any ODI series against ICC full member nation team within that period. Even the young team like Zimbabwe beat them in their own backyard.
Results were same at the T20 format as well. But in test format they done something better than other two formats. Sri Lanka managed to whitewash Australia, South Africa, Pakistan in test format in that period
Sri Lanka had to go further to the bottom of Ranking tables. At least no Sri Lankan player able to earn a top rank in the player rankings.
Their popularity of the cricket field was decaying day by day. But within that period, they made some remarkable upsets to the giant teams as well. Like as I mentioned earlier, they whitewashed Australia & South Africa. They beat India in champions trophy 2017 & England in world cup 2019. So still fans believed that they can make a good comeback to the world cricket again
However, the situation of SL Cricket is in a good position so far in the post era of 2019 World cup. So, as a Sri Lankan & a cricket fan I have been waiting to watch how good will be the next era of Sri Lankan cricket.
P.S: A bedtime article, With no numeric analysis. So, this will be a easy reading for everyone who don't know much about the Cricket.
Cheers! And follow me!
Your Comments are Very important to improve my carrier.
-