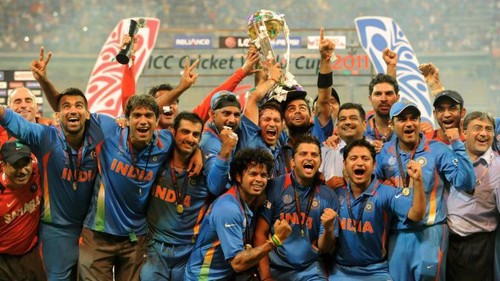 Cricket is a game that invented by England 200 years ago. Australia was the first opponent of England and they ruled the game of cricket for 100 years, until giants from Caribbean nation come to the party. Within the time flies, cricket is become a global game, and currently it is the 2nd most popular game after Football. But the South Asian region is the area that this game is like a religion. India, Pakistan, Sri Lanka, Bangladesh and recently Afghanistan got the full membership of International Cricket council (ICC). And teams like Nepal is showing some great immerging during the last few years. Every cricket game that consist a south Asian team is very interesting to watch as these fans are very emotional & fascinating. This is a recap of 2011 cricket world cup, which played in front of these priceless fans.
After India & Pakistan hosted the 1987 cricket world cup, 1996 was the second instance that South Asia hosted a cricket world cup. 2011 was the 3rd and last time that this glory tournament came to the South Asia. In the early stage, India, Pakistan, Sri Lanka & Bangladesh named as host countries. But due to the security concerns, Pakistan withdrawn from it. The tournament was organized between 19th February to 2nd of April in those 3 South Asian countries.
New grounds were built, existing grounds were reconstructed. Musicians produced lovely theme songs. Sponsors made great advertisements. Number of promotion event happened in all these countries. Every TV channel showed the countdown of days to start of this eye-catching event. Even though Pakistan lost the opportunity to host matches, their fans were also counting fingers to see this great event.
It was 16th of February, location is Mirpur-Bangladesh.
The opening ceremony of ICC Cricket world cup was started. Full packed Mirpur crowd shouted with the joy. All the captains of 14 contestant countries entered to the ground by a rickshaw. The official song played in the background and the mascot was danced on the stage. After this phenomenal ceremony, one of the most iconic cricket world cup began.
Two days later, it was a Saturday, the first match of the tournament played between two host countries, India vs Bangladesh. Since Bangladesh was the home team 99% of support was for them. But they all went silent when Virender sehwag scored a brilliant 175 to lift India for massive 370 runs total in the opening game. Bangladesh openers tried hard, but it was an easy win for India.
In the next day, Co-host Sri Lanka began their world cup campaign in Hambantota Cricket ground against Canada. It was a 210 run easy win for islanders with the help Mahela Jayewardene's classic 100.
With the tournament going forward, spectators got the opportunity to watch some entertaining matches. England and India match in Bengaluru was tied after the great innings from Andrew Strauss and Sachin Tendulkar.
Kemar roach became the first bowler to take a hat trick in the tournament. He got 6-14 against Netherlands. In the very next day again, Lasith Malinga got a hattrick against Kenya.
The 2nd of March 2011. All cricket fans witnessed a One of the greatest run chase of cricket. It was also held in Bengaluru; it was all England's game when Ireland lost their fifth wicket for 111 while chasing a mammoth 329 run target. Then Kevin Obrien came from nowhere, hit the fastest world cup hundred of all time. World class England bowlers had nothing to do other than watching the 156-run stand between Obrien & Alex Cusack. Low order batsman Mooney hit the winning boundary & whole Irish supporters went crazy as they won the whole tournament, yes, they deserved it.
It was not the only bad day for England, they got another shocking defeat against co-host Bangladesh in Mirpur. It was a great fight between two teams, but England almost got the victory when Bangladesh was collapsed in the middle overs. But Mahmudullah Riyadh & Saiful Islam build a gem of a partnership to beat England in front of their noisy crowd.
However, after having two unexpected defeats, England managed to reach to the next round as they performed well against the top teams like India, South Africa & West Indies.
India & Sri Lanka were the favorites in that world cup, and both lost just a one game in group stage. South Africa beat India in Nagpur in a thriller which Sachin Tendulkar scored a century. Sri Lanka lost to Pakistan in Colombo in another thriller.
Pallekale stadium in Kandy host their maiden ODI under the fireworks of Ross Taylor against Pakistan. Taylor's magical century helped New Zealand to score more than 100 runs in last 5 overs in that game. However, Pakistan lead the points table of group A after recorded five victories. Most importantly, they finished Australia's 34 game winning streak in world cups since 1999.
Unfortunately, Bangladesh couldn't reach the quarter final round as they bowled out for 58 against West Indies & 81 against South Africa.
As considering other eliminating teams, Netherlands & Kenya lost their all 6 games. But Dutch batsman Ryan Ten Doeschate's performances with the bat was amazing. He scored 344 runs with 2 centuries. Teams like Canada, Zimbabwe also not gave a good competition in most of the games.
So, it was a quarter final round consist of top 8 teams in ICC ranking then.
In the 1st quarter final Pakistan beat West Indies in a one-sided game. Australia, who dominated the 1999,2003,2007 world cups, played with India in the 2nd quarter final in Ahmedabad. Ricky ponting scored a brilliant 100 to guide Australia to competitive 260 run mark. However, eventually it became the Ricky ponting's last world cup game as Yuvraj Singh & Suresh Raina's match winning 6th wicket partnership helped India to reach the world cup semifinal.
South Africa who finished as the top team in group A, faced New Zealand in Mirpur in 3rd quarter final. South Africa maintained their famous world cup unfortune as they lost that match from a winning position. Jacob oram was the star with the ball as he took 4 for 31. New Zealand qualified to the semi final with Sri Lanka who thrashed England by 10 wickets in last quarter final. Sri Lankan openers TM Dilshan & Upul Tharanga build an unbeaten 231 run stand in Colombo. Both went to score tons as England knocked out from world cup.
Sri Lanka, New Zealand, Pakistan, India were the last 4 teams. 3 out of these 4 were South Asian Teams. So, it was a great pleasure for their people to watch their teams came closer to the trophy.
R. Premadasa Stadium in Colombo host their final match of the tournament, it was a full packed pavilion as home team Sri Lanka won the toss and elected to bowl first against 'Kiwis'. It was also the Muttiah Muralitharan's last ODI in home soil. New Zealand finished their innings after scoring 218. It was quite easy run chase for the Sri Lankans, when Kumar Sangakkara & TM Dilshan put on a 134 stand for second wicket. But Sri Lankan middle order began to collapse one by one. But injured Angelo Mathews came to the field with the Mahela Jayewardene as a runner. He and Thilan Samaraweera guided Sri Lanka to their 3rd ICC Cricket world cup final after that thrilling encounter.
In the next day at Mohali, it was probably the biggest rivalry in that world cup, India and Pakistan met in the second semifinal. Virender shehwag started the innings with the fireworks while Sachin Tendulkar slowly build his innings in the other side. But Wahab Riyaz went through the Indian middle order in front of silent Mohali crowd. With the help of Sachin's 80 & MS Dhoni's quickfire 40, India managed to score 255 runs. But Pakistan just scored 231 in their chase as India qualified for the their 3rd World cup final.
So, it was the first Asian world cup final.
Both Sri Lanka and India targeted for their second world cup triumph. Kapil dev won it for India in 1983 & Arjuna Ranatunga won it for Sri Lanka in 1996. Sri Lankan captain Kumar Sangakkara won the most memorable toss in entire cricket history. It was the only instance that toss flip up twice. Sri Lanka elected to bat first with making 4 changes on their lineup. Mumbai-Whankade stadium was full packed from Indians, but few Sri Lankan flags were there among the thousands of Indian flags. Millions of cricket lovers were in front of their TVs. The match was started after two beautiful national anthems of respective countries were played.
Mahela Jayawardene was the Sri Lanka's hero in that evening. He scored a historical 103 runs. That helped Sri Lanka to score 274 runs. It was a very good total in a world cup final. So, target for India was 275 to win the final.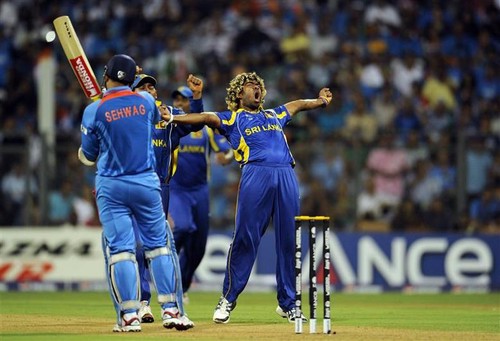 The beginning of India's run chase was a disaster. Their both openers, Sachin Tendulkar & Virender Sehwag went to the pavilion after the brilliant spell of bowling of Lasith Malinga. But 90's from Gautam Gambhir & MS Dhoni helped India to reach that target.
At the end of the day MS Dhoni boosted Nuwan Kulasekara's length ball to the higher sky, India lift the world cup after 28 years. Kumar Sangakkara's painful smile helped tears to went out from Lankan eyes, the greatest spinner of all time Muttiah Muralitharan ended his long cricket journey.
After going through this fast-forwarding recap of 2011 cricket world cup, I am finally like to say that, it was the best cricket world cup tournament for me. Because that tournament gave lot of memories for the entire cricket world.
Comment below & Follow me for read my next articles.
Cheers!