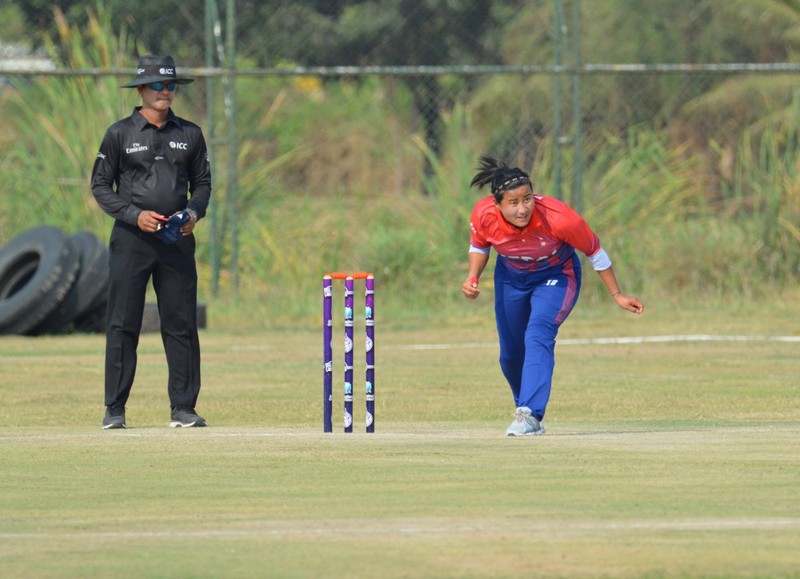 Armed Police Force (APF) defeated Mid-Western Region (MWR) by 6 wickets to win the title of PM Cup T-20 tournament. National Sports Council organized this tournament. APF won 5 lakhs and MWR won 3 lakhs after this tournament.
MWR lost the toss and they batted first. They scored 71 runs in 20 overs with the loss of 9 wickets. Chasing the target, APF reached the total in just 15 overs by losing 4 wickets. Indu Berma scored an unbeaten 22 runs in 18 balls with the help of 4 fours. Sita Rana Magar scored 18 runs and Jyoti Pandey scored 17 runs. Jyoti and sita made a partnership of 43 runs for the first wicket for the solid win base of APF. After thy were out in the 10th over, Sarita Magar was out in 2 runs and Mamta Chaudhary was out in 3 runs quickly. Indu Berma handled the innings with her unbeaten runs and Sonu Khadka also scored an unbeaten 3 runs for APF. Janaki Bhatta took 2 wickets in 4 overs by giving 17 runs.
In the first innings, in order to restrict MWR in 71 runs, Karuna Bhandari took 3 wickets in 3 overs giving 9 runs, Sita Rana Magar took 3 wickets in 2 overs giving 5 runs, Sonu Khadka took 1 wicket in 3 overs giving 10 runs with a maiden over, Rekha Rawal took 1 wicket in 3 overs giving 5 runs. Rubi Podar scored 24 runs and Kabita Kuwar scored 22 runs for MWR. None of the rest batsman could score in double figures. Rubi and Kabita made a partnership of 44 runs for the 4th wicket, while none of the remaining pairs could make a good partnership. Sita Rana Magar was declared as the man of the match.