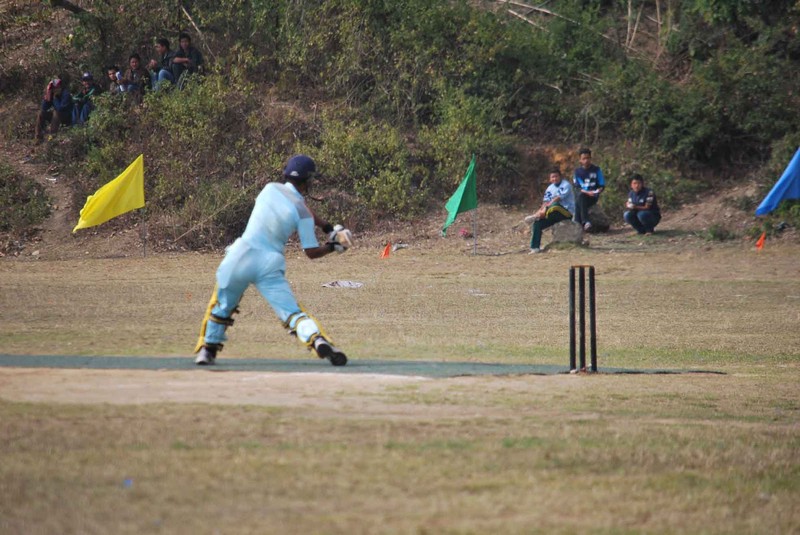 District Level Cricket kicks off in Kailali in the Fapla ground. Jesis Everest wins the first match of the tournament. The first match was played between Jesis Everest and Three Star School. Three Star won the toss and elected to bat first !
Three Star School were dismissed in 117 runs in 15.4 overs. They could not bat the full 20 overs. Bhim top scored their innings with 37 runs, Nabin Singh scored 19 runs, Nabin Jaisi scored 10 runs and the rest batsman could not score the double figures. Bhupesh Bam took 4 wickets with a hat-trick and Ashok Jaisi also took 4 wickets. Shital took 2 wickets as well. Jesis chased the target in 19.1 overs with 4 wickets in hand. Akash scored 20 runs, Bhupesh scored unbeaten 18 runs and Rabin Malla scored unbeaten 10 runs for his team. Chetan Gupta could take only 2 wickets for his team. Bhupesh Bam was the man of the match.
In the another match played between Aishworya Bidhya Niketan (AN) and Caspian Academy (CA), ABN won the match. ABN were dismissed in 126 runs in 17.3 overs. Prabin Joshi scored 24 runs and Sandip scored 20 runs for them. Nirajan Rawal took 4 wickets and Prakash Pathak took 3 wickets. Chasing the target, CA were dismissed in 76 runs in just 17.2 overs. Aryan Mishra scored 15 runs for CA and he was the only batsman to score in double figures for Caspian. Laxman Bhandari took 3 wickets. Nishant Pnt and Janak Rawat took 2 wickets each. ABN won the match by 50 runs. Laxman Bhandari was declared the man of the match.