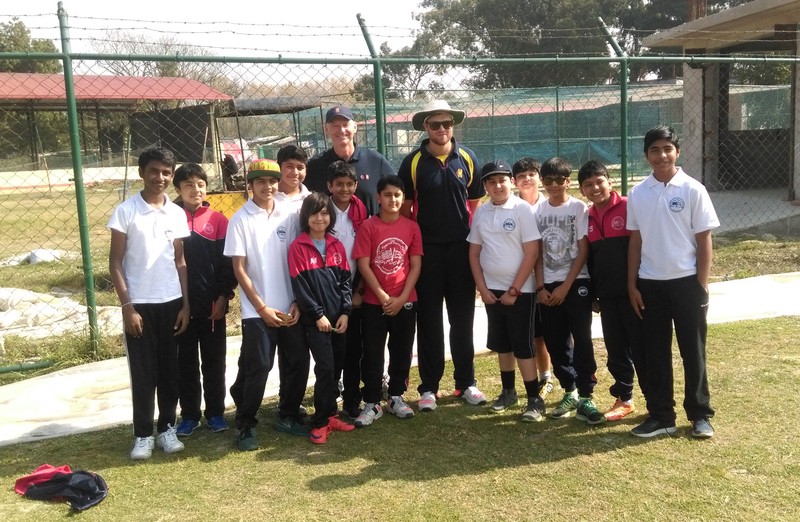 Stone Bridge school won the toss and they invited Sunrise Public School to bat first. In the allocated 25 overs, Sunrise made a total of 218 runs by losing just 3 wickets. Prakash Pandey scored an unbeaten 94 runs, Khagendra Thagunna scored 34 runs, Samrat Shah scored 27 runs, Anil Karki scored 20 runs and Sagar Chand scored an unbeaten 13 runs in the first innings. Gajendra Bohara took 2 wickets.
Chasing 219 runs, Stone Bridge were dismissed in 12.4 overs in just 60 runs. Ankit Thapa scored 17 and Parad Thapa scored 15 runs. Rest batsman could not score in double figures. Niranjan Kuwar took 4 wickets and Hemant Dhami took 2 wickets. Sunrise Public School won the match by 158 runs.
In the other match played, Aristo English Boarding School won the toss and invited Sharada Bidhya Niketan to bat first. Sharada scored 122 runs in allocated 20 overs by losing 8 wickets. Pranjal Bam scored 26 runs, Subash Sewa scored 18 runs, Bijay Gupta and amish Chaudhary scored 16 runs each. Sundar Karki, Jewish Arghi and Shivaji Bohara took 2 wickets each.
Chasing 124 runs, Aristo School reached the target in 19.3 overs losing just 4 wickets. Jewish Agree scored 33 runs and Sundar Karki scored 26 runs. Subash Sewa took 2 wickets. Aristo English Boarding School won the match by 6 wickets.